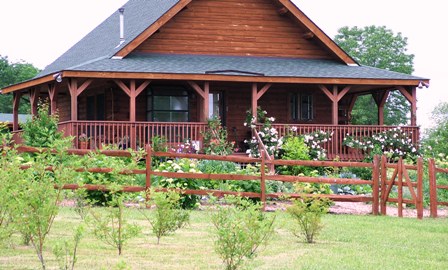 Wide open spaces have an undeniable appeal of their own: a feeling of freedom, abundance, and endless possibilities. But in many cases—at least on a home-garden scale—the concepts of "expanse" and "garden" just don't mesh. Even where space is abundant, dividing it into more-manageable areas with structures such as fences and walls may be the only practical way to approach the design process. And on small properties, especially those in urban areas and suburban developments, not having fences and walls may not even be an option: They're simply a given part of living where folks need to stake their claim to some personal space. At some point in our gardening lives, most of us end up dealing with fences and walls in one form or another, either by choice or by inheriting them from the former owners of our current homes. So, by popular demand (and you two know who you are), December's GBDW topic is fences and walls.
Fences can be fascinating, I think, because they have so many functions and meanings. Sometimes their primary purpose is to keep out unpleasant things, such as nosy neighbors, unwanted visitors, ugly views, annoying noises, pesky critters, or stem-snapping winds. In other cases, they keep in the things you want to protect: pets, kids, warmth, fragrance. Often, the essence of a fence depends on which side of it you're on. Outside of a tall, solid fence, for instance, you may feel unwelcome, exposed, and excluded; inside of the same fence, a sense of shelter, safety, and coziness can prevail. A crisp-white picket fence evokes tradition and tidiness, while a long-weathered version of the same fence offers a softer sense of charm and relaxation. The kind of fence you choose can say a whole lot about the image you want to project to passersby.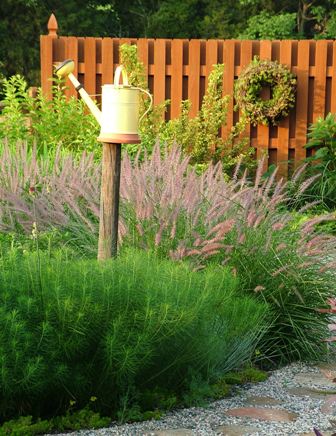 With so much meaning at stake, selecting a new fence is a serious business. But it's not all just about you, you know. There are also more mundane considerations: Local regulations may limit the height or placement; the neighborhood, as well as your own home, can influence the style and color; and your budget may be the deciding factor in the materials. It's also important to remember that fences can cause as many problems as they solve. Most fences, for instance, need regular maintenance and occasional repair. Will you have the time to stain a wood fence every few years in return for a few more seasons of service from it, or will you let it weather and not mind possibly having to replace it sooner? Glorious stucco walls may need repainting every few years to keep their rich color, and even stone walls can require the occasional resetting of a few rocks.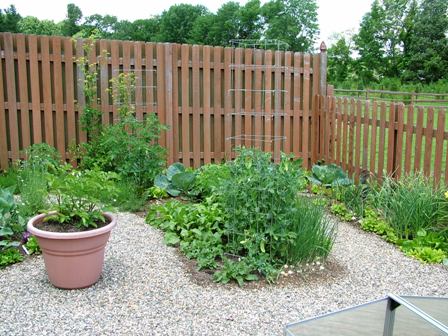 Fences and walls also have a big impact on the gardens inside them. Once you enclose a space, you need a way to get in and out, and where you have gates and openings, you need paths leading to and through them. Fences can shelter nearby plants from wind, which is great if you like to grow tall or delicate-stemmed plants but don't like staking. However, the lack of air circulation can also be ideal for the development of disease problems that thrive with high humidity. Fences can greatly expand your plant options, because they're ideal for supporting vines, climbers, and elegant espaliers, and their sheltering influence can create the warm microclimates so beloved by gardeners in permanent zonal denial. But at the same time, they can also cast a good bit of shade, instantly turning a full-sun bed into a full-shade border. For a great example of the dilemmas that fences can inspire for gardeners, check out the post Opportunity Cost by Kim over at A Study in Contrasts.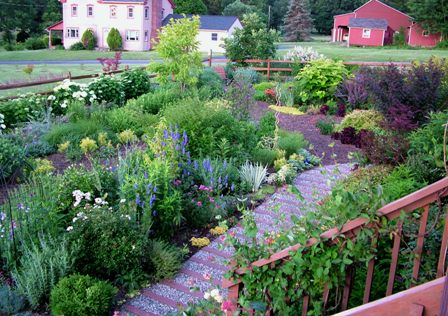 Do any of you have thoughts you'd like to share about fences and walls? Maybe you're considering installing a new fence but aren't sure what kind to choose; post pictures of your site and you're likely to get lots of advice. Need to spruce up a fence that's seen better days? Desperate for ideas on dealing with an ugly fence that's part of your borrowed view? Looking to be inspired by seeing different fence and wall styles, or simply want to show off pretty pictures of gardens that include fences and walls? Post them on your own blog and leave a comment here to let us know, or feel free to talk to us right here. I'm thinking that this month's topic is mostly fences and walls used to create enclosure, but if you want to talk about using plants, trellises, and other kinds of screening for the same purpose, or about gates and arbors, that's fine too. We have those on the list for future workshop topics, though, so you could save them for later, if you wish.
Oops—almost forgot to announce that the book winner from November's Garden Bloggers' Design Workshop is Lisa from Greenbow. Congratulations, Lisa!
Update: For summary of all of the posts relating to this topic, see Garden Bloggers' Design Workshop – December Wrap-Up.