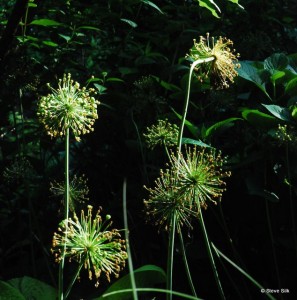 Alliums ride in to rescue my garden every year about this time. The spring rush is over, the tulips, daffs and their ilk are gone by, as are many of the flowering trees and shrubs . The summer show has yet to get underway. There's a kind of lull…except for the alliums, which from late May into early June raise their flowery orbs high, as if to celebrate their moment in the sun, that singular season when the lowly garlic clan rises to rule the garden. A carefully chosen selection of alliums might brighten the garden for most of the season–I've got one–Allium thunbergii  'Ozawa'–in bloom nearly as late as Thanksgiving, but late spring is when three of my favorites are most welcome.
There are an awful lot of alliums, but I'm going to focus on a trio I've become particularly fond of.  Alliums are strange looking–I'm surprised they weren't a favorite of Dr Seuss. But then again, maybe they were. My faves all rise on long slender stem that shoot up out of the garden like a cobra from a snake charmer's basket. Basket is pretty apt–the cluster of leaves at the alllium's base is usually pretty badly tattered (for many species anyway) by the time it sends up its flower tower, with the leaf tips browned and crispy looking. But that fault is forgiven when those silly spheres of bloom brighten the garden like a burst of fireworks.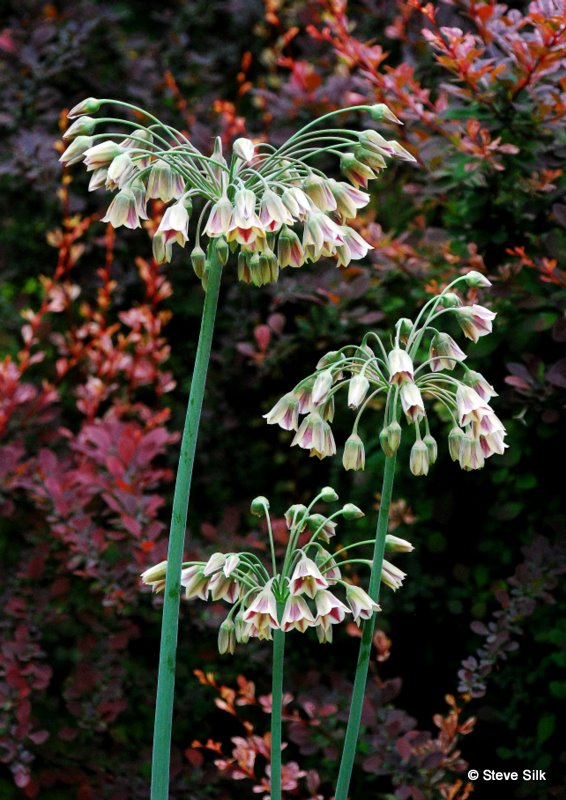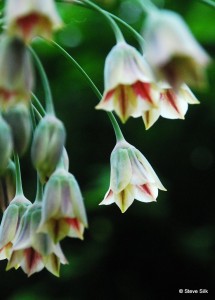 My favorite allium actually runs a bit astray of the norm. Allium bulgaricum is so distinct from most of its brethren that the ever-busy taxonomists are now calling the thing Nectaroscordum siculum ssp Bulgaricum, and have secured it a spot inthe haughty Liliaceae family rather than the more plebian Alliaceae clan. It's also known as Allium siculum. And Allium dioscoridis. Whatever. Maybe we should call it by its common name– Sicilian honey lily. So exotic! Does that sound desirable or what? It's ever so much more alluring than another common moniker for this uncommon allium–Bulgarian onion.
Whatever you call it, this great bulbous plant, in late May, sends its spirelike stem skyward, where it produces a tightly furled envelope that looks kind of greenbeanlike until it bursts open to produces a shower of flowers, a droopy umbel of blooms, with each tipped in white and shaded in hues of green and burgundy. Very nice, and especially appealing in combination with shrubs whose foliage can echo that burgundy with a similar hue of their own.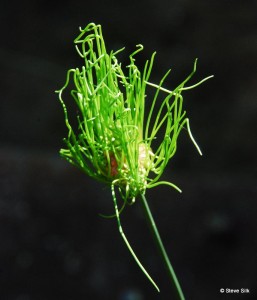 For sheer curiosity, it doesn't get much better than Allium 'Hair' the fright-wigged garlic family jokester. It leaps up on an impossibly slender stem, and,  from a pea-sized orb of a bud bursts forth a wild display that's part Phyllis Diller and part Christopher Lloyd (the actor, not the gardener) on a bad hair day). The fun factor is high on this one. I've designed several elementary school gardens;  'Hair' is aways there. And of course, it's cavorting in my own beds and borders. Whats a garden without a sense of humor?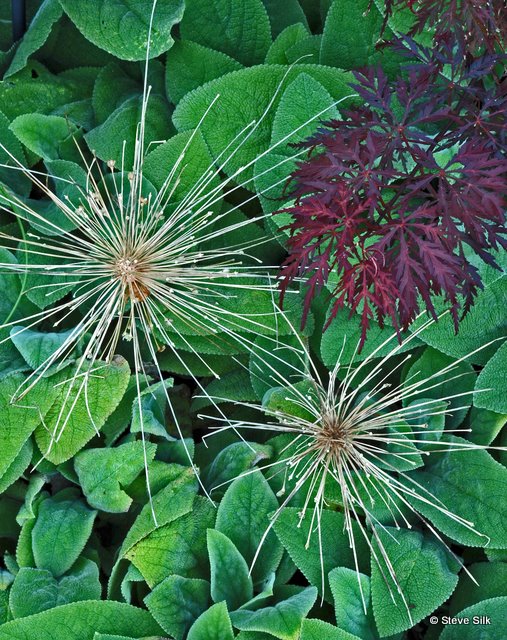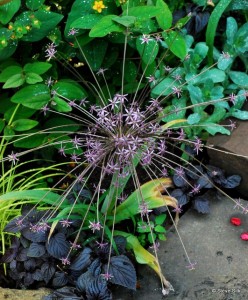 The last of my threesome is an oddball too, though in a refined way. It's not clownish like 'Hair', it's more…aristocratic. Yeah, that's it. Anyway, star of Persia (Allium schubertii) is, as far as I know, the largest allium (based, at least, on the diameter of the flower head), and it's arguably the showiest. This tetherball-sized monstrosity is a sphere comprised of tiny, starlike pink-purple flowers perched at the ends of long, filamentlike stems of varying lengths. It looks like a sea urchin from another planet, or something equally alien. It's an unearthly beauty whose garden presence doesn't end when the flowers go by. Dried, an old bloom can be used as an ornament almost anywhere in the garden, Here, it's perched among some lambs ears (Stachys byzantina) and a cutleaf Japanese maple (Acer palmatum dissectum). Some folks even go so far as to spray paint the old seedheads to provide an extra wallop in a garden setting.