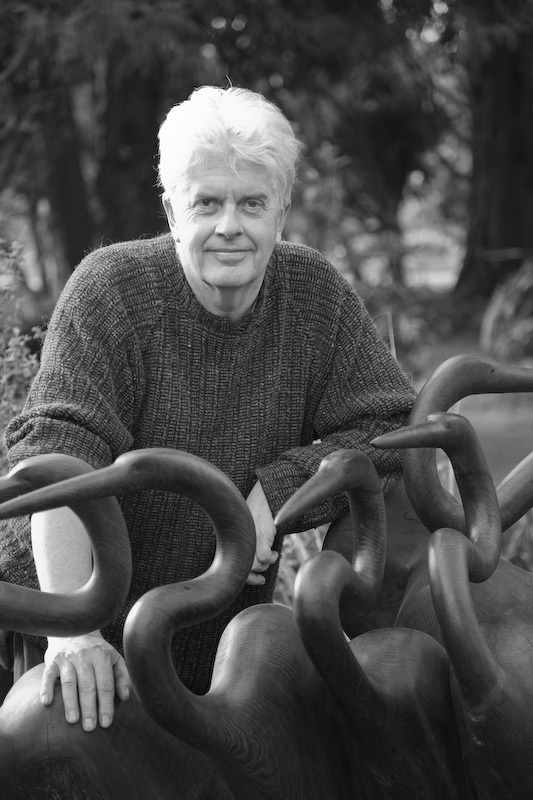 Chris Woods worked at  Chanticleer for several years where he took it from being a private garden to an exuberant public 'pleasure garden'.  Because of Chris' vision coupled with the ability to execute it flawlessly, Chanticleer has become recognized as a world class garden. After several years as Executive Director there, Chris moved to California to take on some new horticultural challenges. He is now Executive Director of Mendocino Botanical Coast Garden where he once again is unleashing his talent on this unique garden situated on the Pacific Ocean.
1. What is the one thing that we'd be surprised to learn about you?
You wouldn't. You wouldn't learn about me. Even though most of my work is done in the public arena, I am a private person. If you want to find out who I am, look at the gardens I've made.
2. If you weren't in the world of gardening, what would you be doing?
I can't imagine. I've been doing this so long. O.K…ummm. I'd be a hard-bitten journalist drinking in a sleazy bar.
3. If you could be a plant in another lifetime, what would it be?
Well I wouldn't, I'd like to escape another lifetime but, if I had no choice, Cornus capitata, the most beautiful dogwood with huge white flowers and red, strawberry-like fruit. I would be an effulgent and passionate tree.
4. Did you know in your teenage years that gardening was going to be your adult work?
No. I wanted to be an aesthete but I had to work for a living instead.
5. What is your favorite place in the world for finding inspiration or how do you go about finding inspiration in your work?
Anywhere that is the least touched by human beings.
6. What's the greatest plant expedition you've been on?
To Bhutan. High in the mountains, surrounded by Rhododendrons and prayer flags.
7. Do you think that gardening has become too politically correct?
I must have missed this. For most people it's a hobby. It's not meant to be taken too seriously. Relax, enjoy. Don't take yourself too seriously. Don't believe what you think. It's just chatter.
8. If you could make one wish about what gardening would be like in a perfect world, what would it be?
Less thinking, more doing.
9. Do you ever go through a dry spell in your work? If you do, how do you get yourself out of the rut? And if not, how do you keep yourself motivated?
I was born motivated but as I get older I find myself more attracted to the world less managed. When I am away from gardens, I find revival. If I hit a dry spell and I should be creating, I walk away from the creation and,later, return to it but look at it from the periphery. I try and hear the space, the garden. What music is it playing ?
10. When you've died, what do you want to be remembered for in the world of gardening?
I made something beautiful. I made something disturbing.