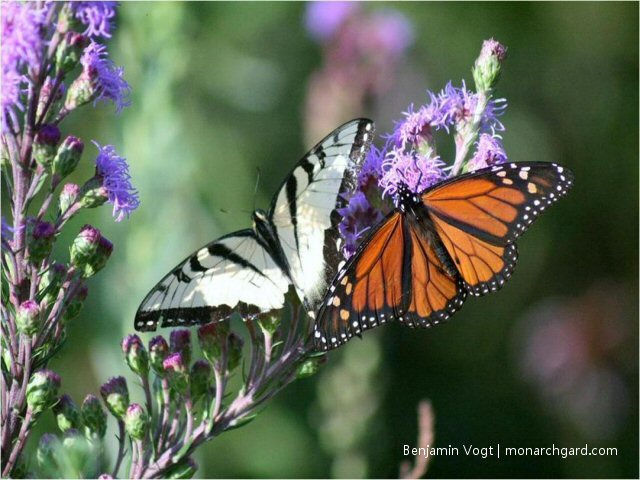 Written by Benjamin Vogt, Guest Contributor

One late summer afternoon I was crawling around on my knees out back, getting a view of the garden's undercarriage where so much of the real action happens – spiders nabbing prey, beetles walking from stem to stem, ants leaving scent markers to food. On my weary knees I heard a faint scratching and turned to see a female black swallowtail struggling to lift into the air; with one missing wing and others faded and tattered, I'm not even sure how she made to my garden. But she did. She made it into my cupped hands as I lifted her to a Zizia aurea to lay what would be the last five eggs of her life before she gave out to her inevitable purpose.
Three of the eggs hatched in a few days, became caterpillars over two weeks, and hopefully emerged the following spring in the garden I left standing to shelter their overwintering chrysalides. I bet you've had an experience like this; one that feels like a gut-busting honor, one that connected you more deeply to place and welcomed you fully or openly into the rich web of existence. Such an experience transforms us and we can never look at the garden, the world, or our place in it in quite the same way.
We live in a world fully altered by our actions. Overfished oceans acidify as the weight of plastic floating in it equals the weight of all living humans combined. Half of all North American bird species are threatened with extinction by the end of the century. One third of global plants may be functionally extinct in their ecosystems by mid century. Kids growing up today see 35% fewer butterflies and moths than their parents did forty years ago. One of the most threatened environments are grasslands, more in peril than the Amazon rainforest yet as effective at scrubbing the air. Our actions matter in profoundly destructive ways.
And our actions matter in profoundly constructive ways. Our gardens matter. How we garden and who we include in our garden, or who we garden for matters. Traditional landscape design, whether at home or in public spaces, so often privileges the needs and wants of one species – instead, our gardens could be designed more equally for the beauty and function of multiple species at once. As we welcome the biological life processes of other fauna into our gardens we welcome a profound element of design and purpose into our lives. A garden designed only for us is devoid of forgiveness, mercy, and hope – it is a signal of our disconnect, our alienation, our loneliness in the world. Gardens are meant to celebrate the beauty of wildness and translate our emotional connection to nature, but how can they do that if they are primarily created for us alone.
What does a 21st century garden ethic look like? Inspired by Aldo Leopold's land ethic, a garden ethic sees the built landscape as a community of like-minded creatures dependent on one another. A garden ethic builds on empathy – seeing life through anothers eyes – and rethinking what pretty is. A beautiful garden welcomes us, consoles us, heals us, teaches us; and a beautiful garden does this through providing the same services for birds, bees, moths, beetles, wasps, soil microbes, and more. Of course, this does not mean that you should allow your reading home to become overrun with insects such as wasps. While your garden should welcome all different types of insects, if you find yourself with an unwelcome wasps nest, you should probably do whatever you can to remove the danger of it from your property. A garden ethic asks us what we value in a world we've remade and now must tend as a gardener in order to maintain functioning and resilient biodiversity.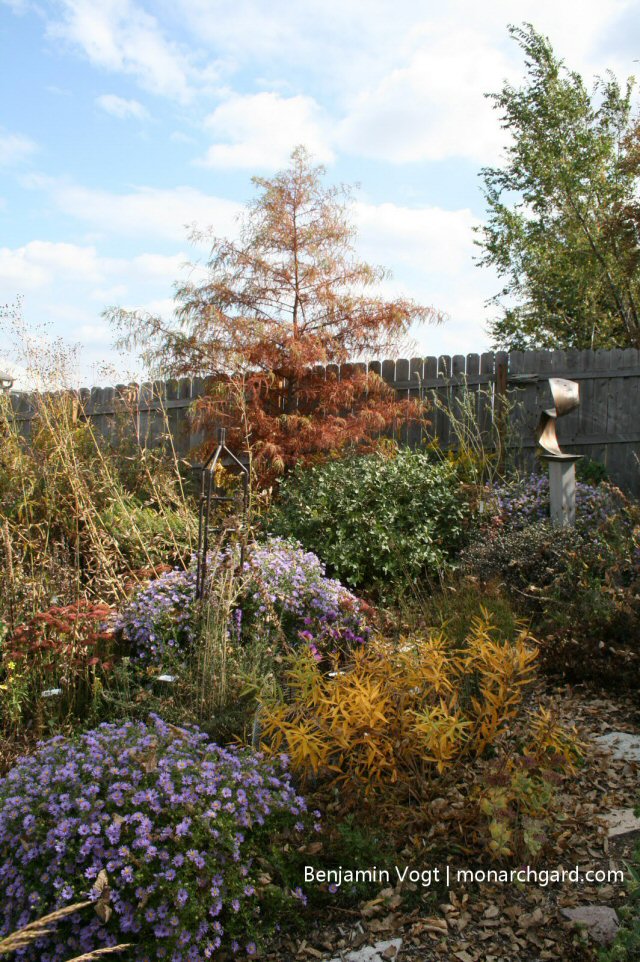 What will our landscapes look like in the future? How will they sequester carbon, cool the air, filter groundwater and re-mediate soil? How will they create a better home for all of us, not just one of us? How will gardens wake and empower us to address the larger yet connected environmental issues beyond the garden fence? How will built landscapes teach us about our new role as stewards of life and as gardeners of our own hearts? Empathy and compassion are our new core design elements in a world of mass extinction and habitat loss; the exciting realization is that we have the potential to be all that we've ever dreamed of as a unique species evolved to be far-hearted, creative, and able to implement a garden ethic for all of us. Go out to the garden, get on your knees, and listen for the life calling you home.
Benjamin Vogt lives in Lincoln, Nebraska where he owns Monarch Gardens, a prairie garden design firm. He speaks nationally on native plants, pollinators, sustainable (and ethical) garden design, and has a weekly column at Houzz.com that includes over 150 articles. Benjamin's writing and photography have appeared in dozens of publications from Garden Design to Orion Magazine, as well as books such as The Tallgrass Prairie Reader (Iowa) and Gardening For Butterflies (The Xerces Society / Timber Press). You can learn more about Benjamin and his design work at: www.monarchgard.com

I have known and followed Benjamin Vogt for several years. I'm thrilled that he has added his voice to the GGW roster. He is a gardening professional filled with passion, knowledge, and an insatiable desire to share his gardening values with others; his words and thoughts are meaningful. So please give him a big welcome by commenting and sharing this post on social media. With deep appreciation, Fran