Saxon has been contributing to Gardening Gone Wild for over 4 years…practically since its inception. As all of you know, he is a gifted garden photographer, a gardener, a fine writer, and a man with a gentle soul. You can see more of  Saxon's work on his website: Saxon Holt and his personal blog, Mental Seeds.…Fran Sorin
When pressed I confess to being more gardener than photographer. While I do love taking pictures and trying to figure ways to tell the stories I see, gardening is what drives me to pick up the camera. I rarely pick up a camera unless I am in a garden or exploring plants and ecosystems.
I come from a long line of gardeners. My great grandfather, John Sherwood, had a beautiful home in Baltimore Maryland with a huge garden that he left to the City of Baltimore. Sherwood Gardens is still open and famous for its tulip display. The enduring, classic azalea, 'Sherwood Red" is named for him.
Growing up in Tidewater, Virginia, I became a gardener by osmosis. As the oldest of five kids I think my parents were eager to have me take up the garden chores, cutting the grass, pulling weeds, turning the compost. I don't remember enjoying any of this. I do remember being paid a penny for every dandelion and thinking this was not much of an incentive.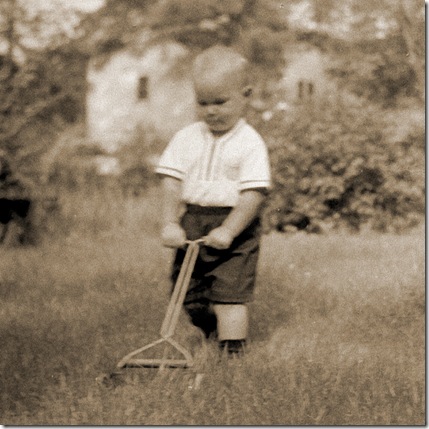 Lawn Boy
 I got a camera in High School and really got the bug when I got to college at The University of Virginia. Thinking I would be a writer, I joined the fraternity that dominated the daily newspaper only to be recruited by the Photo Editor who converted me to the photo department as soon as I saw the magic of the darkroom.
After graduating I moved to San Franicisco which had a thriving advertising market (and great climate, great food, and the Grateful Dead). It is a total coincidence that my ex-girlfriend had moved there. We were married 2 years later, now 33 years ago, and I started my first garden.
Our first home was a flat in the Richmond District of San Francisco, near Golden Gate Park. We had access to the back yard and I quickly discovered I couldn't grow many traditional summer vegetables because it was just too cold and foggy in the City. But we could grow amazing other things and I began to fall in love with plants.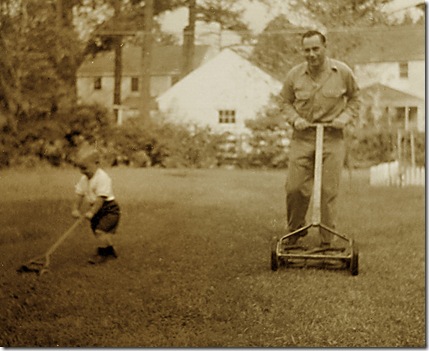 Me and Pop Mowing The Lawn
The temperate climate of San Francisco is unique in the world, truly. The cool moist fog in the dry summer with wet winters, is a paradise for plants. Tropical plants can grow with Mediterranean plants. Not only that, the native California plants, especially wildflowers, are as showy as any place on Earth.
Meanwhile, I was lucky and had found an apprenticeship with a commercial photographer where I spent four intense years learning the trade. When I started my own studio though, I soon realized I didn't like the advertising world. Casting about for something else to do I began researching the photography market.
One day, when a friend excitedly showed me a picture of a begonia she was growing in a gardening magazine, a switch literally turned on in my brain.
I could be a garden photographer !
I had been gardening but had no idea there was any garden publishing and "book learning", having learned everything by osmosis from my parents and from trial and error on my own. I redid my professional photo portfolio to one of only California wildflowers, which impressed an editor at Ortho Books, and shortly got my first assignment.
Between Ortho (now moved and owned by Meredith Publishing) and Sunset I probably worked on 20 books until I got the confidence to do my own. Teaming with garden writers to explore subjects of personal interest I have now done 9 books, started a stock photo library (PhotoBotanic), and dabbled in fine art prints.
Over the years we moved around the San Francisco Bay area, to Berkeley, Sonoma, and now Marin County. At each stop learned a bit more about garden and came under the spell of the amazingly creative gardeners who are pushing the limits of ornamental horticulture in the Bay area.
As we moved around, my wife and I raised two wonderful girls who learned gardening by being pressed into service as models for their father's work. I'm not sure much stuck with them as they now live in big cities (New York and Washington) and work in theater and international relations. I am pleased they both wanted daffodils from me as house warming presents.
I have also learned the power of photography in the media and have increasingly felt a bit more responsible to change the aesthetic of what we expect to see in a garden photograph. My interests in native plants, sustainable, and eco-friendly gardening have not only changed my own garden, I now seek out these gardens to incorporate into my work as a garden communicator.