I asked each of our GGW Contributors– Debra, Saxon, and Noel– to write some thoughts about their childhood that left an imprint on them—–and how it led them to where they are today.  It will give you a glimpse into the backgrounds of three extraordinary individuals whose passion for what they do comes through in their outstanding contributions to the gardening world.  Fran Sorin
In Debra's words:
"It's a preverbal memory of bright sun, intense color and a tubular moving object ringed with black and white. I was 2, watching a kingsnake undulate amid geraniums. The flowering shrubs grew outside the picture window of my parents' home, located in the foothills 30 miles north of San Diego.
Sometime later, my father expressed indignation than anyone would kill a kingsnake. Despite its impressive length (4 feet isn't unusual) it's a harmless rodent- and rattler-eater. He also felt sorry for hapless tarantulas, invented recipes for excess guavas, knew a cirrus cloud from a stratus, and could smell rain on the way.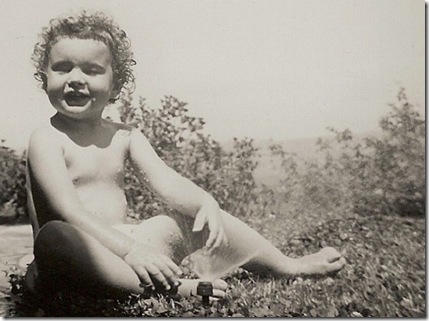 As a child I took his knowledge of the natural world for granted, but now it seems marvelous. He had earned a masters in business from Stanford, but chose to work part time as an accountant and full time as a rancher. I tagged along with him through groves and garden.
I had no siblings, and neighbor kids were few and far between, so I entertained myself. Avocado trees made this easy. They have broad horizontal limbs spaced conveniently for climbing; an open interior; and leaves on branch tips that overlap to form a tent. Beneath them is a thick layer of fallen leaves, crisp on top, soft as a sofa beneath.
Some of our avocado trees offered comfortable perches overlooking San Pasqual Valley—the same views the house would have had if crops hadn't been important. When you're 15 feet above the ground, limbs sway. I took Oz books and comics aloft and was a princess in a tower, a pirate in a crow's nest and Dorothy in a hot air balloon.
In gaps between trees grew nasturtiums, their platter-shaped leaves dotted with diamonds. Water can slide around nasturtium leaves without getting them wet because the surface repels water. I practiced making drops jump several inches and catching them in the same leaf. It's a skill that still comes in handy when kids visit.
My father terraced the garden surrounding the house with broad flagstone steps and inviting sitting areas. Whenever I smell wet cement, I hear the scrape of a hoe against the bottom of a wheelbarrow and see swirling hose water dissolve gray powder. Macho cake batter.
He planted every food-producing tree available in the mid-20th century, and that would grow in Southern California's heat and poor soil: citrus (navel oranges, Valencia oranges, mandarins, lemons, kumquats, grapefruits), guavas (pineapple and strawberry), stone fruits (apricot, nectarine, peach, plum), walnuts, pomegranates, figs and persimmons.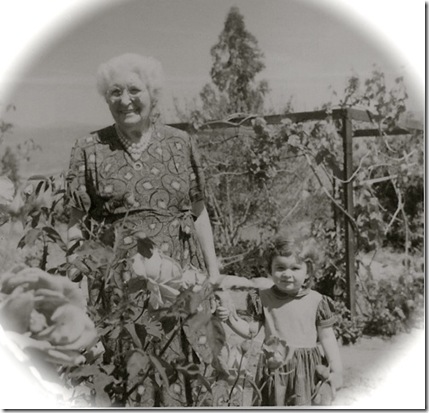 Twining an arbor grew Thompson Seedless, Muscat and Concord grapes. The fruit attracted large wasps with blue-black bodies and orange wings. They were harmless unless you were a tarantula. The wasps would sting but not kill the hairy, fist-sized spiders, then drag them home to feed future offspring.
My mother, who didn't like to garden, grew only roses (which she complained about having to prune), tomatoes and asparagus. Her preferred meal was a large Hershey bar, a cup of sugared coffee and a Salem. My father, seven years her senior, easily outlived her.
He took pride in being thrifty. One Christmas we made a tree from juniper boughs. Every year, friends and relatives received gift boxes of oranges and avocados. It would have amazed my father what Harry and David charge for the same thing.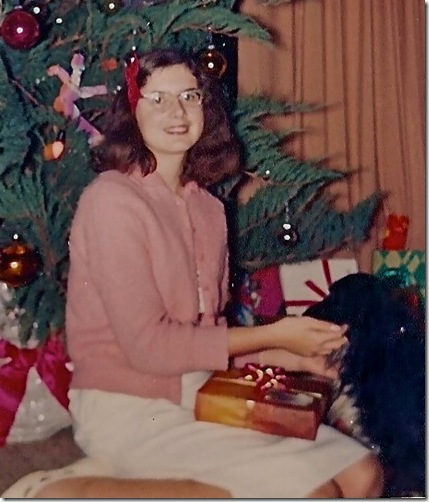 Water was the ranch's biggest expense, so garden ornamentals had to get by on little. There were palms, pyracantha, ivy, flowering eucalyptus, acanthus, arborvitae, California poppies and of course succulents, though by no means the variety now available. I sometimes wonder what my father would have thought of fuzzy kalanchoes, speckled aloes, dwarf agaves and ruffled echeverias.
There were weeds. In summer, the wild oats would look you right in the eye. There was no Round-Up or pre-emergent herbicide, just a scythe. There also was no automatic irrigation. A timer would ring and my father would stop whatever he was doing to "change the water," meaning, move a sprinkler to another location. We didn't leave town during hot, dry spells.
When I was 10 and my father had the flu, it was my job to irrigate the orchards. In the yellow light of dawn, I strode through the groves, slashing with a stick large webs that orb weavers had spun between trees. I located and turned on the laterals, knelt in soft leaf mulch, cleaned clogged sprinkler heads and felt right with the world. I was a woman with trees.
Is it any wonder I still am?"
Debra Lee Baldwin lives and gardens in Escondido, CA, near San Diego. She is an award-winning photojournalist and artist with hundreds of articles and columns to her credit. Debra authored the Timber Press bestsellers, Designing with Succulents and Succulent Container Gardens.
Her website is filled with plenty of gardening  inspiration, and is an excellent source of information on succulents and their use in garden design. Email her if you'd like to receive occasional updates on the world of Designing with Succulents.