I'm delighted that Susan Morrison and Rebecca Sweet are gracing us with their presence on Gardening Gone Wild with an in depth article on different types of vertical gardening; which is no surprise since they have just published a fantastic book on it, Garden Up! Smart Vertical Gardening for Small and Large Spaces. By the time I finished this article, I thought 'Wow…I have got to try some of these ideas on my urban roof top garden'…. Fran Sorin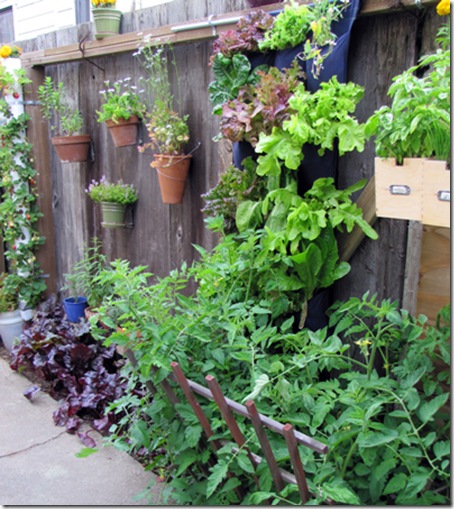 When we first told friends and family we were writing a book about vertical gardening, the typical response went something like "Great! It's about time someone wrote a book about living walls in the U.S." Being reasonably smart cookies, we eventually figured out that most people's definition of vertical gardening begins and ends with living walls.
But as beautiful and inspiring as a book filled with living wall photos might be, we're not garden reporters, we're garden designers. For us, everything flows from the magic that happens when we work with our clients to create personal spaces. We weren't interested in a book about multi-story office buildings draped in high maintenance greenery and supported by complex, expensive hydroponic equipment. Instead, we were looking for vertical gardening ideas that reflect how most of us actually garden – whether that's on a balcony, in the city or on a traditional suburban lot. With that being said, if you are a gardener who is interested in learning about organic hydroponics, doing some research into this should hopefully get you up to date with the basics of how this could benefit you and your garden.
As we began researching, writing and photographing, what we found is what we already knew – that the best gardens have a sense of place, or terroir. If you're unfamiliar with the term, Rebecca recently defined it in her Horticulture column like this: "In garden design, sense of terroir is often interpreted as sense of place. Taken literally, this refers to the specific region and the environmental factors in which you garden. Metaphorically, however, it refers to the 'place' to which you want your garden to transport you." The gardeners we met along the way shared spaces that were all incredibly different in the size, style and complexity of their vertical gardens, yet they all had one thing in common: a distinctive and magnetic sense of place.
Reveal who you are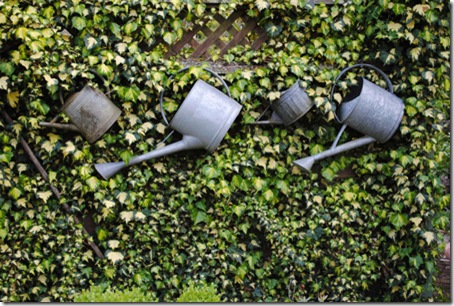 One of the most extensive and envy-inducing gardens we visited belongs to artists Freeland and Sabrina Tanner. Located in the Napa Valley, their garden has been showcased in magazines ranging from Garden Design to Fine Gardening. The artists' eye is apparent everywhere, from the world-class garden design and layout to the many charming vignettes scattered throughout.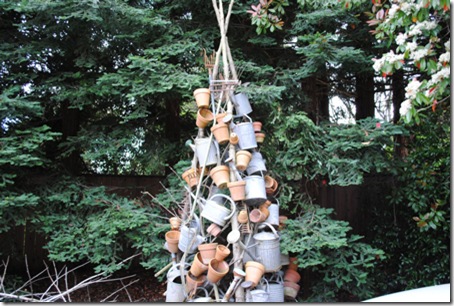 What makes the garden special, however, is how much the garden reflects not only their design aesthetic, but themselves. A wall of variegated ivy is highlighted with a personal collection of watering cans. Instead of twining vines, an over-sized garden teepee is covered with an eclectic mix of garden tools. We love this garden not because it is a showcase in the designed sense of the word (although it is), but because it's a visual introduction to the artists who live there. Incidentally, the Tanners maintain their garden themselves.
Build a community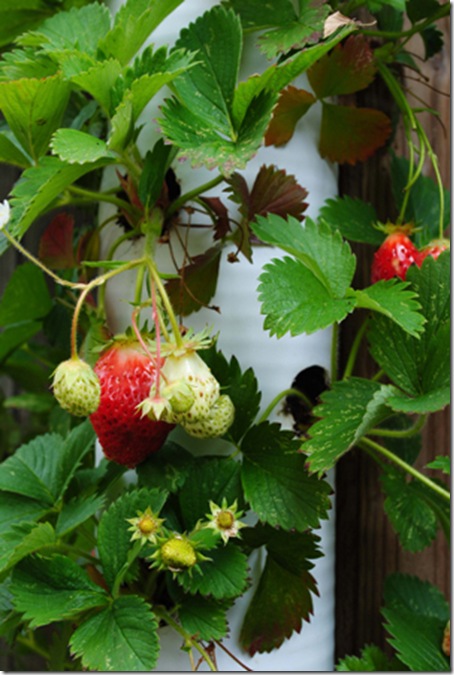 At the other end of the spectrum in size, budget and purpose is a gem of a courtyard garden we discovered in downtown San Francisco. When twenty-something gardener Emily Goodman moved into a new apartment building, she wanted to grow vegetables, but the small shared courtyard was almost entirely paved over in concrete. Undaunted, she turned the fences into her canvas. Relying on ideas she found on the internet and using items she salvaged from family and friends she created a thriving garden of peas, berries, herbs and more.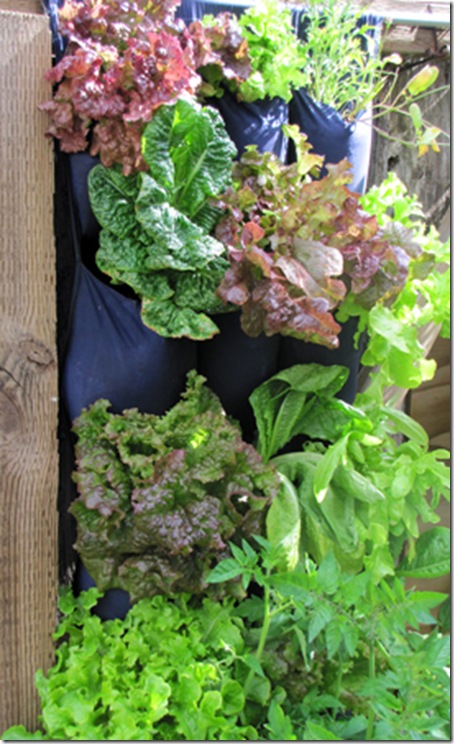 PVC pipe was transformed into strawberry towers, while a discarded five gallon restaurant bucket was repurposed into an upside-down tomato pot. A dedicated do-it-yourselfer, Emily used a closet shoe-organizer as the inspiration for a homemade living wall of lettuce. She didn't ask permission, just kept adding containers and shelves. Eventually, her neighbors introduced themselves, and the courtyard went from a place to store junk to a gathering space for the building. The sense of place we felt in this tiny courtyard is summed up in a few words and phrases – playful, self-reliant, respectful of the environment, inclusive.
Create an oasis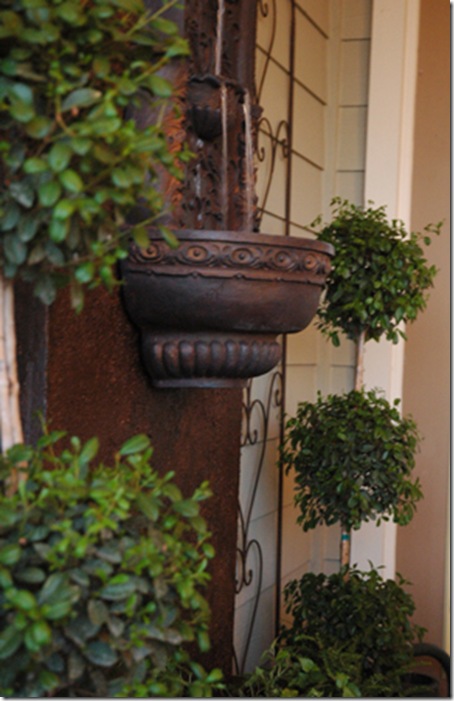 Oftentimes, sense of place means tapping into the culture, community and natural landscape where you live. But when your home is an apartment building that looks onto the back side of a Lowe's, looking elsewhere for inspiration might be the better option. After falling in love with Dawn Engel's The Artist's Garden Creole-inspired garden at the San Francisco Flower and Garden Show, designer Jenny Peterson was determined to create the same romantic feel on her own Austin, Texas balcony.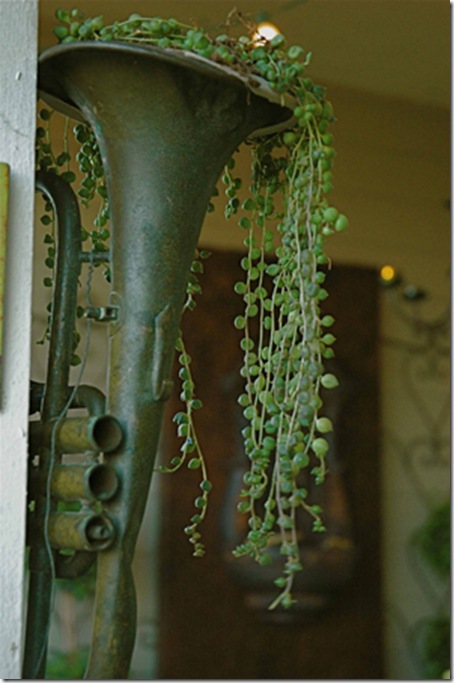 Adding a wall-mounted water feature to a balcony was no small feat, but it provides the backdrop for a charming space filled with topiaries, cozy throws and rugs and whimsical touches like a trumpet overflowing with the succulent known as string of pearls (Senecio rowleyanus). Despite contending with both a slim space and a slim budget, Jenny successfully transformed her plain-Jane balcony into a relaxing and artistic New Orleans-style retreat. (Read more about creating a balcony garden on Jenny's blog.)
Vertical gardening may seem like just another trend, and by all means, if you're in the mood to try something new in your garden this spring, check out one of the many affordable living wall options available (yes our book does include a chapter on living walls). But don't view your vertical spaces as a piece of real estate disconnected from the rest of the garden. Instead, use your fences, walls and railings to create a sense of place that's uniquely your own.
Shawna Coronado takes advantage of a bare garden fence to display her grandmother's collection of antique balls and glass insula