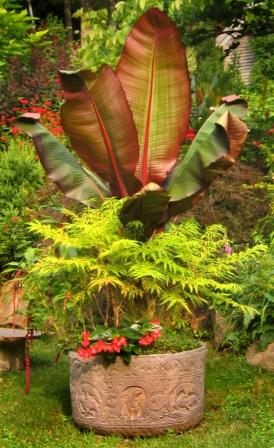 My HOCD-horticultural obsessive compulsive disorder–kicks into high gear when it comes to containers. I use more than 100 in my garden. I have hordes of mixed containers -those planted with a riotous array of plants, and many more outfitted with a single specimen. Even empty pots play a role (but more about that in a future post). Yes there is some – OK, a lot – of maintenance involved in all that, but I have learned more about garden design from playing with pots than I have from any other pursuit, indoors (I have zillions of gardening books ) or out. And the kind of container culture that has taught me the most is designing mixed plantings.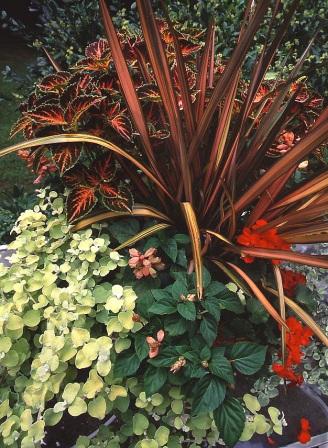 I've come up with an easy-to follow recipe for making mixed pots. It calls for three simple ingredients: A brawny thriller – a dramatically architectural , eye-catching plant to serve as centerpiece; a spicy filler – a mounding, billowing plant to fill in around the base of the thriller; and a tasty spiller – a trailing vine or tumbling plant to spill over and soften the edge of the pot and to sprawl earthward to help visually connect the pot to its place. In the big pot at the top, I'm using red Abyssinian banana (Ensete ventricosum 'Maurelii') as a thriller, a 'Tiger Eyes' sumac (Rhus typhina 'Tiger Eyes') as a filler, and some dragon wing begonias as spillers (something they did a lot more of later in the season). And here's a nice pot assembled by Sydney Eddison; it uses a Phormium 'Maori Sunrise' as the thriller, a coleus, a salmony Salvia splendens and a fire-engine-red geranium as fillers, and a Helichrysum petiolare 'Limelight' as thriller.
As long as you use at least one each of the ingredients in my recipe, you've got a good chance a creating a handsome container. The key is to really work the shapes, textures and colors. I tend to use lots of annuals, tender perennials and tropicals in my pots because the lengthy bloom times, vividly colored flowers, and the outrageous shapes and textures of their foliage are so much fun, but I've made pleasing pots using a mix of perennials and woody plants too.
A few additional strategies: keep your plants in proportion. I like to think in threes, so I'd rarely use a thriller more than three times as large as the fillers. Think too about scale- something that's a thriller in a 12-inch pot may be a filler in a 20-inch composition. I also work mostly with foliage plants, as their contributions last longer and the plants are easier to keep in proportion as they grow through the season. For good-looking results from day one, I plant my mixed containers densely from the get-go, knowing that some plants will get overrun as the season progresses. I try to work with the growth rather than against it, and appreciate the lush, almost overgrown look that characterizes the late season. For those nicely stuffed early-season pots, I sometimes include a few plants that I leave in their original, 4-inch-or-so nursery pots, then, when they start to get overrun, I just pluck them out, pot and all, and use them elsewhere in the gardens while the remaining plants fill in and knit together.
Plus, there's nothing sacred about using one of each type of plant, or limiting yourself to three kinds of plants. Sometimes a single will host two different thrillers, a bunch of fillers and three or four spillers -it all depends on the size of the pot.
Here's a gallery of different approaches: This pot with a fuchsia thriller was designed by Wesley Rouse, of Wooodbury, CT.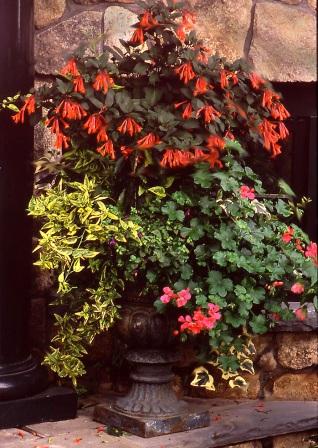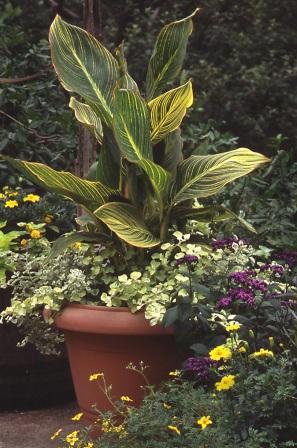 Sydney Eddison designed the pots above and below. The two color schemes are almost identical, the different textures and shapes gives the pots a very different feel.
This last one, with an airy, light feel, is by Bucks County, PA garden designer Jerry Fritz.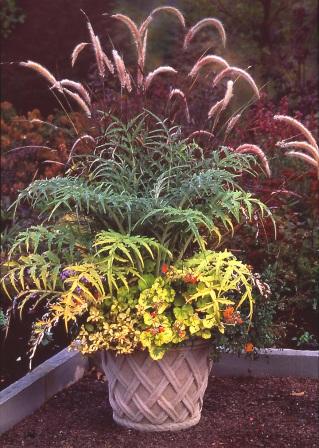 I wrote about Thrillers, Fillers and Spillers several years ago in a Fine Gardening magazine article, and this past summer wrote an entire special issue devoted to the topic. My latter effort really details the design technique and includes profiles of about 25 each of my favorite thriller, filler and spiller plants.