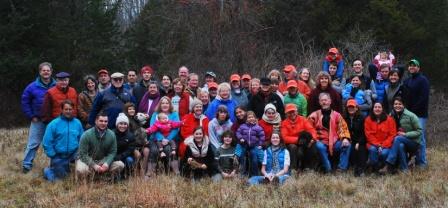 My family celebrates Thanksgiving outside. Sun, snow, rain or whatever, we congregate at Thanksgiving Field to celebrate the day in a way for which I am truly grateful. I can't take much credit for it though. My mother-in-law Hope and her brother Burges started the tradition more than 50 years ago, and haven't missed a year. My son knows no other kind of Thanksgiving, and for him, like me, it has become his favorite day of the year. Luckily for us all, Thanksgiving has managed to escape the yoke of commercialization that has cheapened most holidays, so it retains a purity of intent: Giving thanks is still the heart of it all.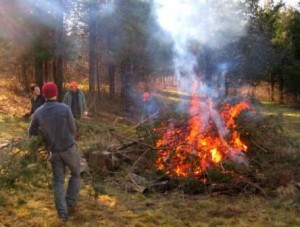 I got a promotion this year, to Fire Boss. So my Thanksgiving begins about 9:30, with the lighting a of a huge bonfire.  Cousin Sandy and I have spent several mornings over the past weeks cutting downed trees into logs, and clearing brush in the field, a former cornfield now grown over with grasses and cedars. We make a huge blaze, so that by the time people arrive the fire will have settled to a bed of hot coals, the better to keep us all warm without too much smoke blowing in peoples' faces.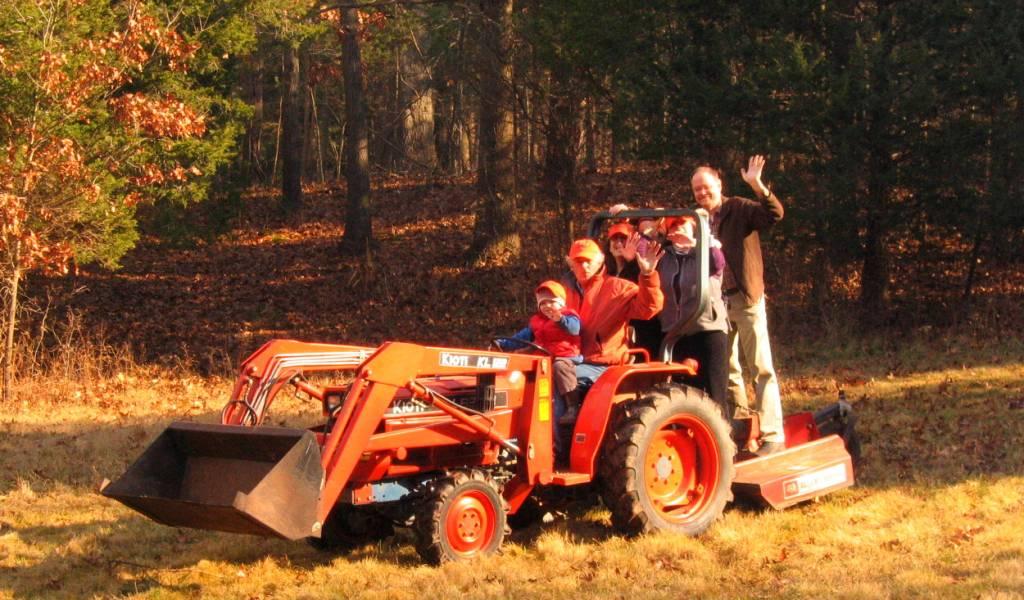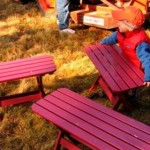 People start rolling in around 11:30. We eat early to take advantage of the warmest time of day. Folks arrive on foot, by tractor–one year, some came by oxcart. Set up begins. Even the little ones help. We've made brick hearths in the ground, and a few scoops of coals helps keep the goodies warm.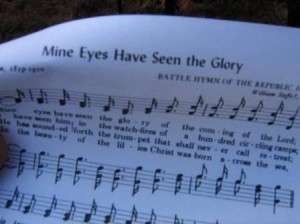 My uncle-in-law Burges, who helped start this whole thing, loved song, and his family includes a few members with beautiful voices. So we gather round the fire with our special homemade Thanksgiving song books, and sing a few songs. Usually a few giving thanks kinds of hymns, and then the favorites-"Mine Eyes Have Seen the Glory" and "America the Beautiful."  Out under the sky, standing upon God's good earth, and as one in a huge, encircling ring of family–being very, very thankful comes naturally. It's easy to be in this moment.
Then it's dinner time. Yesterday was fine, sunny and mid-40s. On days when there's been a foot of snow, temperatures in the 20s or pouring rain, the idea is eat quickly enough so the gravy doesn't freeze or the stuffing get soaked,  but we could take our leisure this time around. After dinner, I take the traditional group shot, and we retreat indoors, to the house Burges and Hope grew up in. There we enjoy the finale, coffee and a table overflowing with cakes and cookies, pies and puddings.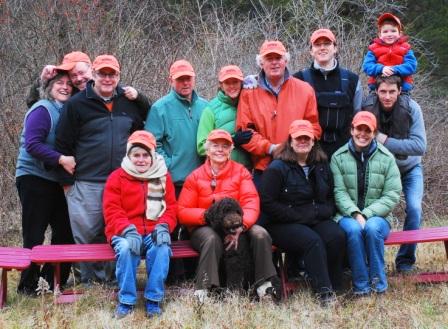 You might have noticed a few orange hats in some of the pictures. Uncle Burges died this summer, just shy of 90. His signature Thanksgiving attire was a hooded orange sweatshirt. So his immediate family all wore orange hats in remembrance. For me, I'm thankful for many things this season, especially for having known Burges and for being part of the tradition he helped to begin. Long may it last.