CONGRATULATIONS TO WINNERS Dawn Standke, Lori Key, Robert Bornstein, Holly Chaille, Debby West, Donna Walter, Jennifer Lachman and Amy Castillo. That's right, EIGHT of you. A tie of sorts. Each time I read the comments, I kept adding someone to the winners' list. I figured, Sunset is being very generous, so what's three more books? And if need be, I'll pick up the tab. Your community gardens and the people you feed from your garden…well, I wish you ALL could have won.  As a consolation, I'll post Sunset's Chocolate Zucchini Rum Cake Recipe here in time for zucchini season. Some of you offered to send me your extra zucchinis, ha. (You were kidding, right?) Many thanks for visiting GGW. Come back and see us. You won't want to miss my next post, on bizarre cactus. Love you guys!– Debra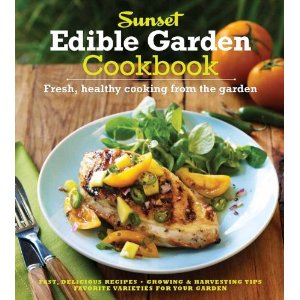 Sunset asked if I'd like five copies of their new Edible Garden Cookbook: Fresh, healthy cooking from the garden to give to GGW's readers. I responded, "Are you KIDDING??"
It's a very cool book. I sampled some of the recipes at the Sunset test kitchen recently. You know how having too much zucchini is a joke among gardeners? Well, wait 'til you taste Sunset's Chocolate Zucchini Rum Cake. "It's a fine use of zucchini that has perhaps grown a little too big," the book says. I'm in danger of growing a little too big, too, now that I have the recipe in my hot little hands. Eating the rich, moist, chewy, chocolaty cake was an OMG moment. Trust me, there's no hint that it's healthy.
Whether I grow the veggies myself or buy them at the farmer's market, I also look forward to Spaghetti Squash with Jalapeno Cream; Filo Tomato Tart; Arugula Parmesan Salad; Swiss Chard Pesto Pasta; Fresh Corn Salad with Avocado and Basil; and one I can attest to (having tasted it) Swiss Chard and Sausage Frittata. The book even has fig recipes—which thrills me, because the fig tree I planted last year has really taken off. There's a quick jam made with fresh figs, blackberries and orange juice that sounds great for stirring into plain yogurt. Yum.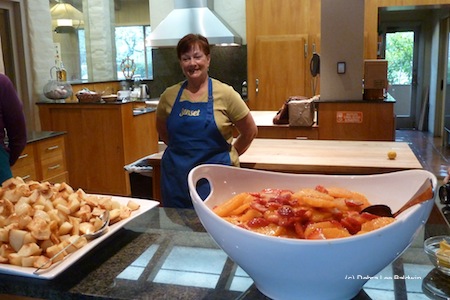 Above: Served at the Blogger's Breakfast at the Sunset Test Kitchen: Golden Olive-Oil Roasted Potatoes, left, and a fresh fruit salad, right. According to the new cookbook, "Soaking the potatoes at least a day (and up to 2 days) ahead makes them even crisper on the outside and creamier in the middle."
To enter to win a free copy of the Sunset's Edible Garden Cookbook, leave a comment below stating why you'd like to have it. I'll choose five winners based on your comments at 12:01 a.m. PST on May 31, 2012 and contact the winners within 24 hours. They will be listed here, in red, as an addendum to this post. If a proposed winner forfeits or does not claim the prize by June 3, the prize will be re-awarded.
The number of eligible entries will determine the odds of winning. This giveaway is limited to U.S. residents only, who are over the age of 18. No purchase necessary to win. This sweepstakes is void where prohibited by law. By entering this giveaway, you are agreeing to these conditions.
Disclaimer: The book was provided for me to review. I won't be responding to each of your comments as I normally do, but rest assured I'll read each with keen interest. Good luck everyone!