The Succulent Extravaganza at Succulent Gardens nursery near San Francisco was an opportunity to connect with old friends and make new ones. I gave two presentations and was busy signing books, but I didn't forget my dear friends at GGW. Here are a few highlights I hope you'll enjoy. Photo of me by Rebecca Sweet.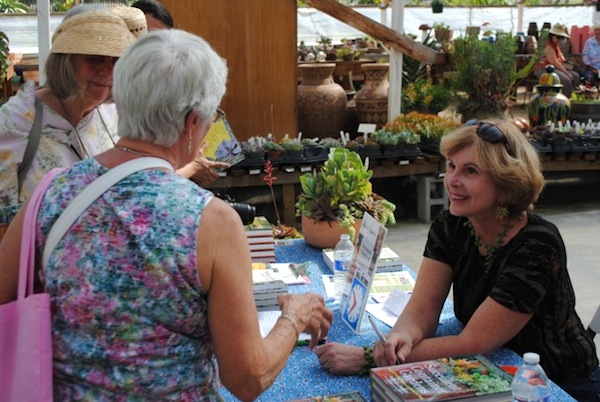 Cathy Leiss of Brisbane, CA wore a succulent headband. The green of the rosettes contrasted beautifully with her auburn hair. Cathy's a little shy.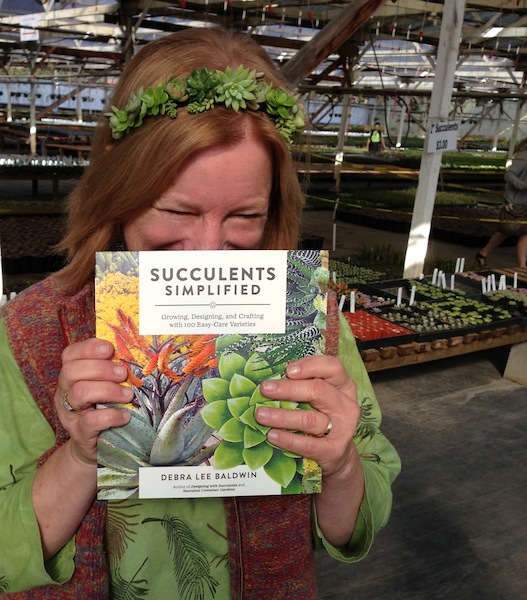 The Succulent Fanatics, a Facebook group founded by San Jose master gardener Laura Balaoro, had a display table with creations by members. Some of the items they made were whimsical.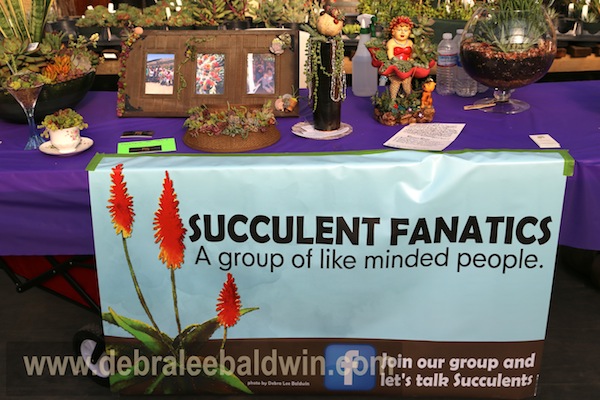 Laura Balaoro filled a coffee cup and martini glass with succulents.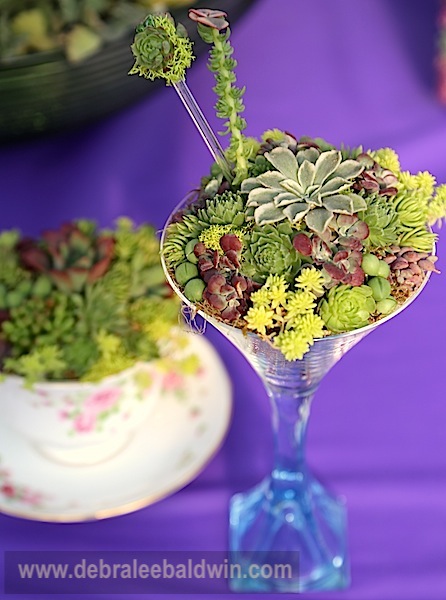 She made this succulent-bedecked bracelet, worn by her friend, Jeanne Eige, too. Laura also gave a presentation showing how to decorate hats with succulents.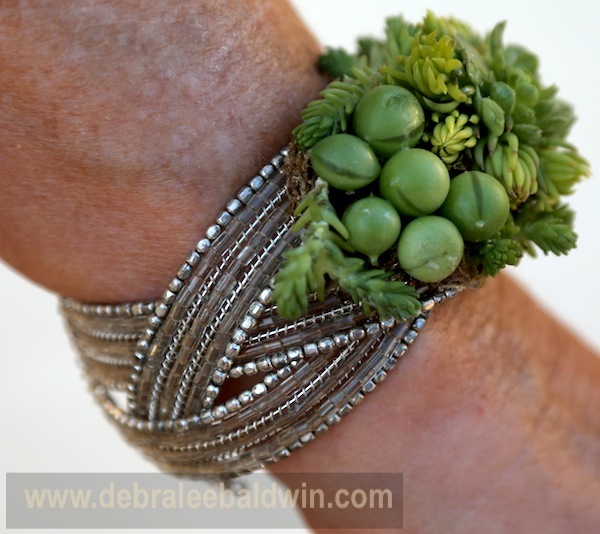 Katie Christiansen of Seattle embellished a photo tryptic, which was displayed on the table, with delicate garlands of succulents.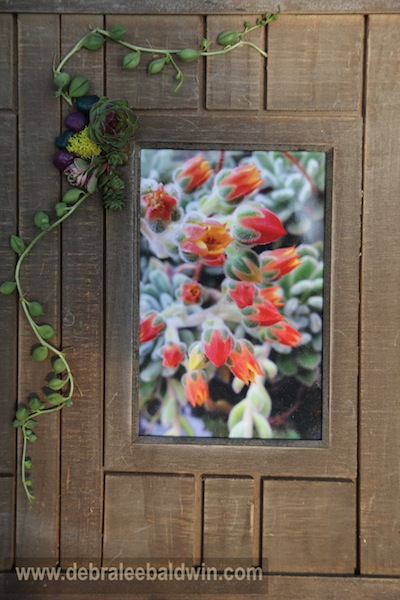 Danielle Romero of California Cactus Center in Pasadena made this composition. I love the way the sansevieria explodes upward and frames a gorgeous, red-edged aeonium. Wouldn't it be fun to work for a nursery that lets you creatively combine succulents in compositions like this, each one different? Danielle and husband Michael Romero—also a garden designer—brought their baby boy, Mikey, who stole the show.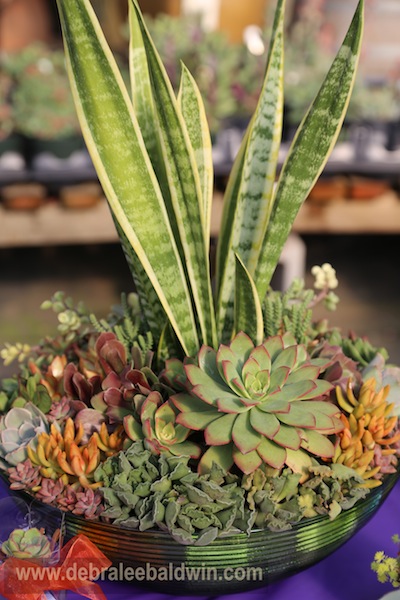 Succulent Fanatic Deana Rae McMillion Shroll wore a hat decorated with a band of succulent rosettes.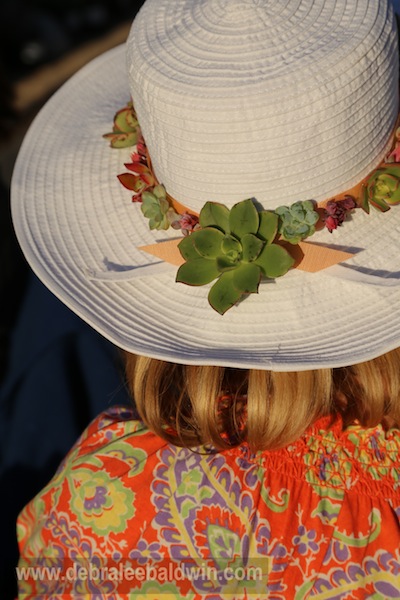 Tony Krock of Terra Sol Nursery in Santa Barbara demonstrated how to core agaves—a propagation technique. If you carve out the central core of an agave, it stimulates the meristem tissue to produce new little plants. Although this sounds drastic, it's better than waiting years for an agave to bloom.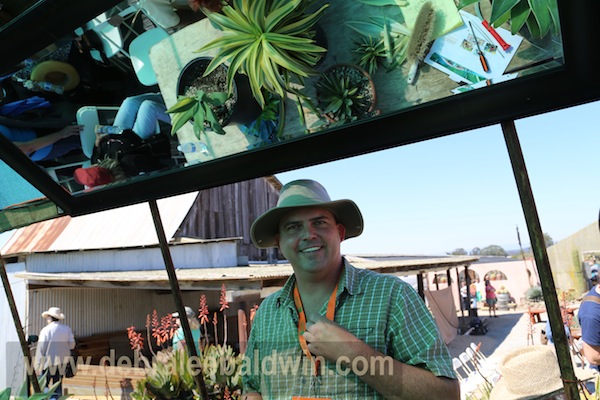 Another member of the Succulent Fanatics Facebook group, Kim Jordan Bryce, made necklaces for the members who attended the event. This is the card she gave me with mine. It shows a painting by a friend of hers who is an artist.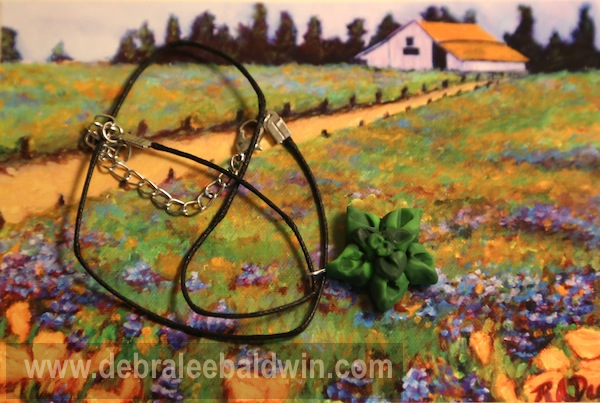 Jen Golden wore an entire succulent garden on her hat. She admitted it was rather heavy.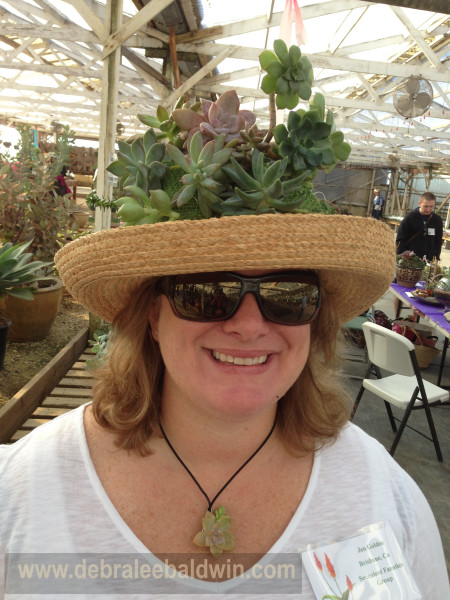 Behind the presenters, the succulent globe that nursery owner Robin Stockwell made for the San Francisco Flower & Garden Show revolved slowly. It was one of the event's must-see attractions. Nothing like it has been done before—it takes vertical gardens to a whole new level. (For more information on the globe, see my earlier post.) Here, Marialuisa Kaprielian demonstrates how to wire succulent rosettes, with Robin and wife Sanne looking on.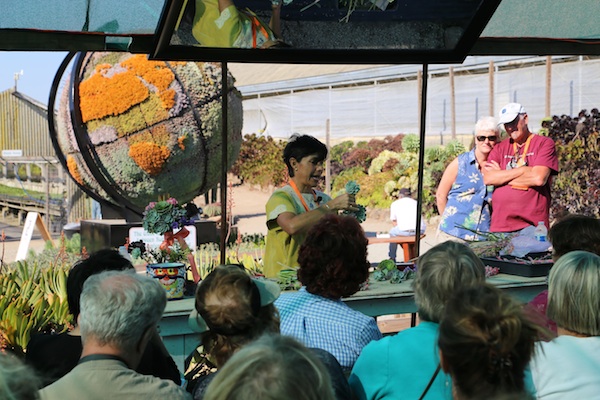 Marialuisa is a San Diego florist specializing in succulents, and at the Extravaganza, she showed how to make a wedding bouquet that combines succulents with flowers.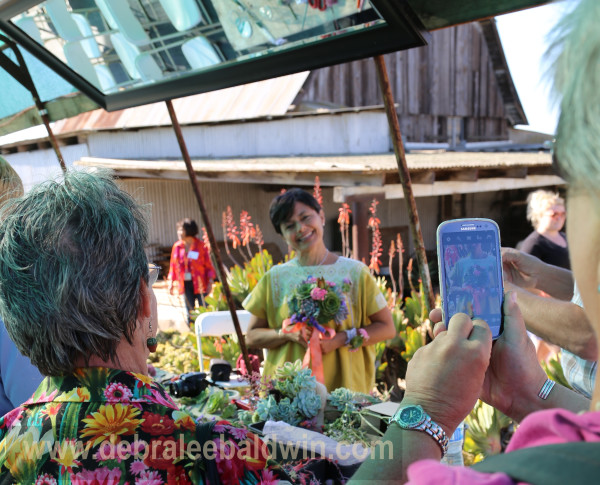 Marialuisa's bouquet was used soon afterwards by a bride for her wedding.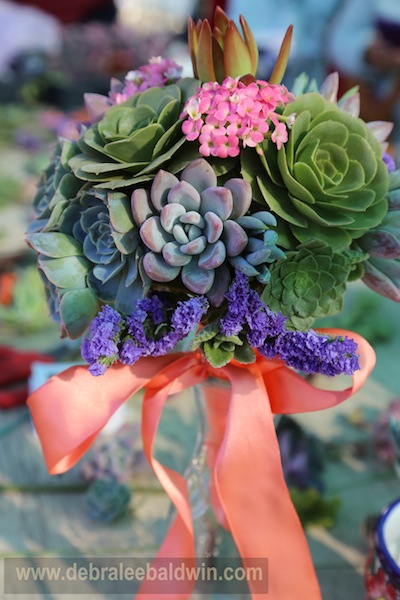 Presenters Kim and Kristin Scheidt, a mother-daughter design team, repurposed a fishing creel as a container for succulents.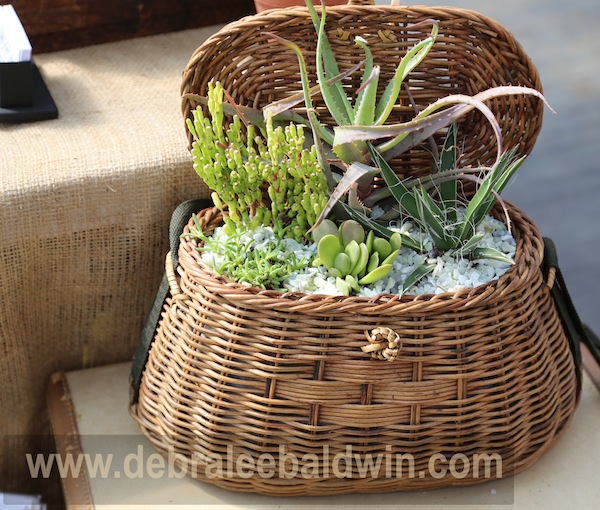 Garden designer Gary Bartl of San Rafael, north of San Francisco, demonstrated his technique of combining rocks and succulents to make a miniature garden that suggests a rocky wilderness.
This one features rose quartz.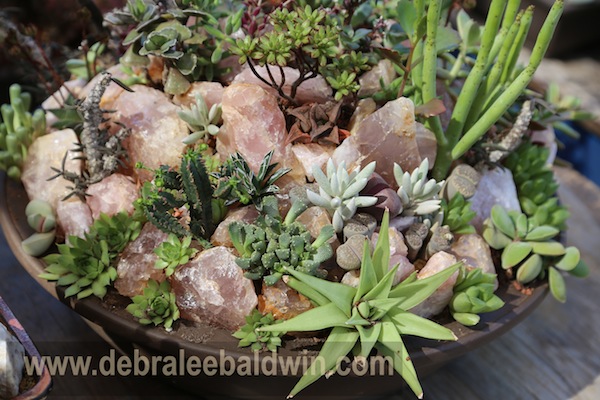 A relative (daughter-in-law, I think) of the Stockwells made cupcakes decorated with fondant succulents.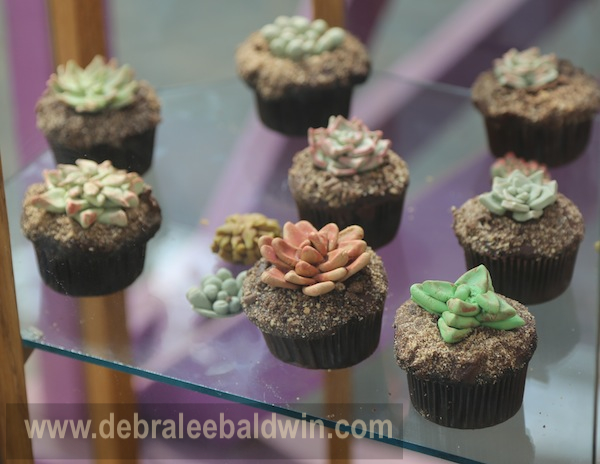 Would you have liked to have attended the Extravaganza? I'd love to know what aspect of it interests you the most.