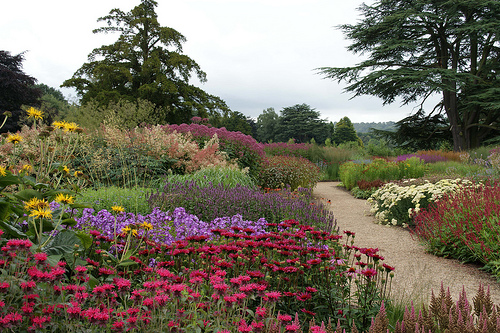 A Conversation with Jacqueline van der Kloet
To learn more about Piet, I decided to speak with two people who have worked closely with him over the years.
First on my list was Jacqueline van der Kloet, a highly respected Dutch garden designer especially known for her knowledge of and artistry with bulbs. She initially met Piet in the 1990s: she was writing an article about the perennial, astrantia, and went to his home to interview him about it. What Jacqueline thought would be an hour-long interview turned into several hours of deep conversation about a plethora of gardening subjects. Without ever having met Jacqueline before, Piet suggested that she attend a plant conference with him in Germany, thinking that it might prove to be interesting and beneficial for her. Jacqueline did: and so developed a professional relationship that has continued to grow and flourish for more than 15 years. To this day, Jacqueline marvels at Piet's enormous generosity.
When Piet was commissioned to design The Battery Park Conservancy's Garden of Remembrance, few bulbs were initially part of the design, accept for alliums, which he loves. Yet, when he was approached by bulb representatives from Holland about using a sweep of spring bulbs for the opening act of the spring garden, with Jacqueline van der Kloet as the designer, Piet was immediately receptive. His only requests were that the bulbs be in harmony with his plantings. The tulips chosen to be used at Battery Park and later at The Lurie Garden at Millenium Park (where Piet asked Jacqueline to create a lavish display of spring bulbs) were limited to varieties with a life expectancy of close to 8 years.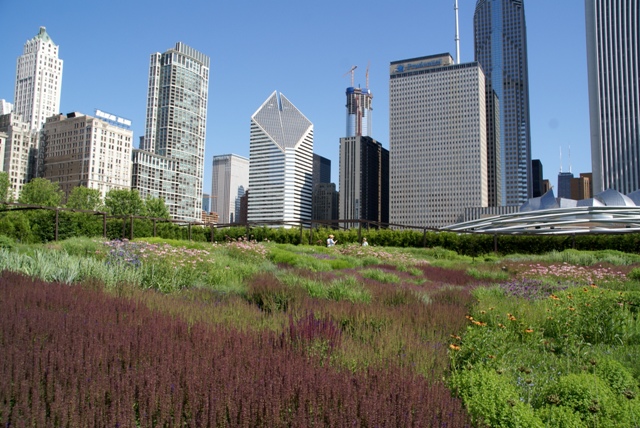 Throughout our conversation about Piet, Jacqueline's sentences were peppered with words like generous, curious, perfectionist, experimental and genius. She also talked about Piet's sense of humor and ability to be flexible and relaxed, like the time they were on a trip together: Piet had made plans to visit gardens for an afternoon but when Jacqueline told him that she was planning to go shopping, Piet, with good humor, went along and spent the afternoon shopping.
The most memorable story Jacqueline shared with me was how Piet and Anja were on site the day the 60-70,000 bulbs were to be planted at Battery Park. It was an incredibly cold, gray and windy day. Along with the volunteers and staff, Piet and Anja, working close to each other, began planting bulbs. But before too long, they each got the hang of how to do it and went their own ways. Jacqueline said that she would never forget the site of Anja bending over with handfuls of bulbs and placing them in the hole.
A Conversation With Noel Kingsbury
Noel Kingsbury has written two books with Piet: Designing with Plants and Planting Design: Gardens In Time and Space. In our conversation, he described Piet initially as a man of few words. He then went on to say that "Like all Dutch, Piet tends to be quiet upon a first meeting but once you know him, he is warm, generous and open."
Noel, not surprisingly,  said that Piet is a man of many interests and is well versed in a number of subjects. Noel concurred with Jacqueline's appraisal that when Piet and Anja travel, he has the ability to enjoy other things besides gardening.
I had made the assumption that Piet visited other gardens throughout the world, but I was wrong. Noel said that Piet is always willing to talk about plants and share ideas but that he does not visit other gardens.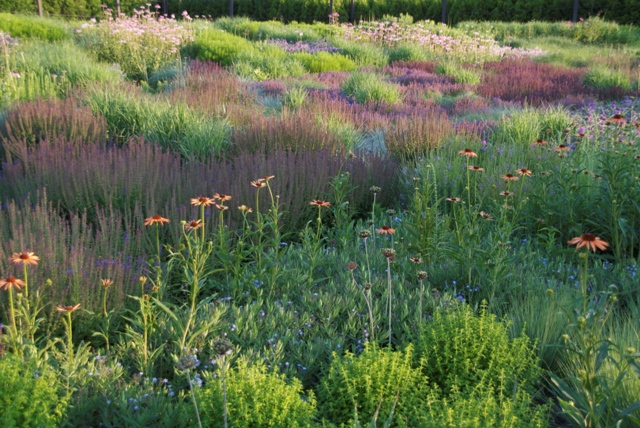 We discussed several of the gardens that Piet created but it is The Lurie Garden at Millenium Park that Noel seems to be particularly taken with, labeling it a "gutsy garden." He talked about how Piet was not familiar with the native plant material of the Midwest prairie when he took on the project. But because of his tremendous curiosity, Piet learned about the plants indigenous to the region and used them prolifically in this landmark Chicago garden. It's Piet's hope that this garden will act as a model for gardeners throughout the Midwest to become familiarized with a new way of gardening and eventually start bringing elements of it into residential and commercial gardens of that region.
Like everyone else with whom I spoke, Noel praised Piet's work, discussing the complexity, structure and genius of his creations. But when Noel also mentioned the integrity of Piet's gardens, my ears perked up. He said that Piet easily could have developed a thriving, multi-tiered business but chose to maintain his own hands-on work. He has never wanted to shortcut a client and feels that all of the design, from soup to notes, needs to be done by him. Noel's final words were: "Piet is a true artist."
**All photographs supplied by Piet Oudolf
For Part III of the interview, click here.
For Part I of the interview, click here.