With 82 entries, our judge, Josh McCullough of PhytoPhoto, had a bear of a job to go through each photo at least once before narrowing it down to the semi-finalists and then the finalists.
Without further ado, here are Josh's comments and picks:
"First, I just have to give a big thanks. As I linger over this strange family of images brought together by purpose and chance for me to digest along with my holiday meal, I am imbued once again with a desire to give thanks. Thanks for all the entries, especially first time entries, for everyone's appreciation of the theme and for the invitation into all of your thoughts in how you see and interpret this idea. There are so many great images this time around and quite a crafty approach to the subject by many of you. Lovely. Thanks, thanks, thanks.
A few to touch upon: the unbelievably romantic, nostalgic work at ThingsILove-Marmee for both the quality and quantity of thought that went into the lines theme. Duly impressed. It is often difficult as a commercial photographer to come back to the office with 300 or 500 or more images and try to decipher which 3 or 5 make the cut. Your fences series clearly shows that struggle. And in the same old-timey vein the fences at LifeInSugarHollow are simply lovely. Wow!
And a lot of you *tried* to  enter multiple shots but Rose Notes is the only one to create a composite image! Very nice. And at MacGardens among others, it was fun to see the thought process behind other images that did not make the cut. Climatic humor got me at NotSoAngryRedHead: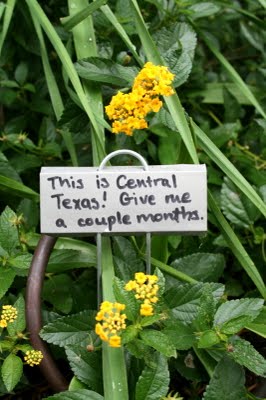 As the entries built up, I pulled them into the Lightroom so I could compare them side by side.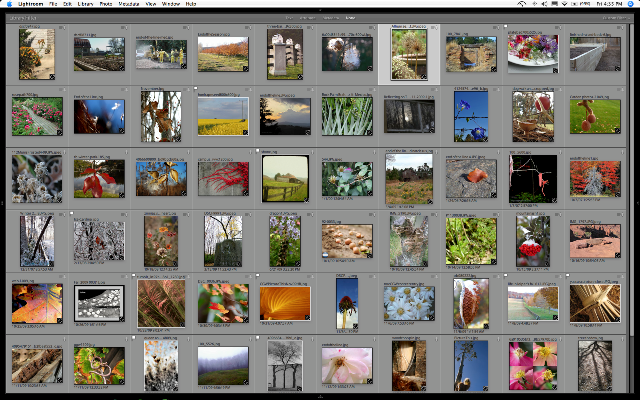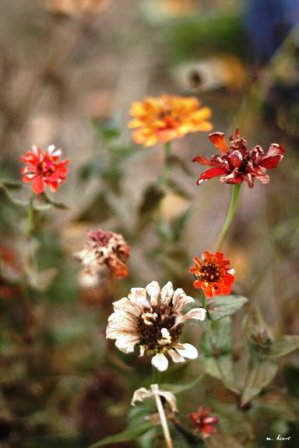 As I looked over the the large number of images (no, I am not coming to the End of my Rope, thank you very much), the sheer quality of a number of runners up became clear. I must give special mention to the very dreamy image at Pam Penick's Digging  and to Jo at JocoPhoto for the great before and after. The poetry of work with zinnias at SecretNotebooksWildPages, as seen at right, is simply superb.
Some of the stories accompanying images were alone stunning, such as the old barn at Jean's DigGrowCompost.  And if ever there was a good take on the End theme, then the final monocarpic catapult of agave bloom at CaribbeanGarden certainly is that!  The "row of honey locust trees and shadows against the wall suggested prisoners grimly facing a firing line" black and white at The Garden of Live Flowers (below) cannot be left without special mention. In fact there are simply too many to mention: yucca leaves, ice cardinal and campus ivy, oh my!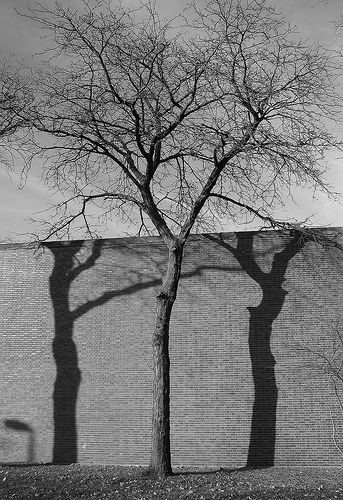 But, let me get down to the real meat of the matter. This is a game of apples to apples in the end. And amongst all the excellent work these are the images that caught and held my attention.
So, for the Silver Medal Awards, of which there are 3 this month:
MisterCakesPhotoAdventures work with lines gets a boost from both uses of the theme, an end of the season Muhly Grass in a very linear rich image. 
And nearly as strong linearly as well as more in keeping with the metaphoric End of the Line is the fine and creative partial black and white conversion of Queen Ann's Lace from We Heart Yarn .
The final of the Silver Medal Awards goes to Christine at  idoradesign for the deceptively simple autumnal leaf sculpture. Though it looks like Cordyline rather than Yucca, the image conveys a utilitarian End of the Line that both surprised and attracted me and the rich straw tones an almost perfect monochrome.
And the Gold Medal Award goes to: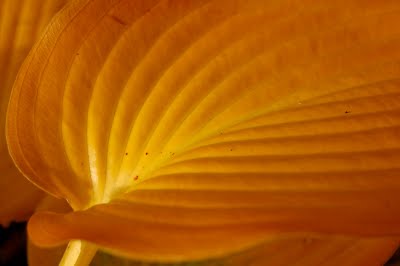 The utterly glowing image of a single Hosta leaf by Helen at Toronto Gardens drew me like a moth to flame. Not only is the color vibrant but the parallel veins all lead your eyes to the focal point of both lightest and sharpest area of the field. Beautiful!"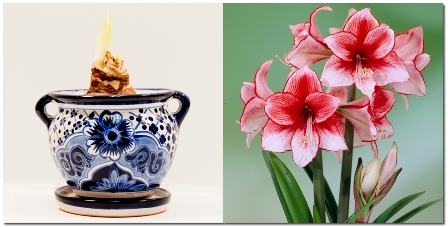 Since we cannot send plant material outside of the United States, High Country Garden's prize of  the beautiful Amaryllis Charasima and the stunning Talavera Pot has been chosen by Josh to go to WeHeartYarn. A big thank you goes to David Salman of High Country Gardens for having supplied the prizes since the inception of Picture This last spring.
And a huge thank you to Josh McCullough of PhytoPhoto for doing such a thorough and thoughtful judging of the multitude of entries this month. I hope you take the time to get onto Josh's site. His work is outstanding!  We are delighted that he has become a member of our group of renowned judges: and yes Josh, I will be knocking on your door again.
To all of you who participated and offered the rest us of a feast for our eyes, thank you! It was wonderful to see new entries this month as well as those of you who continue to participate in the contest. You truly are offering gifts to the garden blogging community by sharing your photos. They are thought provoking, informative and inspirational.
If you want to check out the past months' photos, here they are:
Native Plants – April
Containers – May
Roses – June
Flowering Trees – July
Down On Your Knees – August
Ornamental Grasses – September
Abundant Harvest – October
End Of The Line – November
We appreciate all of the comments and suggestions on our post asking for your feedback about the Picture This contest. We're definitely going to continue this popular event, but we need some time to process all of the ideas we have, so we're going to take a break at least for December and start again sometime after the new year. In the meantime, we'll have another interactive column beginning that will keep you busy over the winter months; watch for details soon!
For all of the winners, if you need a downloaded attachment in order to add your winning badge to your site, please contact me at fransoringardendesigns@gmail.com And WeHeartYarn, please send me your mailing address so that High Country Gardens can get your prize sent to you as soon as possible.