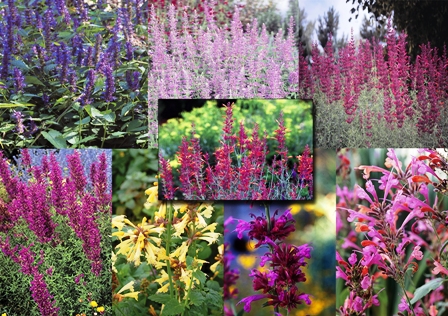 We understand that the subject and rules for Picture This, the new GGW photography contest, were a little puzzling to some. So, we've  made a few changes that we think will make it much easier for all of you to participate.
1. First, the theme for this month has been broadened to include native plants that are indigenous to your region (not just your state, and not necessarily in a water-wise garden). A photo of any native plant, either a close up or in the landscape, that you think merits attention will qualify.
2. To make the process of entering simpler, we are now asking that you post the photo on your own blog with a link to GGW. Then come back to this post and give us your link. Our readers, as well as our judges, will come to your site to gaze at your fabulous photo. If you've already submitted a photo and don't have a blog of your own, please let us know (at ggwcontest@gmail.com) and we will post it for you.
And finally, check out the photo of these agastaches!  Our colleague and friend, David Salman of High Country Gardens, has been kind enough to offer these eight agastaches, some of High Country Garden's best, as the reward for the April contest. (David also supplied the beautiful photo collage at the top of this post.)
So come on, don't by shy! Post a photo and who knows? You might be the winner (which will be announced  before the end of the month).