As we kick off the New Year, what better way to start off our first Picture This Photo Contest of 2011 then with David Perry as our judge. As many of you may remember from our August 2009 Picture This, David is a phenomenal, multi-faceted photographer whose work is inspirational.  His website and blog, A Photographer's Garden Blog are both feasts for the eye and a testament to David's depth, creativity, and talent as both a garden photographer and writer.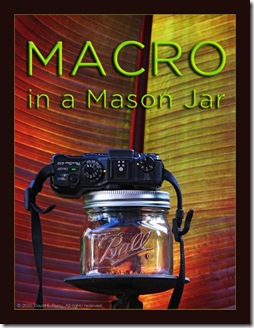 "Ok, my point-and-shoot-camera-lovin' friends, you've all heard of time in a bottle and a tempest in a teapot, but (unless you've been following my blog, A Photographer's Garden Blog at least November of last year, I'd be willing to bet you've never heard of "Macro in a Mason Jar" until now. And that is the theme for this month's "Picture This" photo contest: Macro in a Mason Jar. Unlike some assignments where the kids with the bigger, fancier cameras have a distinct advantage, I've designed this contest just for you, point-and-shooters, but you will need to think small and get close, and you will need to find that nifty little close-up button on your camera, the one that looks like a flower symbol.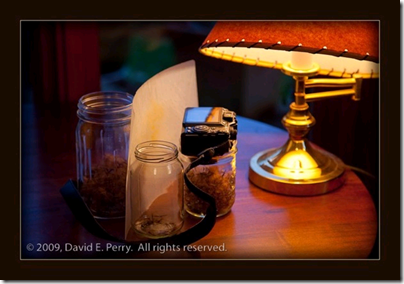 So here's the dealio. This is a technique so simple, that anyone, even nervous types with coffee jitters, can get razor-sharp close ups of beautifully lit subjects without a tripod, and have a really good time doing it. Follow along with me for a minute while I show you what I mean. Then you can fire up your cameras, round up your repurposed jam, mayonnaise and peanut butter jars and start making a new kind of macro-photo magic.
What you'll need:
1: A point and shoot camera with close-up capabilities or an SLR camera with a macro lens, or extension tubes. (Point-and-Shooters, look for the little flower symbol on a button or dial on the top of or back of your camera, and press it to turn on the close-up feature. Many little digital cameras will focus down as close as a half inch from the subject.)
2: A Mason jar, a peanut butter jar, a mayonnaise jar, a jam jar, a pickle jar . . . or all of the aforementioned.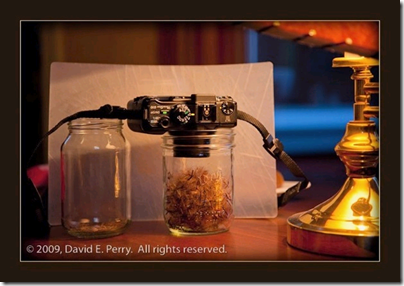 3: A willingness to play both with the subject you put in the jar, but also with the direction, quality and hue of the light pouring into the jar.
And here (below), are some of the exquisitely simple types of shots that you can get by shooting straight down into jars just like these. These are great practice type shots to help you get warmed up, but I'd encourage you, once you've got the hang of making shots like these, to try to shoot even more complex shots visually. Pictures with mystery and story.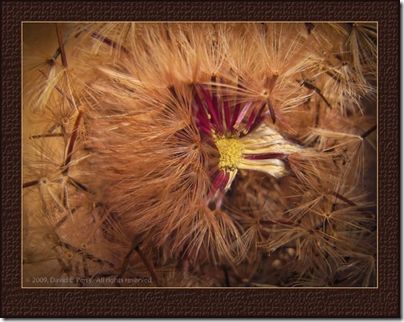 Now, for a quick primer on technique:
Once you've made any desired adjustments and framed up your shot, press your camera body downward, onto the rim of the glass jar while you depress the shutter button. The rigidity of the glass will keep the camera precisely distant, relative to the subject during your exposure, meaning that your pictures should be extra crispy sharp.
You can also add a plastic cutting sheet (as I have below), or enlist the white envelope that that latest piece of junk mail came in to serve as a reflector, softening the shadows by placing it either behind or beside the Mason jar to bounce light back into the image from another angle. Or, if you decide you need to diffuse the light from your table lamp or the window to soften the shadows, place the diffuse cutting board between the light source and the jar. You'll be able to see the effects right away in the screen.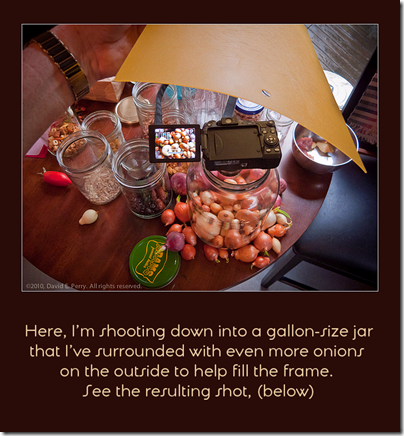 I'd also encourage you to try to create and use "weird" light. Try shining a lamp through another jar filled with ice tea, or ice cubes and water and lemon slices right next to your shooting jar. Or bounce light off of a makeup mirror and into your shooting jar, or spritz the outside of your jar with a spray bottle, or use the want ads from the newspaper beneath the jar and wrapped around it. See how those elements can add background and shadows and other interest to the scene you're shooting.
Notice the yellow plastic cutting board that I'm holding above the jar to color the light and give the scene an even warmer glow.
And here's what the camera recorded.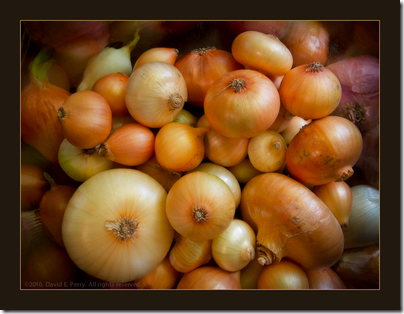 Here's another example. An oyster on the half shell, a bit of hot sauce, and a bed of rock salt.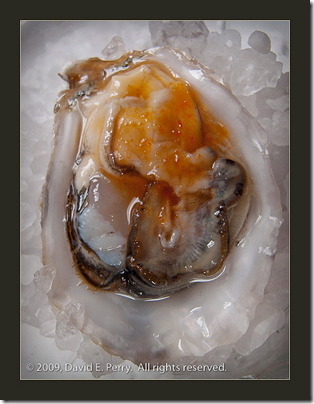 Backing away a bit, now you can see the simplicity of the setup I used to get the shot. Note the rock salt on the outside of the jar, as well, and that I set the shot up on a white plate to help give the entire shot that high key, icy look.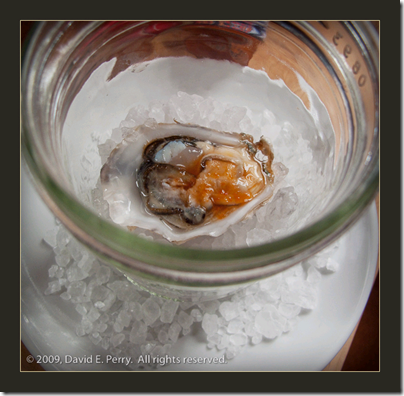 So, this month, I'm asking you to think small and get in close . . . to show me some essential aspect of a subject that simply cannot be seen or appreciated from a distance. The point of this contest is to encourage you to look and see from new perspectives, to learn more about your camera's amazing capabilities. For your entries I want to see pictures that take me into the depths of a subject and that leave me feeling that I've seen something in a completely new way. I want to see pictures that record the play of light and shadow, and texture, and that set the table for an intriguing story while looking downward into a glass jar.
Your pictures can be of nearly any subjects for this contest, but I really want photographs that allow me to see seeds, feathers, plants, flowers, insects or textures in ways that are fresh and unexpected. The images should be about seeing first and the subjects second. They need to evoke mood, and they should strive to elicit some sort of emotional, poetic, or "Wow!" response.
Here (below), I shot to the edge of the jar, instead of trying to avoid it. Note the dry grass outside the jar. After shooting this one, I made a mirror image of it in Photoshop, merged the two and then made a typographic wordplay on the "self-sealing" words that had been cast into the glass during the manufacturing process.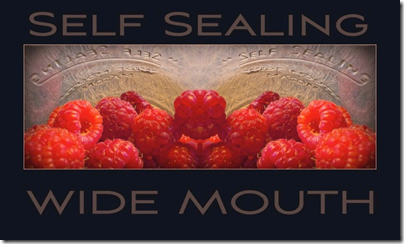 Consider shooting through the bottom of a jar and into a mirror for an unusual self-portrait.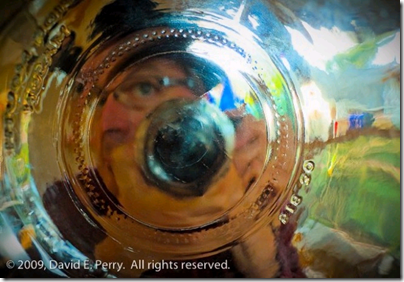 RULES FOR ENTERING THE CONTEST
1.  You must have an active blog in order to participate. To be eligible for judging, you need to leave us TWO links – a direct link to the image, and a link to your blog post that includes the image (and that says you are entering the Gardening Gone Wild Picture This Photo Contest )– in a comment on this post.
2. You are allowed one entry per contest; your photo must be able to be copied from your site. That makes it possible for us to collect all the entries in one place for easier judging.
3. The deadline for entries is 11:59 PM Eastern time on Monday, January 24, 2011.
Entries that meet the above rules will be added to a separate gallery page. If you enter but your photo does not appear in the gallery within 24 hours, please review your entry to make sure you followed the rules.
All photos courtesy of David Perry.