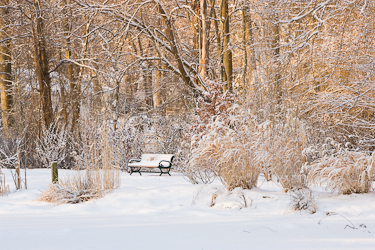 A new year, let alone a new decade, is officially here!  With the debut of 2010, Picture This Photo Contest has officially returned and is raring to go! Your comments helped us in making the decision to continue with the contest after a month hiatus. You made it clear that having your entries judged by professional photographers is of the utmost importance.  Consequently, we have  a roster of highly talented judges.  We're sure that they will stimulate, engage and teach you.
So, without further ado,  I'm delighted to introduce  our first judge for the new year, Alan Detrick. Alan and his wife Linda, the principals of Alan and Linda Detrick Photography, specialize in garden and horticulture photography. Their work has appeared in a wide range of publications: they also offer services to landscape architects and garden designers. Alan teaches Garden Photography Workshops throughout the country.  He is the author of the book, Macro Photography for Gardeners and Nature Lovers.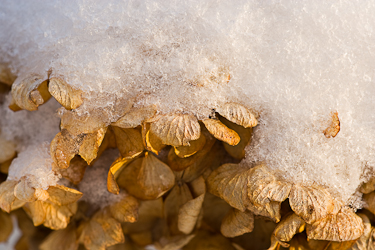 Alan has chosen WINTER'S BEAUTY as the theme for this month.
"The winter season is a time when our gardens are resting. Days are short on sunlight and long on cold. Cabin fever and the doldrums can set in. Still there are unexpected garden gifts. A glance at a snow covered garden on a sunny day, last season's blossom peeking out from a blanket of white, or the appearance of an ephemeral winter pattern add a smile to the day. Show me your images that bring on a smile. Don't overlook the sparkle of ice or an early blossom caught by a late winter storm.
After taking exposure, focus and composition into consideration, here are a few non-technical ideas that I put to use in photographing winter images.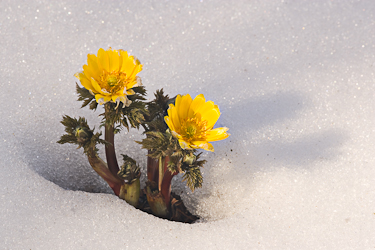 1. I find a bit of sunlight can replace the cold 'stay by the fire' with a 'grab your coat and go for a walk' response. Tip: look for some lighting that adds warmth to your winter pictures.
2. After the spring, summer and fall seasons of bountiful garden color, we are left with a mostly monocromatic winter wonderland. Tip: any tiny bit of color has a dramatic impact on a winter image.
3. Ice and frost patterns can be interesting subjects by themselves. Tip: look for frost or ice to be a major component or add interest to an otherwise flat or boring subject.
4. Be careful of trying to include too much in one picture. Sometimes too much becomes too busy and overwhelms the viewer. Make sure the viewer knows what caught your attention by including only those elements necessary to achieve your vision. Tip: keep it simple.
The most important tip is to have fun! No matter what I or any other judge says, keep in mind that photography is 70% subjective. First and foremost, your photo should please you!"
Alan's subject is timely and a great one with which to experiment. Why not take advantage of this opportunity and send in one of your favorite photos? For those of you who have never participated in Picture This, it's simple. All you have to do is select one photograph, post it on your blog, and leave us a link with your comment. We will only accept entries sent from blogs.
HERE ARE SOME IMPORTANT AND NEW RULES THAT NEED TO BE FOLLOWED IF YOU WANT YOUR PHOTO TO BE JUDGED.
****PLEASE NOTE: Because these rules were added in after this month's post went up, they won't be enforced for this month except for receiving photos by midnight on January 21st and having them linked from your website.
1. We love that you send us a link to your story that includes the photo. But send another link directly to the photo. It will save us alot of time when we are uploading the photos for the judges to view them.
2. All photos should be as close to 500 pixels on the long side. If using Microsoft Office Picture Manager to resize,  there is a size for Large Web photos which comes in at: 640×480. That would work just fine.
3. All photos must have the capability of being saved in word documents or Microsoft Picture Manager.
4. Your photo must be able to be copied from your site.
As you know, we are trying to cut down on the time spent managing and judging this contest. All 4 of the requests above will need to be adhered to in order for your photo to be judged. The deadline is 11:59 pm Eastern time on Thursday, January 21. Good luck to all, enjoy and get your entries in as soon as possible!
Check out the Picture This page to find the past winners' photographs.