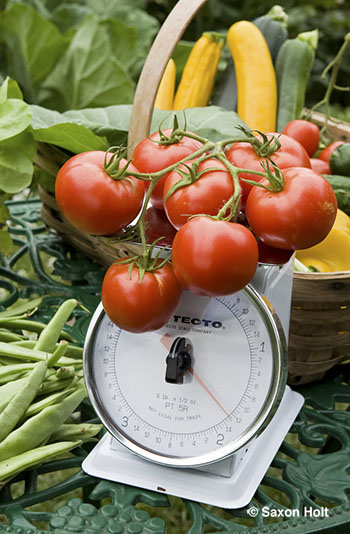 "It's the 5th of the month of October which means a new Picture This Photo Contest .
After having completed 6 months of what we initially said was an experiment, we can confidently say that Picture This has not only become a fun and much participated in contest but has also evolved into a photographic resource for gardeners who want to learn about more about specific plant material. So, a big thank you to all who have participated and continue to participate in Picture This. And for those of you who haven't yet done so, this month is a perfect time to get your feet wet and select a photo to throw into the ring. You never know….
Who better to be the October judge than our own Saxon Holt, a GGW Regular Contributor and a prolific and highly respected photographer. Saxon has chosen the theme of ABUNDANT HARVEST. Below he describes the criteria that he'll be using in selecting this month's winners.
"When my turn came around to be the Picture This judge I had little trouble picking harvest time as my theme.  I have had a busy late summer photographing organic gardens, herb gardens and edible landscaping.  It seems everyone has a veggie garden.
The picture above was taken at Rosalind Creasy's garden whose Edible Landscaping will be re-issued after 20 years next spring.  For an upcoming story in "Mother Earth News", Ros grew a 100 square foot ornamental vegetable garden and weighed everything that came from it.  It is a pleasure and honor to work with Ros who was just inducted as a Garden Writer Fellow at last week's meeting of 650 garden writers in Raleigh, NC.
Ros and renowned photographer David Cavagnaro invented the Abundant Harvest photo style – a signature, overflowing basket of luscious produce in a seemingly haphazard arrangement.  Ros has let me in on a few of her secrets.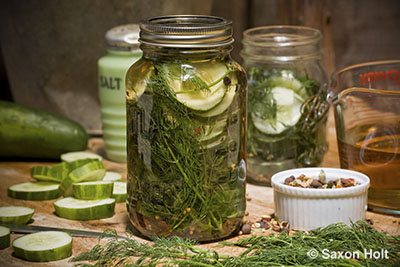 Did you put up some pickles ? 
For a new book, Herbs From the Vegetable Garden, my friend Mimi and I put up some summer pickles up to help solve the problem of abundant cucumbers all ripening at the same time.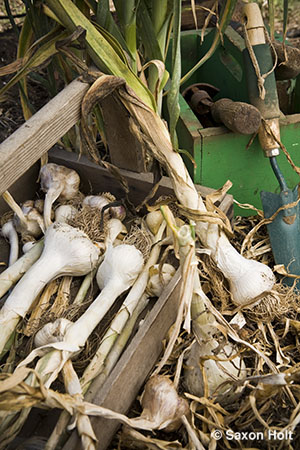 Did you grow any garlic ? A couple of charming (nice word for old) trugs, tools and dusted off bulbs make for an abundant harvest photo. Maybe you harvested and made a garlic braid – show us your bounty.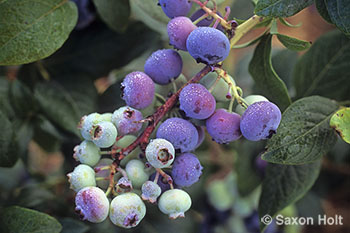 Perhaps you went into the garden one dewy morn when moisture glistened on your berries.  Hopefully you brought your camera. This luscious scene certainly makes me want to eat blueberries – NOW.  The immediacy of a close-up photo works for this judge who wants to see photos that celebrate edibles in our gardens.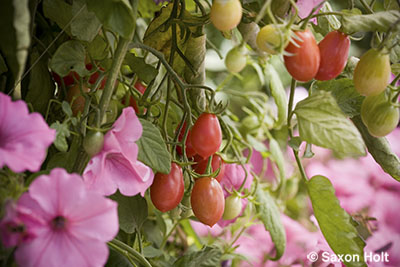 Extra points will be awarded to colorful garden scenes like these cherry tomatoes captured in a garden with petunias. If the photo says "what a wonderful place", then it becomes one that others want to look at too.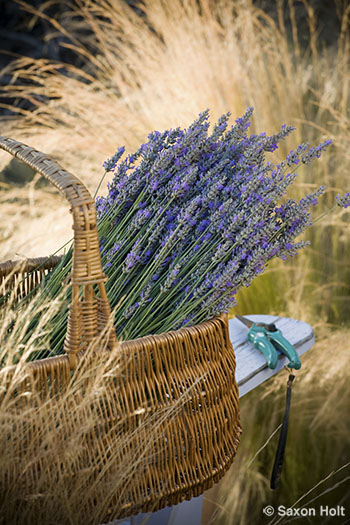 This lavender was freshly cut and the light coming through the grasses beyond helps celebrate the harvest in the garden.  I wonder if the internet will ever allow us to smell. Oh my ! I wish I could somehow convey how the scent of this photo.
 'Tis the season of harvest and there are many ways to capture an abundant feeling with the camera.  All of you garden photographers have really surprised us with your creative interpretations of our Picture This themes.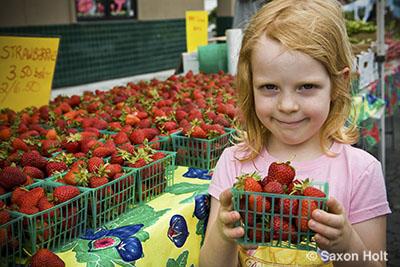 Photos need not have been taken in your own garden or even in this season. The sky is the limit for this month's ABUNDANT HARVEST theme, including a photo at a local farmer's market which can convey abundance and celebrate freshness."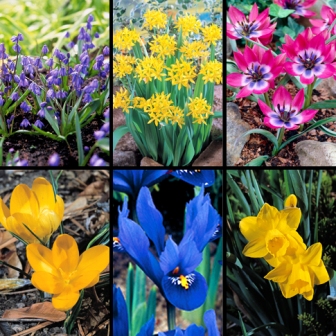 For all of you who have been following Picture This since its inception, you already know that the magnificent collections of plants for each month's reward has been given by David Salman of High Country Gardens.  For October's contest, David has chosen a fabulous selection of 6 varieties of spring blooming bulbs for our grand prize winner.
Here is David's description of them:
"This collection of 6 different spring flowering bulbs includes some of the best perennial bulbs that will provide color from early spring through early summer. They will all naturalize growing to form larger and more colorful colonies with each passing year.
Put the miniature Iris 'Harmony' together with Crocus 'Yellow Mammoth' for a great early spring duo. Use the Scilla 'Spring Beauty' for partial shade under trees or other shaded parts of your garden. Daffodil 'Quail' is one of the best, most floriferous and longest blooming of this genus. Allium 'Jeannine' is a delight in sun and part shade and is an excellent bulb for planting into groundcovers where its bright yellow flower heads will complement the groundcover's flowers."
We also have a surprise bonus this month for our Silver Medal Winner and two top runner ups. Sally Ferguson of International Bulb Centre is generously offering a collection of close to 100 bulbs in each parcel of 3 parcels called 'BE GREEN'.  These are dazzling practically all white flowering bulbs which include: Crocus 'Snowbunting', Muscari armeniacum 'White Magic', Narcissus 'Ice King' and 'Pueblo', Hyacinthus 'White Festival', Tulipa 'Spring Green' and 'Greenland' and Allium 'Nigrum'.
So there you have it! ABUNDANT HARVEST is a great subject for this month, along with several mouthwatering prizes. For those of you who have never participated in Picture This, it's simple. All you have to do is select one photograph, post it on your blog, and leave us a link in a comment below. We will only accept entries sent from blogs. The deadline is 11:59 pm Eastern time on Thursday, October 22nd with the winners announced on Tuesday, October 27th. Good luck to all, enjoy and get your entries in as soon as possible while the harvest is, for many of you, at its peak, abundant and looking scrumptious!