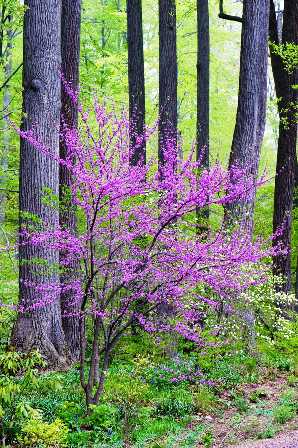 The theme for the Picture This Photo Contest for July is (drum roll please)  flowering trees. We're delighted that the judge for this month is Rob Cardillo, a colleague and friend of several of us at GGW. Rob has been photographing gardens, plants and the people who tend gardens for the last 20 years. Formerly the Director of Photography for Organic Gardening Magazine, Rob now works for major publishers, landscape designers and horticultural suppliers throughout the year. To learn more about Rob, check out his website and his blog, Little Green Pixels.

Before Rob tells us what he's looking for in a winning photograph, how about a quick look at the prize for July? Once again, our friend and colleague, David Salman of High Country Gardens, is offering up a juicy reward: it's a collection of 8 cold hardy succulents. Here's David's description of the plants: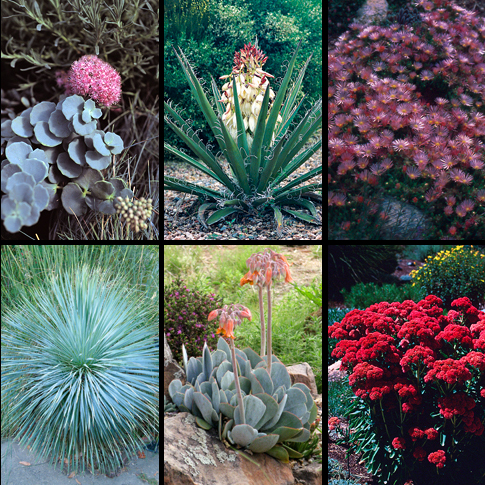 2 of Sedum sieboldii (October Daphne)
2 of Delosperma Kelaidis  (Mesa Verde hybrid Iceplant)
1 each of Sedum 'Autumn Joy', Yucca bacata (Banana Yucca), Yucca rostrata 'Sapphire Skies' (Beaked Yucca) and Cotyledon orbiculatus (South African Pig's Ear)
David writes: " This varied assortment of cold hardy succulents will bring color and structure to your garden or your containers. With the exception of the Cotyledon, all the plants are suitable for planting out into USDA zones 5b (-10°F) to 9. In the Midwest or New England and north, the Yucca and Cotyledon are best grown in containers as a patio plants (so they don't rot in soggy early spring garden soils). 
Detailed descriptions and photos of each plant can be found at High Country Gardens by putting the plant name into the "Search" box in the upper right hand corner of the homepage."
Please note that the photo of the  Yucca rostrata 'Sapphire Skies'  in the 2nd row on left hand side is the work of ©Joshua McCullough at Phyto Photo.
Now that you' re salivating over July's prize, back to the 'how tos' of capturing the winning photograph.
Rob chose flowering trees as the subject which is perfect for this time of year. In Rob's words, this is what he's looking for: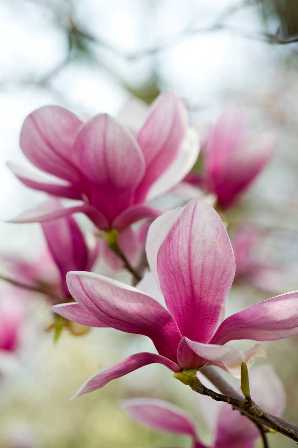 "I've been shooting a lot of flowering trees this season for a magazine assignment and have found a wide range in how they express their blooms. Some (like stewartia) bloom sparsely over an extended period of time, others don't flower regularly every year (like cladrastis) and some pump out zillions of blooms within a few days creating an eye-popping extravaganza that can make our heads spin (magnolias, crabs and redbud). These super floriferous trees are actually more difficult to shoot because of the overwhelming choices they present for the photographer.  Where do you begin? And when do you stop? I recall spending an hour within the skirting branches of one large saucer magnolia finding sumptuous goodies everywhere I turn.
So now that I'm nearing the end of my quest (I still have franklinia and heptacodium on the list) I'm asking all of you to submit some of your favorite photos for this month's GGW contest.  Anything goes and you can even submit flowering shrubs if you like.  Close-ups, overviews and anything in between are all acceptable. Here's what I'll look for: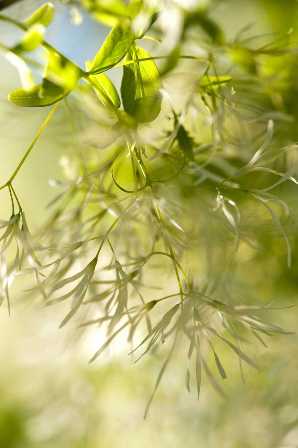 1) The standard stuff like strong composition, appropriate focus, and good exposure. Also, creative use of color, line and volume will be considered.
2)  Light. The nice thing about flowering trees is that you have so many angles from which to choose so you can often find a nice interplay of light if you look long enough.  And their delicate blossoms usually allow for pretty back lighting.
3) A thing I call botanical gesture which is capturing the essential qualitites of a plant in one picture.
4) Anything fun, novel, wacky or unexpected.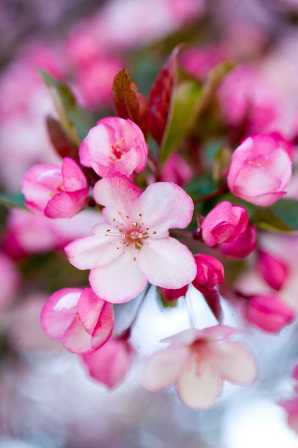 For those of you who are first timers to Picture This Photo Contest, here are the rules.
1. You're allowed to submit one (1) photograph:  add the photo to your blog or website and then link it back to July's Picture This post. Any photos sent to one of our e-mail addresses or from your e-mail address will be excluded. Also, I know it's difficult to choose your favorite photo but please don't send in more than one entry.
2. The deadline is midnight, Wednesday, July 22nd. Again, we won't be accepting any entries after that time. Rather than procrastinating (do I sound like your mother??), try to submit your entry as soon as possible: I'm sure that all of you have some drop dead photos of spring flowering trees. Go through your files, choose the one you're entering, place it on your blog and send us the link. Another plus for sending in your photo early: more GGW readers will have the opportunity to check your entry out while the contest is running.
3. Most importantly, have fun! Picture This was created so that all of you could have a forum where you can share photographs and hopefully learn more about photography and how to hone some of your skills. Remember, a picture speaks a thousand words! You're doing your gardening pals a favor when you participate. And the competition, well, who doesn't like to win, especially with the roster of prizes so generously offered to us? But again, remember, the reasons that all of our Regular Contributors participate in GGW is to facilitate you in stretching the limits and going wild in your garden, to suggest ways of acquiring expertise, to offer information, and as importantly, to feel endlessly passionate and inspired about the act of gardening, as we all do. So, fly free, take a risk, participate in the contest and have a blast!