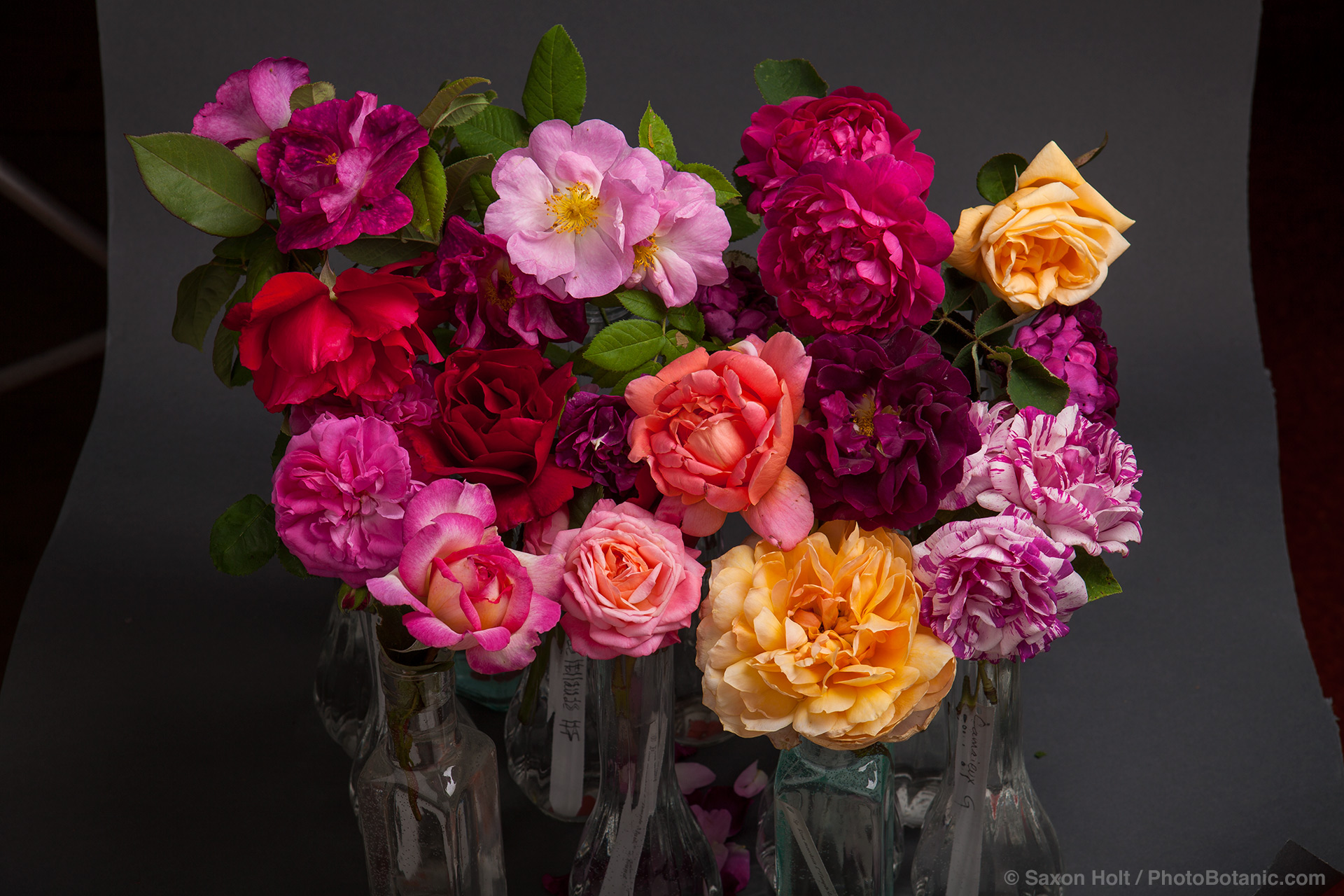 Roses are on my brain.  Not only did Gardening Gone Wild's own Fran Sorin just explain the process of selecting one of my rose photos for her new edition of Digging Deep, I just made a new lecture on roses for the ARS, American Rose Society, District meeting.
Sometimes these blog posts just fall together.  Not only was Fran's selection process, of my rose from all the other possible covers she considered, quite a story, the creation of the rose photo itself is quite a story.
A year and a half ago I started working with the Friends of Vintage Roses who seek to preserve the one-of-a-kind collection of rare old roses collected by Gregg Lowry and Phillip Robinson at Vintage Roses in Sebastopol, California.  Vintage Gardens has closed and the collection of more than 5000 cultivars needs a home.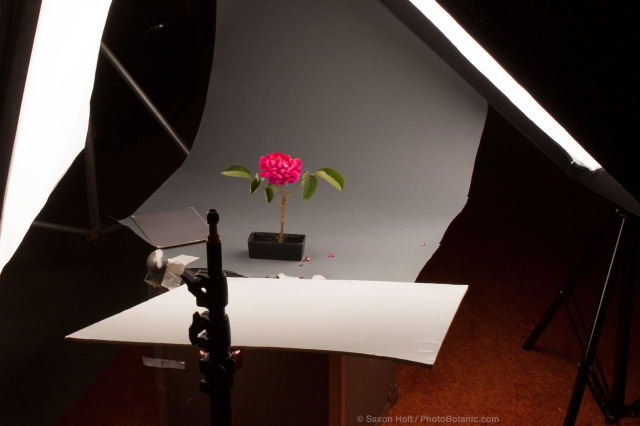 I photographed a series of the roses to make botanic illustrations for a fundraising project and included one of my own roses, Mme. Isaac Pereire in the shoot.  She became the cover of Fran's book.
To make the tack sharp, deep focus photos I  worked with a stacking process whereby I take a series of photos at different focus points and then use the computer to blend the multiple frames.
After the stack is completed and all the edges are blended and retouched, I dropped the background out to float the rose on white background.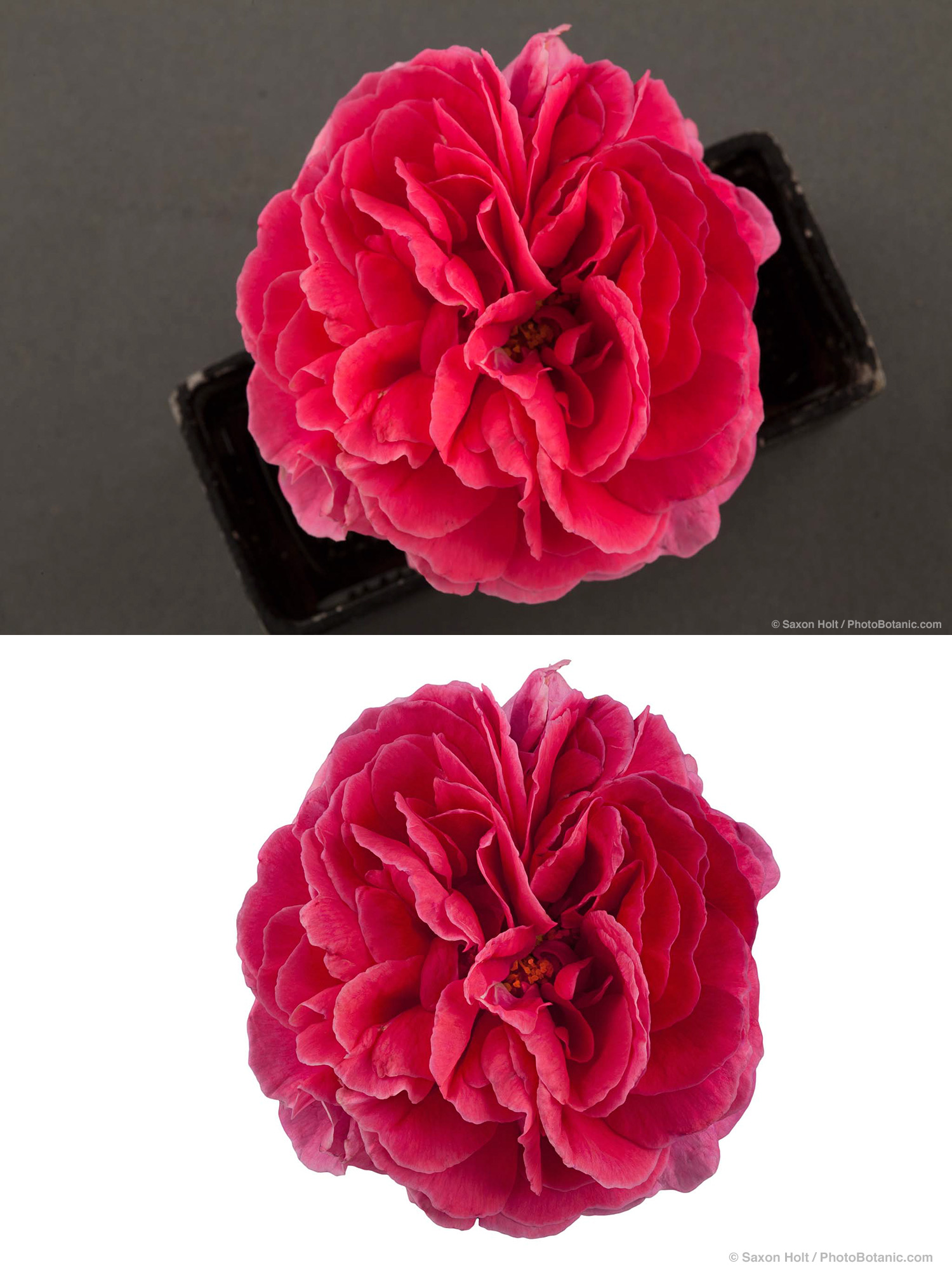 I loaded it to my Archive where Fran found it, and used it for her book.  I too am delighted.
The other half of roses on my brain was the new presentation to ARS.  It gave me an opportunity to review and scan some of my favorite images from the 8 rose books I photographed before the digital age.  I have hundreds of thousands of slides in my library and only scan those specific ones I may need for new publishing projects.  A very few publishers will still accept film but there has been no reason for me to scan most of my old rose photos.
I had so much fun creating the "Photographing Roses" lecture, I can now see my own publishing project and have added it to the e-books wish list.  I will include a number of before and after photos, such as this one that illustrates the advantages of soft light.
But the most fun in putting together this project was going through old assignments and books.  I was reminded of photo shoots of old, where I worked with stylists, often shooting several versions of a scene.  I have so many great photos that were never used for anything.  Here are two versions of the same bouquet of Pascali roses in the same window.
Here are two versions of rose Constance Spry by a garden bench.
So, dear readers, while I hope you like those photos, for a book to be called Photographing Roses, would you expect a book that was heavy on technique (lighting, lenses, composition) or a book that told how a special photo was created ?  I am sure I will include some of both, but the slant needs to be one or the other – and needs to be one that will sell.
At the ARS symposium there was a photo show, as is common to all ARS District meetings.  Most of the judged categories are individual rose photos and I have a suspicion there would be plenty of sales of a simple e-book for beginners who want to improve their photography.  That may be the practical approach, but I am looking for any excuse to use some of these photos.
And one of my favorite photos, lost for 10 years because I never scanned it and never had an excuse to go look for it.  A May Fair queen so happy to be a model and so happy to add some extra 'Magic Carousel " roses to her garland.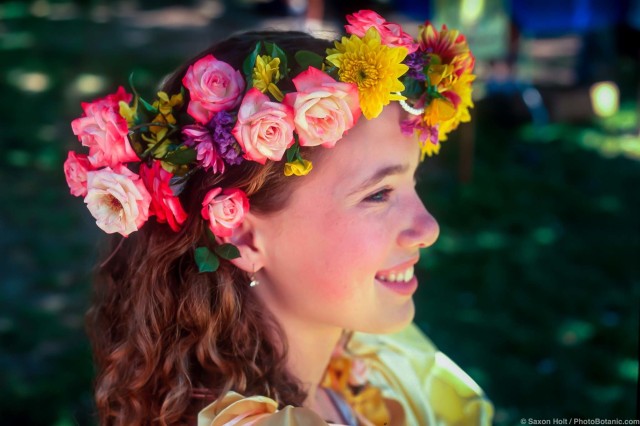 Ah, I do love roses.