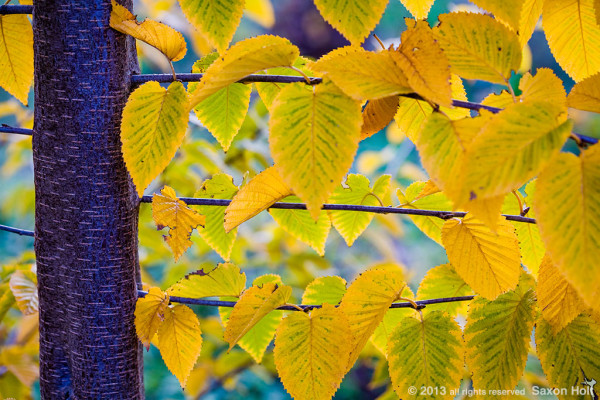 Plants are the core of gardens, they are the core of garden photographs.  When we photographers picture plants we need to consider why gardeners grow them in the first place.  What are the core distinctions ?  What is the essence of a garden plant?
A photograph of a plant should be as carefully considered as was the plant when it was placed in the garden.
In this chapter of the PhotoBotanic Garden Photography Workshop, "Think Like A Gardener", we are developing a personal style.  Our own understanding of a garden will help tell a story about it.  So far we have talked about garden themes, moods, seasons, light, hardscape, and design.  All these elements need plants to make a garden photo.
By their very nature gardens exist to showcase plants.  Often the very reason the gardener puts a choice plant in the garden is the reason the photographer wants to make a picture.
A tree with distinctive shape or bark, a shrub with variegated foliage or compact habit, a perennial with beautiful flowers or unusual leaves, a groundcover with great texture, an heirloom vegetable, a rare or botanical curiosity, are all good reasons for any given plant to be in a garden.  Once we realize those distinctions they are also good reasons to make a picture.
We all see different beauty in plants and gardens and are inspired by our own curiosity and knowledge.  Let your own insights lead you to your own style as a garden photographer.  Think like a gardener.  Trust your knowledge and tell a story.
Sometimes plants will reveal something unique that gives a photograph a special story.  When you study and truly observe you can find fascinating details.  Often the use of a tripod is a great aid in this process, forcing you to think clearly about exactly what to say about what you are really seeing.
My first genuine success taking pictures of plants was 30 years ago when I was working with The Nature Conservancy documenting plant communities and endemic plants.  At Ring Mountain Preserve in California the biologist was having difficulty getting good pictures of grasses that could be used for identification purposes.  When she explained what made each grass unique I understood what details were important and used that knowledge to take pictures.
Here in this detail of Sitanion hystrix , Squirrel-tail Grass, the bent awns are critical to the story.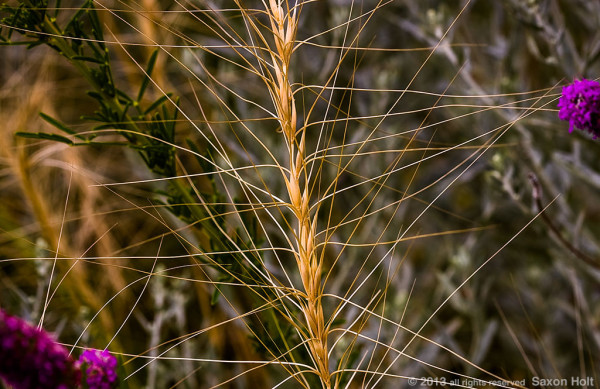 This sort of insight gives a story to the photo, and because of this first success I have learned to always look for distinguishing features in every plant picture I take.
The distinguishing features of some plants may very well be found in close-up details but gardeners usually choose plants for broader reasons. I go into detail about macro technique elsewhere; here I want you to think like a gardener and photograph plants that illustrate their essence as garden plants.
Ever since those days photographing for The Nature Conservancy I have loved grasses.  Perhaps because of my success capturing their details I have been alert to how they fit into gardens, how their shapes fill holes, how their textures blend with other foliage.
Try to shoot plant photos straight on, directly into them at their level.  This helps remove lens distortion and gives your viewer a realistic sense of size and perspective.
Notice how the 'Silver Mile' Barberry is composed at its garden level to feature its size and its foliage, as well as its usefulness as a garden plant within a mixed border.
For ground covers getting to garden level and down low to photograph is really the best way to see the plant itself rather than normal eye level where all you may see is a mass of texture.  With a wide angle lens you can get close on the plants and show its relationship to the larger garden.
Where you want to emphasize shape and structure you may find telephoto lenses will help isolate the shape and flatten the perspective.  This is especially effective with trees and branches.
To further isolate the plant from the surrounding garden try a wide aperture on the lens to give shallow depth of field.  This draws the eye to only the sharpest spot and will accent the feature you choose.
For this kangaroo paw, note that by photographing it straight on the maroon stems are in sharp focus. Thinking like a gardener I see the stems as an important feature of this plant, a garden worthy element that is part of the story I see.
The best plant pictures will reveal those essential elements of the plant as well as its use in the garden – as you see it, in your own style.  By carefully considering what you want to say, what you think is important in the garden, your plant pictures will reflect your style.
I explained my thought process of making this picture of the fresh leaves of this Rhododendron emerging in the spring in a post Photographing Foliage.  As a plant portrait it is clearly a Rhododendron, it is spring and full of life, it tells a story.