So, I return from the road to find Nancy and Fran inviting and giving advice about garden blog photography. Oh man, do I want to write a rant! This is why I joined this group, this is why I title my section "The Camera Always Lies". Garden photography is how I make my living but too often these days I wonder if my work is helping or hindering gardeners in their own gardens.
Professional garden photography has gotten so much better in the past 20+ years that I have been doing this and publications increasingly rely on photos to sell the product and tell the story. This must drive writers nuts and why blogs are popular – the blog writing is personal and authentic while the books and magazines are decorated and false. The writing itself in the print publications is as good as ever but too often glossy photos imply an ease that real gardeners scoff at. And, too often I suspect, readers look at photos without reading the text and get no real understanding of what it takes to create a garden seen in a photo.
Often the photos that get published are taken in gardens that have no relation to the story or book chapter; and don't get me started with the current trend of garden publishers using stock photos from random sources that can very well have an English garden photo illustrating an American garden.
This is certainly not true of all print media and I know and appreciate (along with my banker) that beautiful photos help inspire gardeners, but blogging offers an honest alternative. So long as garden bloggers use their own photos I think there can be no wrong. Maybe some want to see close-up, bug free specimens while others want to see the whole garden but, if authentic, it is all useful. I will say it is much harder technically to produce and display a wide garden scene in a small space and perhaps, if there is interest, I can get into an instructional mode one of these days, but since I am just back from a trip I will use some photos to illustrate the garden photographer's dilemma.
I am working on my meadow book and just back from my last big trip. Got to visit and stay with Neil Diboll of Prairie Nursery fame and spent two days photographing his Wisconsin gardens. Autumn is coming on strong and many leaves have fallen on his "No-Mow" meadow lawns: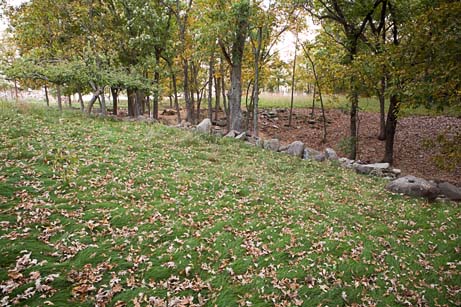 Is this a useful garden photo ? Does it inspire ? Probably not by itself, but once you know Neil has never mowed his lawns and sells a mixed fescue seed blend (mostly Festuca rubra) you might want to say: "show me". Once you understand the intent of his gardens – to have naturalistic meadows that only get raked once a year, you may begin to yearn for such a yard yourself and then the photo above becomes inspirational, a good photo to accompany a story.
This photo serves another purpose: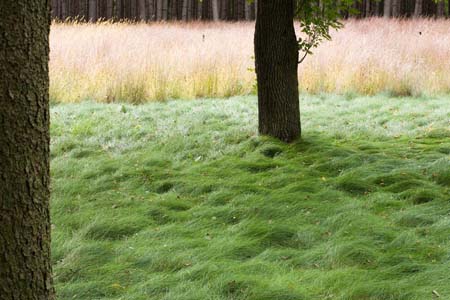 I raked his lawn and sought a more dramatic angle. Is this a useful garden photo? While I hope it is inspirational, I wonder if it is as useful as the first one. Given Neil's intention to have a naturalistic lawn/meadow and knowing this photo can not possibly be how it usually looks, the photo is a lie. Hopefully it still serves my purpose: to inspire gardeners to try using meadows. I wonder though, if in showing this more dramatic photo, gardeners are being set up for a fantasy look that needs more care than most gardeners want to give. The photographer's dilemma is between what the publishing client expects, what the gardener's intention is, and of course the photographers own aesthetic.
An increasingly important aspect of my work is to illustrate gardens I personally find interesting, that are environmentally sustainable, and suit an evolving vision I have of beauty. I am consciously trying to change the aesthetic of what we expect to see in a garden photograph. This is particularly important for Western gardeners (where I live) who need to find inspiration in our own ecosystems. All gardeners in all regions need to do this of course, but there is very little in traditional English inspired garden photography that is useful or authentically beautiful for Western gardeners. (Apologies here to the incredible gardeners in western Oregon and Washington who can pull off the English look because they have so much more water).
Here is a garden in Santa Fe, New Mexico I am photographing for Organic Gardening Magazine: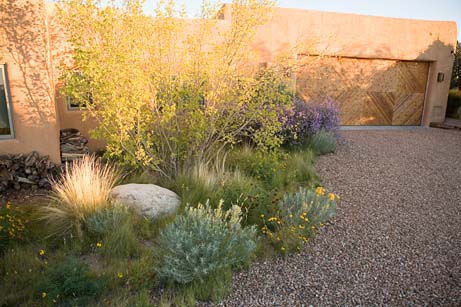 The photo by itself is hardly inspiring but it does give a good idea of the setting. I show this wide view only to illustrate how the photographer can "lie" with the camera. I want to use this garden in my meadow book so I come in tighter to have the camera say what I want: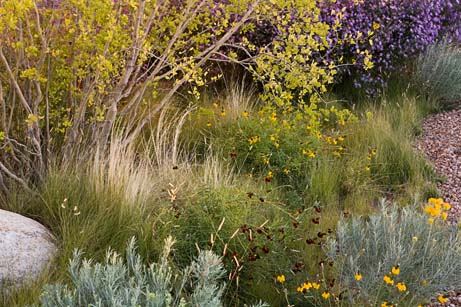 This photo is certainly "prettier" than the over-all view but can be much more misleading if taken out of context, much the way English garden photo can mislead American gardeners. I could imagine this photo inspiring gardeners to try a meadow look but unless you live in the arid West these plants would never thrive. The shrubby Forestiera and Bouteloua grass have equivalents in other climates but the look would never be quite the same. Experienced gardeners understand this but only when they are told where the photo is taken. Imagine the frusration of a beginning gardener who might see this photo randomly illustrating a story about naturalistic gardens. Rant. The camera always lies.
Is this a meadow?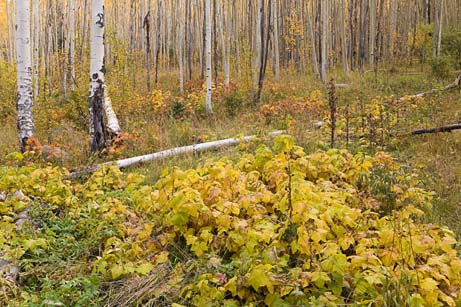 Oh yes ! and it does not get any better. God's own meadow and I hope no-one is fooled into thinking a gardener could do this. In Santa Fe I hoped to connect with fellow gardeningonewild blogger David Salman, but my short visit coincided with a busy time at High Country Gardens and we could not meet this time. I then got lucky and connected with an old friend, the inimitable Gail Haggard whose Plants of the Southwest Nursery has inspired a generation of gardeners, David among them. Gail directed me to a couple meadow gardens in town but then noticed a haze of yellow way up in the mountains. We played hooky with what we were supposed to be doing and went to Big Tesuke trail in the Santa Fe National Forest. Without saying much about what I would find there, Gail took me to the most inspiring meadow I have seen. Her smile at my delight was priceless. She knew I "got it", that this is what a meadow book must be about. I hope the publisher will include many natural meadows I have found in my travels, this is where gardeners must find inspriration if our constructed gardens are to have any chance of success.
I can not rant anymore about what is deceptive about traditional garden photography, I can only present what I think is important and hope it inspires. This inspires me to make meadows: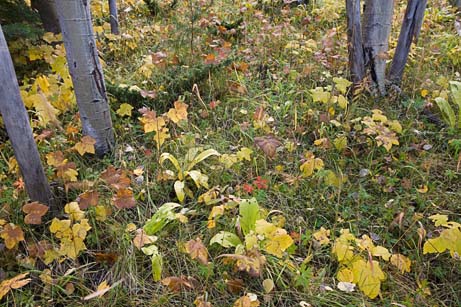 Don't expect this at home . . . .