Written by Michael King
I first became aware of Michael's work when I read the book Gardening With Grasses that he co-wrote with Piet Oudolf. It literally shifted my thinking about the composition of perennial gardens.
Michael has been living in the Netherlands for the past 20 years where he works as a garden designer, author and garden photographer. He has recently started a new blog, Perennial Meadows, which I highly recommend.
Michael has written books on flowering perennials, ornamental grasses and tulips as well as dozens of articles on a diverse range of subjects. His latest publication is a series of 6 e-books on perennial meadows.  If you've read any of Michael's books and use them as resources and inspiration (as I do), this latest series of e-books won't disappoint.  Fran Sorin
Do I really like having visitors in the garden? I certainly look forward to their arrival; rush around making sure everything is tidy, sweep the gravel paths as best I can, fill the kettle and load the coffee filter.
But then the problems begin: if they are early I notice, if they are on time, "why?" and if they are late I think I am not their day's top priority. In truth I am not sure I really want visitors in my little world. This is the place where I am learning my craft; it is a small garden in constant flux as I dig and replant trying out ideas and learning by my mistakes. For me a few plants wrestling with each other in a corner can represent an idea for a horizon-filling perennial meadow, but the visitor sees it differently. I joke and tell them what a terrible gardener I am and that if a plant can survive with me I know it is something that is worth recommending to others – hmm.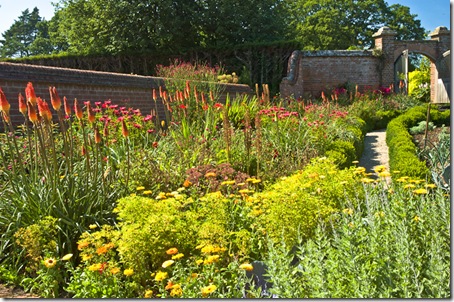 My garden visitors are doomed to failure as they seem to fall into one of only two categories; which is worse I cannot say. One type is more common than I would expect as a well-brought-up Englishman. These are the ones who start pointing out insect damage, faded blooms and enormous weeds that I seem to have been able to ignore for far too long. Perhaps they expect something better and need to vent their frustrations. Are the second group even worse? These are keen and knowledgeable gardeners who eagerly ask to visit, but on arrival take a seat, engage in a warm conversation, but never really bother to get up and have a good look at anything. "Why are they here", I wonder to myself, convinced that a quick look was enough to reveal that there is really nothing much for them to get over excited about – or are they shy and feel embarrassed to plunge into the rest of the garden? Should I take the lead?
So how should you behave when receiving visitors? My good friend the late Henk Gerritsen whose garden was open to the general public had learned the hard way it seemed. No way was he going to trail along behind his visitors and explain what he hoped they would see. He would greet you, point you in the direction of an area he hoped you would enjoy, but would adamantly refuse to walk with you. His garden was so personal and so idiosyncratic that even the same person could find it one day mesmerizing and on another occasion total chaos. But I know he often listened to their comments from the other side of a hedge.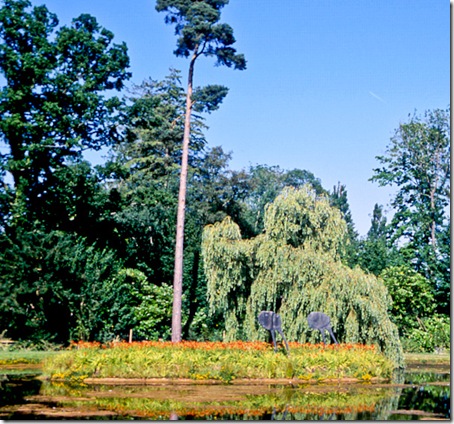 Oh daylilies! I have an island planted up of them.
I recall a visit I made to photograph a very large private garden in England which was receiving a lot of publicity at the time. Fortunately, the owner had forgotten about our appointment and I found myself alone in his domain. It was the most awful garden I had ever visited, designed to impress and the further I walked the more informed I became. Had the owner been there showing me around I would of course had to be polite, as it was I was free to learn from his mistakes; I never published any of the photographs I took that day.
A phone call to the owner of another garden was met with the comment that she was not really sure that she wanted to show it to me and certainly didn't want it photographed for publication. That was a challenge I couldn't resist and on arrival I was given a tour of exacting precision that was meant to show me just why it was something I would not like. Of course I loved it, for although it was not what I would have made for myself, this was a garden of someone who knew what they wanted and had made a success at creating it for themselves. We got on well because I openly explained what I thought worked, what I couldn't live with and why, but at the same time I listened to her ideas and understood just why what she had created mattered to her. We laughed a lot that day and I like to thing we both got something out of the experience.
Can garden visiting really be so thwart with problems and pitfalls? Surely it should be sheer pleasure?