With each new piece of research that documents how our childrens' wellness – physical, emotional, and spiritual, is in sharp decline,  you – as a parent – experience a pang of fear.
 Our kids' addiction to technology and lack of connection to nature is the major cause of why we have such a preponderance of obesity, depression, ADD, anxiety, and a declining happiness among our youth.
You want to help your kids' become healthier but feel overwhelmed. Don't we all?
One easy way to put your 'toe into the water'  is by buying holiday gifts that will help your kids interact and become more sensitized to nature.
There's such a plethora of imaginative and classic nature gifts for kids that you'd be hard pressed not to find at least a few for every child in your life.
Here is my list for 2013 of the
25 Top Holiday Nature Gifts For Kids
1. Build A Tree House. I can't imagine a child -or adult- who wouldn't be thrilled with this gift. Either bring a design for the tree house or sit with your child and start from scratch. And this spring, set aside weekends to build. What a great opportunity to be in nature and working and creating together.
For incentive on how to build a tree house on a limited budget, check out this article on Huffington Post where a family built one for under $300, and an article from Popular Mechanics.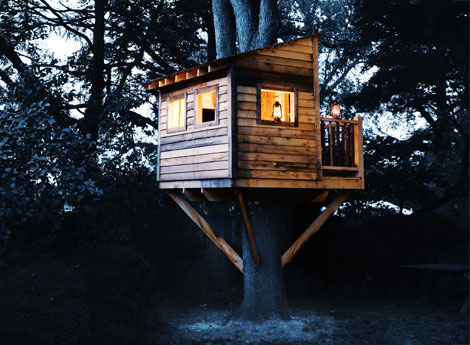 2. Bird Feeder.  Place near a window in the yard so that the kids can see who is coming to visit. So that they (and you) can learn about the different species, buy  The Young Birder's Guide To Birds of Eastern North America.
3.  Live Butterfly Garden – I spent most of my childhood catching butterflies in a jar. It inspired curiosity, wonder, and an appreciation for beauty.
The Live Butterfly Garden kit includes an easily assembled mesh habitat and feeding supplies. Once the larvae arrive in the mail, your child will have a front-row seat over the next three weeks as they grow, form chrysalides, and finally become beautiful painted lady butterflies — which should then be released.
4. Rock Painting Kit – The most important of rock painting is the rock hunt. It inspires kids to explore nature – in your backyard, near a stream, in the woods or park – and to search for rocks that they love.
5. Family Camping Vacations  – Although summer may seem light years away, it will creep up on you quickly. Spending time discovering places to go can be made into a family fun time.  One article that I found useful (out of several) is from Forbes.com
6. Geomate Jr. –Preloaded with 250,000 geocache locations covering all 50 U.S. states, the Geocaching GPS is the fastest and easiest way to get in on the geocaching fun. Just switch it on and be directed to your closest cache.There are more than 1.7 million active geocaches and more than 5 million geocachers worldwide. In order to become part of this ever-growing network, simply download the geocaching app to your smart phone.
Great physical and mental exercise, geocaching has multiple levels of difficulty so that every member of the family can take part.
7. Totem Nature – Totem Nature is a 3-D building game for  kids 6+. Composed of 130 building cards imprinted with a myriad signs, symbols, textures and imagery. Totem comes with a manual providing directions for four different models you can build. The real beauty of these toys is letting your kid's imagination run wild.
8. National Geographic Sustainable Earth Lab –  This science kit gives children the tools and information to learn firsthand about the environmental problems burdening our planet and how we as a civilization can overcome these problems through sustainable practices and the sensible use of technology.
The full-color, 48-page manual guides experiments and energy conservation activities.
9. Zoomy Handheld Digital Microscope – ages 5-15
10. Interactive Touch Toy World Map –   A challenging electronic game where parents and children can learn geography together. With its more than 1,000 quiz questions, filled with facts, curious kids will be geo-experts long before they've gotten to the end.
11.  You Track It Weather Lab –
Hands-on experiences make learning about the weather fun!
Seven weather instruments: weather tracker, weather vane, rain gauge, thermometer, compass, anemometer, glow-in-the-dark speed indicator
Five weather-related challenges get the action started.
12. Gift Certificate For Seeds – This is another opportunity to spend time with your kids browsing through seed offerings and letting them decide – with your guidance – which ones to purchase. It can be as simple as experimenting with tomatoes and a few other veggies in an already existing garden. OR you can make a commitment to help them dig, prepare and design their own garden bed (which would be the ultimate depending on space, time, and commitment to it).
Some good organic/heirloom seed sources are: Baker Creek Heirloom Seeds, Seeds Of Change, Territorial Seed
13. Kid's Big Tool Set – Want to motivate your kids to help you in the garden? Then check out these tools made specifically for them from Toysmith. The set  includes a rake, a spade, a hoe and a leaf rake for kids. They all have a leather loop so that kids can store them in the shed easily. The tool set makes outdoor play more enjoyable and helps them tend to their garden. Recommended Ages 5-15
14. TickleMe Plant – a simple gift that allows your kids to grow a plant indoors that moves when you tickle it. Everything I've read about it says that it keeps kids mesmerized for hours on end. What parent doesn't like that?
15. Books – The list is endless when it comes to nature, greening, and sustainability but the one that has left an indelible imprint on my children and me is: Miss Rumphius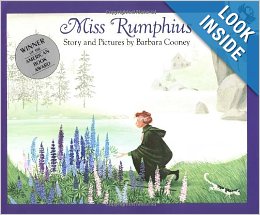 "Barbara Cooney's story of Alice Rumphius, who longed to travel the world, live in a house by the sea, and do something to make the world more beautiful, has a timeless quality that resonates with each new generation. The countless lupines that bloom along the coast of Maine are the legacy of the real Miss Rumphius, the Lupine Lady, who scattered lupine seeds everywhere she went. "  Book cover and excerpt From Amazon
Other suggestions:
Bearnstein Bears: Big Book Of Science And Nature
The Bearnstein Bears Don't Pollute
16. Adopt An Acre – A program started by Nature Conservancy – 
"Since the Adopt an Acre® program began in 1991, more than 600,000 acres of vital landscapes all over the world have been protected. But there is much more work to be done.
You can make a difference in some of the world's most beautiful places, from vital landscapes across North America and the Bahamas to the woodlands of Australia and some of the world's most beautiful coral reefs. Share your passion for conservation when you Adopt an Acre for a loved one."   taken from Nature Conservancy's blog
17. Coloring Books – I'm a sucker for old fashioned coloring books. Even when kids are indoors on a wintry day – as they color away with scenes from the outdoors, their imaginations connect with nature.
Some good choices are: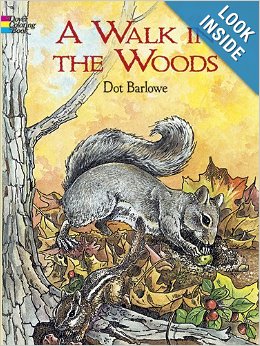 18.  Create A Home Made Wreath – When my kids were young, this was one of their favorite holiday activities. As a matter of fact, we had several 'wreath making' parties that were awesome.
http://www.save-on-crafts.com/wreatswagmak.html
19. Dig A Dino Tyrannosaurus Rex 
A recommendation from Mary Ellen Gambutti.  She writes: "'Dig a Dino' sold on Amazon – my 6 year old grandson enjoyed the Triceratops, and I just got him the T- Rex. Satisfies curiosity, discovery, mucking about, and creativity. All good!"
20. Classic Garden Bug Charms from Lola Trading Charms – A pretty, fun, and unusual gift for any girl.  You can buy a set – or choose from a pink or red ladybug or pink or purple dragonfly.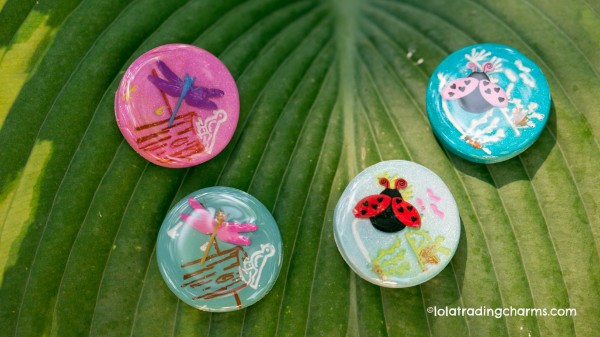 A recommendation from Vanita Cyril who is a Mom of 4!
21. Sled – I don't know about you but a large chunk of my outdoor winter time as a children was spent sledding ~ as was my children's. It's one of those exhilarating activities that nothing can replace.
22. Binoculars – Plus a date to go bird watching!
"At only 6 1/2 ounces, our water-resistant, rubber-armored binoculars are ideal for tossing in your backpack wherever you travel. Individually focusing eyepieces with BAK-4 roof prisms and multicoated lenses increase contrast and resolution and bring birds and wildlife eight times closer. Field of view is 413 feet at 1,000 yards. Focuses on subjects as close as 15 feet."  From National Geographic's website
23. Outdoor Mandala Designer Fairy Dream Kit –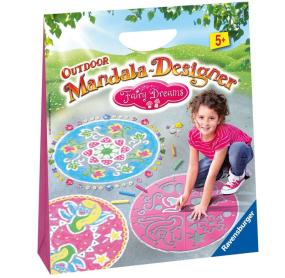 "It's a great way to encourage your little artists to explore their creative side. The mandala is a beautiful circular art form made up of intricate shapes and patterns. Suitable for ages five and up, these outdoor mandala kits let kids create beauty on the driveway, sidewalk, or any safe paved surface. " From manufacturer's page on Amazon
24. Family Membership to Zoo or Botanical Garden – Some of my kid's best memories are spending time at the Philadelphia Zoo and Longwood Gardens. And to this day, my adult kids talk about the hours we spent at the zoo observing the gorilla and chimpanzees playing together.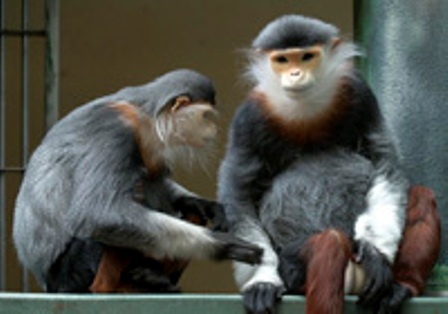 25. Kites –
Who doesn't remember the thrill as a kid of flying a kite? Many today are made of beautiful designs and heavy nylon that handles strong winds. Choose from butterfly, rainbow, t-rex, and other.
25**** And a BONUS gift idea from the wonderful Rebecca Sweet – Mushroom Kit (growing mushrooms right out of the kit) and a new product Aqua Farm – which is described as a self cleaning fish tank that grows food – from Back To The Roots
If you have some favorite nature gifts for kids that you'd like to see on the list, please list below with a link to where they can be bought (if possible). Thanks!!