The way echeverias resemble pine cones inspired my front-door holiday wreath. I used bronzy-gold painted pine cones the size of ping-pong balls and attached them, as well as the succulents, to a flat wreath form using hot glue. Surprisingly, hot glue doesn't harm the plants.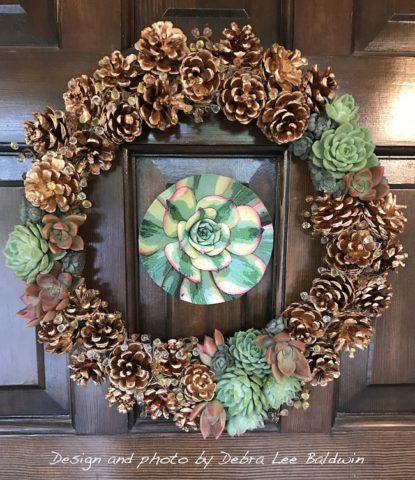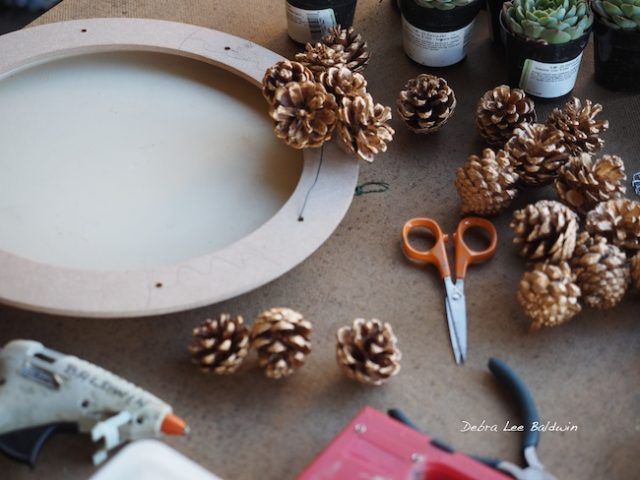 When doing holiday designs using succulents, be careful that the embellishments you choose don't overwhelm plants with muted shades. It can be hard to find holiday items that aren't vivid. That's OK if the colors of the succulents are equally intense. I chose Echeveria 'Lime and Chile' because its soft green color went well with the bronzy gold of the pine cones, then accented them with smaller blue echeverias and reddish-gold Graptosedum 'California Sunset'.
Keep in mind that a wreath is basically a frame. The viewer's eye goes to the center, so put something there. I cut an aeonium from one of my greeting cards, because it was circular and went well with the colors of the wreath. You might use one of your own holiday cards, the word "Welcome," or even a mirror.
Just for the fun of it, I also made succulent snowflakes…so simple! Any flower with a sturdy stem and a symmetrical shape will work—roses, for example. I chose a long-stemmed green aeonium from my garden because it contrasted perfectly with the red foam paper.
Happy holidays, from my home to yours! ~ Debra