**This article first appeared in Gardening Gone Wild, November 2010.
Mien Ruys, whose garden has influenced generations of well known designers, including Piet Oudolf and Jacqueline van der Kloet, is considered by many to be the leader of the 'New Perennial Movement."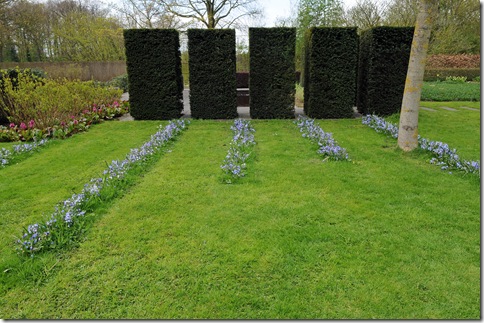 Mien was surrounded by plants from the time she was young. Her father founded Moerheim Nursery in Dedemsvaart in the late 1800s. It eventually became a well known perennial nursery in Europe.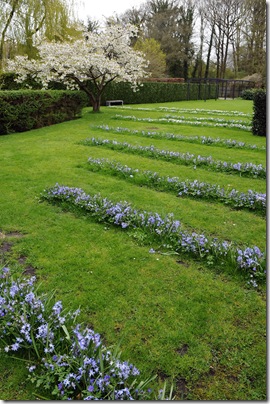 At the age of 19, she wrote in her diary "Today is the first day of my career." By the time her father started a small design department at the nursery and shortly put Mien in charge, she had already exhibited an intense interest and talent in using perennials in gardens.
Because there was no training for garden design in Holland at that time, Mien studied in Berlin and then got some practical experience at Tunbridge Wells in England.
She began experimenting with designs and plants in her parents' garden, making a straight path from the kitchen garden onward until she reached the fruit trees. Continuing with her vision, Mien built a small square pond, surrounded by the perennials she loved.
Within a year, most of the perennials had died off due to the acid ground in Dedemsvaart. The death of these perennials was a turning point in her philosophy. Either she needed to continually amend the soil or she had to choose plants which could adapt to their new home. Mien chose plants with adaptability.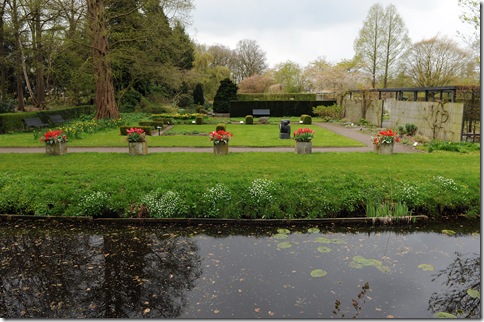 She continued experimenting, making small perennial gardens on her parents' property, eventually becoming as interested in the materials used for building gardens as the plant material. In the 1960s, Mien began using railway sleepers in a large number of Dutch gardens which led to her being known as 'sleeper Mien'. She also came up with the idea of using 'washed gravel' paving stones.
When I made the trek to Mien's garden early last spring, what grabbed me was its simplicity, elegance and outstanding bones, but most of all its timelessness. The word 'experimental' is synonymous with her garden. To see it first hand and learn that much of what we call modern, fresh or even cutting edge was designed several decades ago is a testament to her outstanding talent and vision.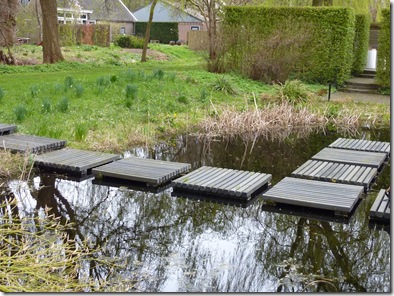 The outline of the garden is designed geometrically with modernistic elements seamlessly integrated. Mien is known to have always created a space based on simplicity and functionality, which her colleagues did as well. But it was her use of loose natural plantings surrounding the space and the emphasis on the perennial borders that differentiated Mien's designs from those of her peers. She felt that the perennials allowed an individual to interact and have a direct experience with nature.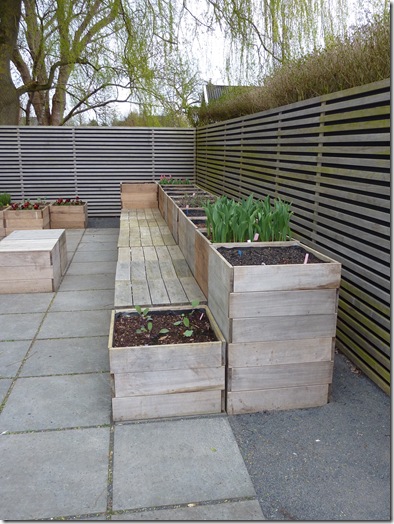 I fell in love with the portable raised garden beds with storage space underneath them, one of Mien's inventions. For someone who has a rooftop, terrace or is an individual with special needs, this type of raised garden is ideal.
At the beginning of her career, Mien designed large private gardens. After the war, she designed many communal gardens and did a lot of work for building societies. From the 60s on, the oblique lines that she had used in the period after the war became straight again; she began implementing straight clipped squares of greenery, contrasting with the lush, exuberance of perennials.
Mien wrote several books and published a quarterly magazine called 'Our Own Garden', Onze eigen tuin in Dutch. She died in 1999 at the age of 94.
Below are some photos that offer a glimpse of her garden in spring – Courtesy of The International Flower Bulb Centre.