Written by Noel Kingsbury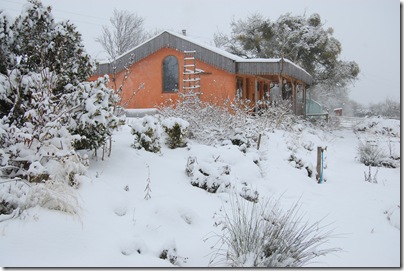 My office in rather more of the white stuff than we're used to
 As a visitor to the US I am always slightly bemused by the discussions of hardiness zones, overhearing conversations amongst gardeners like "I'm 3a and I can't grow lady's mantle, but friend is just a few miles away with 3b and it grows like a weed". When asked "what zone are you?" I feel a bit like when visiting India and someone asks you "what caste are you?" (yes, this has happened). We, in Europe, simply do not use hardiness zones, although the USDA system has been applied here, and there are European Hardiness Zone maps doing the rounds – but we don't take much notice.
So, with temperatures here plunging to –13C (9F), which I suppose might be regarded as a rather pleasant day in some places where this is being read, but is exceptionally cold for us, there isn't much else to talk about. And we've had several weeks of this. Most unfair. A lot of gardeners wondering what'll be alive at the end of it, especially after 20 years of mild winters (usually no lower than –5C (23F).
The Zone-language American gardeners seem to speak makes a lot of sense if you live in a continental climate, but not if you live in a maritime influenced west coast climate like us (in Britain) or the North American north-west coast. We 'westcoasters' have our winters moderated by the sea, and live in a zone where cold and warm air masses are in constant, and unpredictable, conflict. The neat predictability of the zonal lines on the map aren't for us. 
If you google 'zonaldenial' you'll hit on a rich vein of gardeners determined to defy the ruling gods (and the lesser gods of the USDA).I first heard the term from Sean Hogan of Oregon's wonderful Cistus Nursery. One reason we can indulge in zonaldenial is that we have had a lot more plants to experiment with over the last few years. Particularly when plants or seeds of a particular species are collected at higher altitudes or latitudes than the origin of the plants of the species already in cultivation – what is known as provenance. Milder winters (global warming on top of natural cycles perhaps) encourage complacency . We have had a co-incidence of mild winters, lots of exciting new plants (often southern hemisphere) and a consumer boom in gardening. So many nursery managers have grown up never knowing what a hard winter is like (oh, dear, I'm feeling a bit old now).
And… (I'm feeling distinctly old now) lots of youngish men getting into growing exotic or architectural plants. Which is great. But there is that young man thing about needing to prove your elders wrong and you harder than your mates. I've been at nurseries where I've overheard comments along the lines of "well I'm in York and my Musa basjoo came through last winter, with no protection, and it went down to minus ten!" which gets a response like "well, I'm in Scotland and mine when down to minus twelve and it only had a bit of bubble wrap!". You get the idea – one up-manship; my plants are tougher than yours, etc. etc.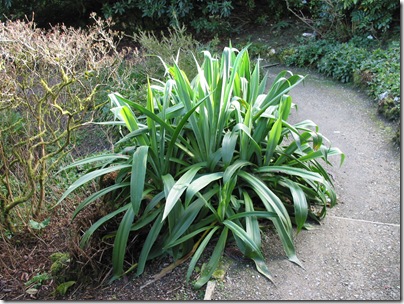 Beschornia yuccoides
But…. leaving aside my drearily middle-aged comments, what is plant hardiness anyway? It's a complex phenomenon, partly chemical and partly physical. Key are chemicals which act as anti-freeze, stopping ice crystals forming in cells. Plants show varying degrees of hardiness, and sorreeeee…. there are no hard and fast rules!
One reason there are few rules is that plants experience very different kinds of cold in their regions of origin. Dry cold is often less damaging than wet. I remember when I had my nursery business and a customer from the east coast of Scotland (just those words make Brits shiver) said he grew Fremontodendron californicum just fine; but that coast has a low rainfall. As does London, which means that, if you add in the 'urban heat island effect', meant that the South African and Australian stuff I used to sell (for conservatories and sunrooms) often did surprisingly well planted out in gardens. There are huge mimosas (Acacia dealbata) in London squares (but I don't know whether they'll be there next spring).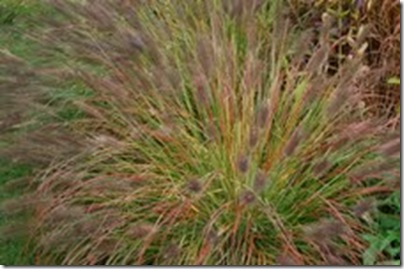 Pennisetum alo. 'Viridescens'
Pennisetum alopecuroides 'Viridescens' is hardy but prefers a good freeze to our our damp and unpredictable winters . What makes zones so unreliable for west coasters is that the winter weather is constantly changing: one week is wet and cold, next is wet and mild, next is cold and dry then mild and dry; plants from continental climates sometimes don't know what to do. Many Pennisetum (Fountain) grasses fail to survive the supposedly zone 9 winters we have regularly had over the last twenty years, but they flourish so well in zone 5 that landscape architects can fluff up their borders with thousands of the things in the Midwest without a worry.
There are so many surprises when it comes to dealing with plant hardiness. One reason for the way that many species survive much colder conditions in the garden than they do 'back home' is that in their natural habitat they occasionally will experience weather much more severe than normal, perhaps only once every few decades. This year the Mexican Red Cross were doling out blankets and fleeces after bitterly cold weather swept into the country. I remember Scott Ogden of Plant Driven Design telling me about how in Texas many species which will 'normally' get only an overnight nip of a frost will every now and again have to cope with an air mass which has swept down from the Arctic – damage may occur but the plants survive well enough to remain part of the flora. He went on to explain that this air mass will very occasionally (like this year) get down as far as Veracruz in Mexico, which makes it the furthest place on earth where you can get a frost at sea level. I've been to Veracruz, it looks pretty damn tropical to me! It also has eye-popping levels of biodiversity. In the rather cushy conditions of cultivation many species which get occasionally frosted stand a reasonable chance of more frequent freezes. So…. roll on zonaldeniars, be sensible, but basically I'm with you.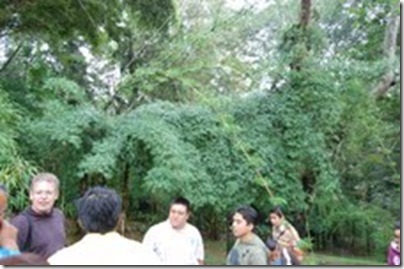 Chusquea simplicifolia
Bamboo-nuts would love this Chusquea simplicifolia in Xalapa Botanic Gardens, Veracruz State, Mexico. It looks very tropical but gets the occasional freeze.
After I gave up the nursery I moved onto design work with hardy perennials, which are nearly all from climates far more severe than ours, and living in the Welsh borders I am not tempted to be too experimental on the hardiness front. Maybe one day I'll live by the sea and have one of those fabulous west coast gardens where you can mix and match from different climate zones. Maybe I'll be a zonaldeniar in my old age.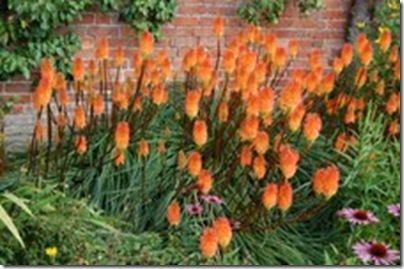 Kniphofia unknown cultivar
I saw the kniphofia above (red hot poker) at Croft Castle, derived from South African montane grassland species, which get only summer rainfall but thrive surprisingly well in our soggy winters.
For more information on Noel, check out his website and blog.