"Look deep into nature, and then you will understand everything better." Albert Einstein

It should come as no surprise that Chicago, commonly known as 'Garden In The City', has been a trailblazer in the green roof movement in America. **
It has 359 green roofs, totaling  5.5 million square feet, more than any other city in North America. Last year, it added 600,000 square feet more. The momentum to make Chicago a city of green roofs continues at a rapid pace. Within the next one to two years, green roofs in the city will top 7 million square feet.
Photo Credit – City of Chicago
The birth of green roofs in Chicago didn't happen in a bubble. It was after the terrible heat wave in July 1995, when there were more than 700 heat related deaths, that it was decided to find ways of making the city cooler in spite of rising temperatures.
Chicago's rich gardening history combined with Mayor Daley's mission to make it the 'greenest city in America' and a settlement from ComEd, created the ideal setting to build a huge, show stopping green roof on the top of City Hall .
"As part of an EPA study and initiative to combat the urban heat island effect and to improve urban air quality, Mayor Richard M. Daley and the City of Chicago began construction of a 20,300 square foot semi-extensive green roof in April 2000. It was completed at the end of 2001 at a cost $2.5 million, funded by a settlement with ComEd. Encompassing one square block and twelve stories high, this retrofit application serves as a demonstration project and test green roof. The project was completed in the summer of 2001." (Green Roofs for Healthy Cities)
It was one of the first studies in the U.S. – if not the first – on the effectiveness of green roofs in mitigating the urban heat island effect – it happens when concrete and pavement, which absorb and trap heat, make cities like Chicago hotter than surrounding rural areas. Buildings soak up the sun's rays during the day and release that heat into the night.
The City Hall rooftop garden was planted with over 20,000 herbaceous plant plugs of 150 varieties – including 100 woody shrubs, 40 vines, and 2 trees. It was designed with a supplemental irrigation system – rainwater is harvested – to aid plants while establishing themselves and to be used during extreme periods of drought.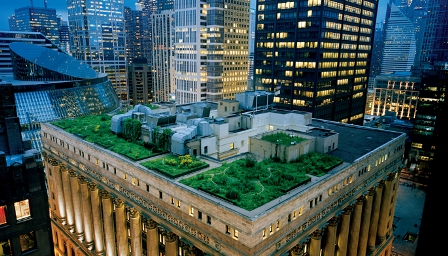 Chicago City Hall – Photo credit: Michael J. Curry. Not to be re-printed.
"The project was intended to demonstrate the benefit of green roofs in moderating summer temperatures within ultra-urban environments. The roof is monitored to demonstrate these benefits. The City Hall green roof is currently, on average year-round, 7 degrees cooler than the surrounding roofs and as much as 30 degrees cooler in the summer.
The rooftop habitat is home to more than the usual pollinators that visit perennial gardens. The city has a beekeeper that tends to two beehives. In 2010 Roofmeadow celebrated the 10 year anniversary of the installation of the Chicago City Hall green roof." (Source: Roofmeadow )
Another example of an outstanding green roof in The Windy City is at  Chicago Botanic Garden – one of the most visited public gardens in North America , with 958,000 visitors annually.
Photo Credit – Chicago Botanic Garden
"The 8,000 square foot north roof contains alpine and rock garden plants, cultivars and bulbs from around the world. The equally sized south roof contains native species. Combined, the roofs hold over 300 different taxa at planting depths of four, six, and eight inches. A permanent irrigation system is installed, but since establishment the entire roof has only required it twice."  (Source: Green Roofs For Healthy Cities)
Photo Credit – Chicago Botanic Garden
There is a wealth of information about on green roof at: Green Roofs For Healthy Cities (of which I am a member) and Greenroofs.com.
I have been using a book written by Noel Kingsbury and Nigel Dunnett, Planting Green Roofs and Living Walls, as a resource on green roofs since it was published in 2008. I highly recommend it!
** When Chicago officially incorporated as a city in 1837, it adopted the motto Urbs in Horto, a Latin phrase meaning 'City in a Garden'.
NOW IT'S YOUR TURN. Do you believe in the importance of green roofs in urban areas? What's your favorite one?