My first daffodil bloomed today October 21. Want proof ? The camera never lies.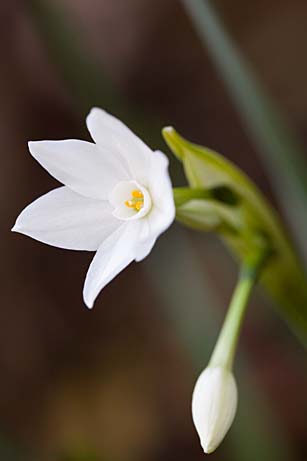 Wait a minute. Am I not the guy who says the camera always lies ? that we cannot believe the implied message of the typical garden photograph ? Now I want to use the camera to tell the truth ?! Yeehaw ! Now I've got you. What IS the truth?
Find another blog of you want that answer, but I do know the gardening that we each do in our own dirt is truth. Which is why I urge us all to do a little critical thinking when we see garden photos or read garden books. Those words and photos are someone else's truth.
For me, in my Northern California garden, it is spring. When the first daffodil blooms, ipso facto, it is spring; and especially after the first rains when the earth comes alive it must be spring. It has been dormant for months, dormancy due to dry summer, not the dormancy of cold. It makes me crazy when I get photo requests from editors who want me to send photos to illustrate seasonal events. My truth, my experience, is not what most publishers want.
I also took this Camellia 'Cleopatra' photo today.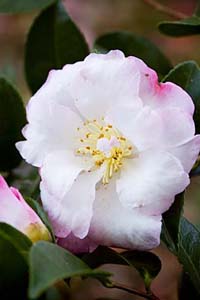 The Camellia sasanquas have been blooming to 3 weeks. They will bloom for 5 months – all winter. But didn't I say it was spring ? What are the seasons ? Camellias in winter ? Do garden publishers want daffodils and camellias to illustrate October ? I guess I will let the camera lie and let them believe what they want to believe, and rant about truth and absurdity in a blog.
I have said many times that with my work as a garden photographer I hope to change the expectation of what one expects to see in a garden photograph. It all comes from my frustration as a California gardener dealing with a market biased toward Eastern assumptions.
Lest you think I make no concessions to "true" seasons I show more photos I took today: Stewartia monadelpha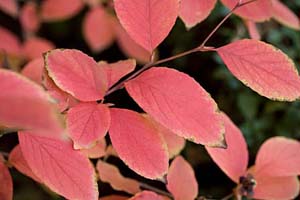 Yes we do have fall color in California.
and Cornus florida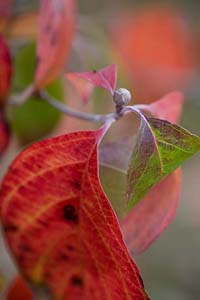 Now look closely. See the swellng bud? the promise of spring….