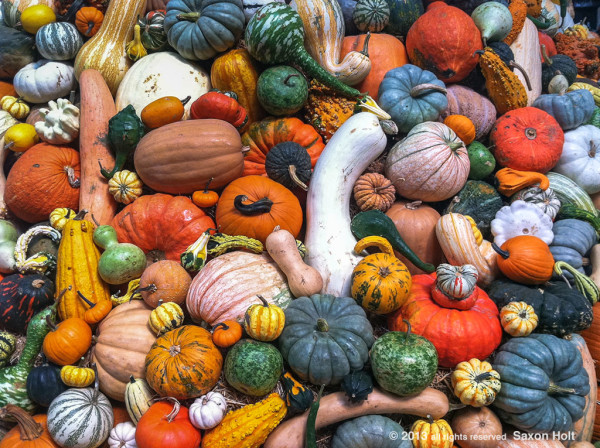 The Third Annual National Heirloom Exposition takes place in Santa Rosa, California on September 10, 11, 12.  Read on for a free ticket offer.
First a word or two about heirloom vegetables.  What's the big deal ?   They are often funny looking, can be hard  to grow, and often yield less than modern hybrids with no better nutritional value.  For many they are a fad, appealing to trendsetters, snobs, and the politically correct since "heirloom" is often tied to "sustainability" and "organic".
A very well respected writer, here on Gardening Gone Wild once said in essence:  "Heirlooms are heirloom for a reason – they aren't very good and no-one wanted to save them".  A lively discussion ensued 2 years ago after the post by Noel Kingsbury:  Garden or Museum – what's the big deal with heirloom veg?.
Now the best reason to grow heirlooms: it's fun.  With a little effort, and anyone who grows vegetables knows it's an effort, gardeners can find varietes that do indeed taste better than modern hybrids.  No variety of any fruit or veggie will grow the same for any grower, even across the same town, much less gardens in different climates.  It's fun to experiment and find those that suit our different tastes, our different gardening style, the many micro-climates that exist everywhere.
Indeed we all get swept up in the romantic notion that heirlooms reflect the good ol' days before the vegetables we get in the supermarkets were bred for shipping purposes, those days when we did not worry about GMO's (genetically modified organisms), chemical pesticides, and back to a time, not really so long ago, when there were no such thing as artificial, petroleum based fertilizers.   The heirloom movement has been swept up in our desire for pure and organic food, but really they are separate ideas.
Personally I worry that the word "heirloom" will be soon co-opted by marketing folks who will grow these old seeds in chemical based agriculture, assuming the well intentioned but uninformed will pay a premium for a product that is no better than modern seed.  I know for sure that is true in my local markets where we now find heirloom tomatoes 8 months a year, and except for a couple months in the height of the season (now), they are just as bland as the perfectly shaped red ones next to them in the vegetable aisle.
This phenomena of marketing, to play on and abuse our romantic ideas of heirloom, or organic, or sustainable, or even "local" has led many a wise gardener to grow their own and support farmer's markets where it's pretty easy know where your veggies were grown and even how they taste.  Many of the small local farmers that are increasingly able to eek out a living in small towns around the country depend on heirloom seed to find just the right variety for local conditions.  These farmers do not have romantic notions about the good ol' days, they want a crop that works, that tastes good, that we will go out of our way to buy.
So now seed companies now have a real heirloom seed market.  Small farmers everywhere are now buying seed by the pound not just the packet – and we now have small seed companies that can support the heirloom movement.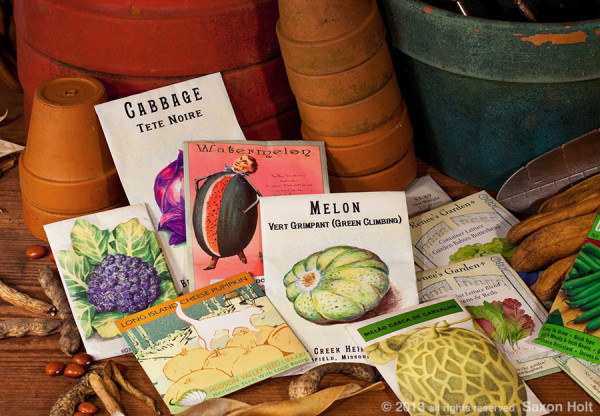 No doubt the Monsanto's of the world are unfazed but small companies like Johnny's, Territorial, Baker Creek, Reneé's Gardens, High Mowing and dozens more that are able to offer unusual heirloom seeds to small growers and the homeowners who want to grow some of their own food and have edible landscapes.  With the resurgence of 'grow your own' we now have local tasting events, farmer's markets, garden shows that feature edible themes, and now the National Heirloom Exposition.
For many years the only source of heirloom seeds was the Seed Savers organization who for 40 years has been "Passing On Our Garden Heritage" ™ and preserving seed by growing and collecting them.  Thank goodness.  When I saw that David Cavagnaro, one of my garden photography heroes who had moved to Iowa to support Seed Savers was speaking at the first Heirloom Expo in 2011, I sure went out of MY way to see what was going on.
What happens at the Heirloom Expo is fun – exhibits, barnyard, music, vendors, and food samples everywhere. But it is much more than a fair.  There are speakers all day every day and keynote presentations by GMO activists from around the world.   The Expo represents a movement, a community of gardeners, foodies, small farmers who are in the pursuit of happiness and harmony with the land and the food that comes from it.  And it reminds us why food gardening is fun.
I think everybody should go, and I have a pair of tickets to give away.   Please don't ask for the tickets if you can't go, but since Santa Rosa is only 60 miles north of San Francisco you Gardening Gone Wild readers from far away should plan an impromptu trip.  I am going to NYC next week to see a museum exhibit at the Guggenheim, so why not plan a trip to California around the Expo in September ?
The tickets come courtesy of Baker Creek Heirloom Seeds which is the major sponsor of the Expo.  I really believe in this event and would have written this post without their tickets; but when I asked for a media pass they gave me four tickets for any day.  So thank you Baker Creek, founder Jere Gettle, and their local store The Petaluma Seed Bank for making this happen.
To win the tickets (and parking pass), post a comment here before Friday the 30th saying why you want to go.  I will pick my favorite, and if there are multiple favorites, I will draw straws, somehow.
But go.  Have fun.
For anyone with 4 minutes to kill here is a handheld shaky video I shot of Heirloom Expo exhibit floor in 2011.