Quite a few of you chimed in with good things to say about sedums–December's Plant Pick of the Month. I spent a day this week looking for new sedums as I walked up and down the miles of aisles at the gigantic Mid-Atlantic Nursery Trade Show (MANTS) in Baltimore, Maryland. Although 'Angelina' promises to continue her prominence, I didn't see any new exciting cultivars  among the offerings of perennials, shrubs, and other plants.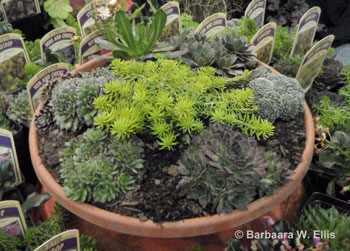 I did see 'Angelina in quite a few containers, but mostly she was used for immediate effect rather than long-term practicality. The picture here shows 'Angelina' combined with various hens-and-chicks (Sempervivum spp.) that she will completely smother after only a month or so of growth. Still, it makes a nice combo in the moment!
Of course our own Nancy Ondra posted some gorgeous pictures of sedums in her post Stonecrops Rock, including  'Purple Emperor'  with Rosa glauca. I was sorry to hear this combination fizzled out, since it's quite an eye-catcher! (Too bad 'Angelina' can't lend some of these other sedums a bit of her excess vigor!)  Nancy's pictures of  'Angelina' with all manner of other plants are really inspirational. And even though she says they're similar, I'm going to try  'Autumn Fire' along with 'Autumn Joy' on my hillside shrub border next spring. Thanks for sharing Nancy!
Benjamin reported that he's started a sedum collection, because they make such great ground covers and look  neat in the process.
Frances, another sedum afficinado, grows 'Angelina' along with a number of other sedums. Her post sings the praises of great garden plants like sedum 'October Daphne'. She also gives much-deserved homage to 'Autumn Joy', a workhorse cultivar that adds interest to beds and borders from mid summer into winter whether planted in great drifts or as a specimen.
Gail agreed with me that Sedum ternatum is a perfect little native. What's not to love about a ground cover that thrives in well-drained to dry soil and shade? It's still not commonly found in the wholesale catalogs I picked up at the MANTS show, but some native plant specialists have it. I also found one cultivar, 'Larinem Park', listed. They didn't have plants available at the show, but it's described as being a compact, floriferous selection.
ESP shared "before" photos of a really promising use of sedums in the garden: A waterfall of sedums that is part of a much larger water garden overhaul.  Watch this site for an update once the plants fill in. It should be lovely!
Cameron suggested a great combination for 'Angelina' by planting it under her Japanese maple. Its yellow leaves contrast with the red maple's leaves in spring, and it glows especially brightly in winter. My main patch is combined with yucca 'Bright Edge' in full sun, where both plants provide winter-long color.
Pam actually has found 'Angelina' does best in her Austin, Texas, garden with some afternoon shade, and I'm also going to try some clumps (I do have quite a few, since 'Angelina' is a  spreader!)  in other lightly shaded spots. I certainly have enough ground to cover and I think a bit of shade will benefit even drought tolerant sedums if the weather is hot and dry come summer.
Josh reports losing 'Angelina' in winter, but suspects it was due to the harsh weather. We've had an unusually rainy fall and winter thus far, and I'm sure my plants would be history if they were in a less well-drained spot. He also mentions S. cauticola as a favorite clumping species that features blue-green foliage. I spotted a cultivar of this species in one of the catalogs I picked up at MANTS. Watch for 'Lidakense',  with blue-green leaves that turn reddish bronze in winter and bright rose-pink flowers in summer.
Mr.  McGregor's Daughter reports having control issues with S. kamtschaticum. Many of us can sympathize, I'm sure! Her post also helped eliminate one sedum from my "Plants I have to grow" list, and that's 'Black Jack', which has a serious reversion problem.
Dave put up a great post on sedums, starting with how easy it is to propagate them, especially the ground covering ones like 'Dragon's Blood'. He also mentions 'Autumn Joy' along with another one that I had in my Pennsylvania garden, 'Blue Spruce'. Thanks for the reminder, Dave. I'll be adding a plant or two this spring! I love the blue-green color and the texture of this low-growing sedum.
I know I'm going to continue trying out new sedums along with old sedums in new spots. I hope readers will as well. They're great additions for any garden that's gone wild!