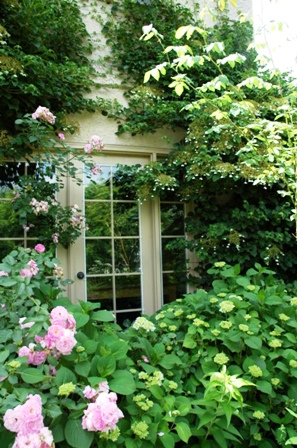 We received a fair amount of traffic for the GGW Plant Pick of The Month for November. I was pleasantly surprised that there are alot of you who are still big fans of old fashioned roses and wouldn't think of not having them in your garden. Plus, several of you also said that, contrary to popular opinion, these roses are actually easy to grow. Some of you gave a big 'YES' to  Knockout Roses, considered to be one of the easiest and longest blooming of all roses. What all of us agreed on is that the variety of roses in the marketplace continues to expand exponentially each year, making our jobs as gardeners more exciting and yet more challenging (because there are so many from which to choose)!
Heirloom Gardener, who states that she loves roses so much that she has a separate rose garden, is a big fan of old fashioned roses. She shares her six, easy to grow, favorite ones with us, along with a slew of photos that are delectable.
Phillip's photos of his garden, filled with a plethora of roses, are dreamy. His favorites and 'best to grow' in Alabama are: Noisettes, Hybrid Musks, Polyanthas and Old Tea Roses. His garden makes me want to spend an afternoon there with a good book, a cold drink and the time to take in in the beauty and aroma of what he has created.
Jean shared photos of roses she had posted for October Bloom Day: always a pleasure to see them blooming that time of year.
Mr. McGregor's Daughter wrote a heartwarming story of how she finally came about planting a rose in her garden.
TC also shared the rose she has in her garden.
Dee of RedDirtRamblings not only posted some beautiful photos but wrote a great piece on her thoughts and feelings about roses.
Nan cautioned us about the huge amount of problems she has had with Rose Rosette but sings the praise of several roses including: Knockout Roses (especially Radrazz) plus a slew of other ones:  New Dawn, Awakening, Rosa Glauca and Moore's Striped Rugosa.
For any of you who want dazzled by the mouth watering photos and all of the roses that Vita Sackville West planted in her rose garden development of  at one of the most famous gardens in the world, Sissinghurst, check out the book Gardening At Sissinghurst. He is one of those rare breeds in the world of gardening: a combination of first rate photographer and storyteller. This book walks the reader through the history, creation and changes made after the owners' death to this now National Trust Garden: all with 'to die for' photos. It would be next to impossible to read this book and not want to jump on the next plane to visit Sissinghurst. Gardening At Sissinghurst  is a keeper!
If you have any more thoughts or photos that you want to add to this month's Plant Pick, please do so.  We will make sure to post them!