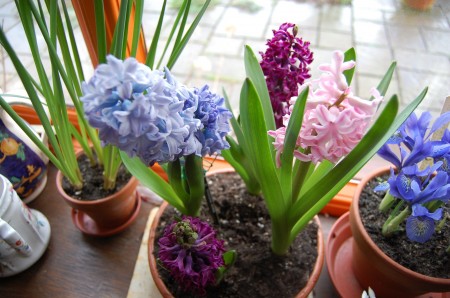 The January to March period in Britain is pretty dreary, its the dark getting you down as much as anything. Flowers growing on windowsills can make such a difference, and given my growing interest in bulbs, there is huge scope for making the most of light windowsills. We've got a nice long south-facing one in the kitchen which is ideal. The classic one is the hyacinth which we always get started in September to try to get them to flower for Christmas. Well, not managed that yet, but some started performing in January. The scent is fantastic and they last for weeks; and there are some good new colors too, like dark purples.
Daffodils perform very well in pots, especially if you can keep them cool. Scented Tazetta types are the best (the above is a Cyclamineus) as they have a wonderful deep scent. Only trouble is they are taller and get taller indoors.
Little reticulata type irises are wonderful but very short-lived, even in cool conditions. But they are dead cheap and one thing you can do is organise a whole succession of them, put them back in the cold when they've done their thing. They don't appreciate summer rain, so need to go in some sort of frame later on.
Check out my own blog for some news on the latest book I'm working on with Piet Oudolf and my page on Amazon for my growing list of e-books and essays.
Follow me on twitter: @noelk57
And just flagging up….. there's going to be an exciting and fun new development in the next few months