Recently an editor asked me if I had any bold flowers on black background.  Rather than going through my files looking for something to transform with Photoshop I decided to shoot a new photo.  It's the height of the season after all.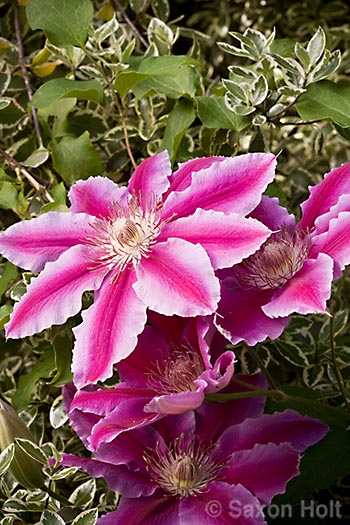 Clematis 'Dr. Ruppel' has just coming into full spring glory, twining up into my Pittosporum 'Deborah' displaying herself at eye level, an easy beauty.  This is one of those fun experiments with plant combinations that turned out better than expected.  When I led a slender line of the clematis vine into the shrub two years ago I forgot about it and didn't image that it would bloom so well.  Now it wants attention.
So I set up my outdoor "studio".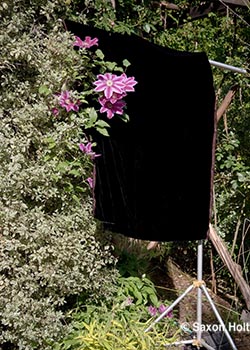 I used a light stand with an arm attachment and draped a piece of black velvet I use for just this sort of occasion.  Black velvet absorbs every bit of light that falls on it, never going gray, never showing folds.  It becomes a black hole.  So I gently wedged the cloth behind the flowers and in front of the Pittosporum careful not to break the tendrils that were holding 'Dr. Ruppel' in position.
To mitigate the hot contrasty glare of midday sun, I used a light-diffusion disc that softens the light.  The diffusion material is like a parachute cloth stretched across the disc and creates the look of a studio soft box.  The sun's stark light is broken up and surrounds the flower.  The closer the diffusion, the softer the light;  a clean color temperature, a white balance better than overcast skies.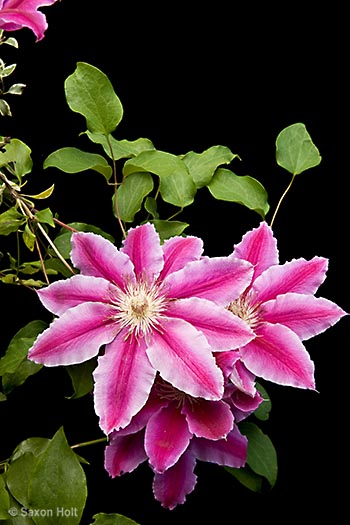 Clematis flower perfection.  A little closer. Move aside the leaves…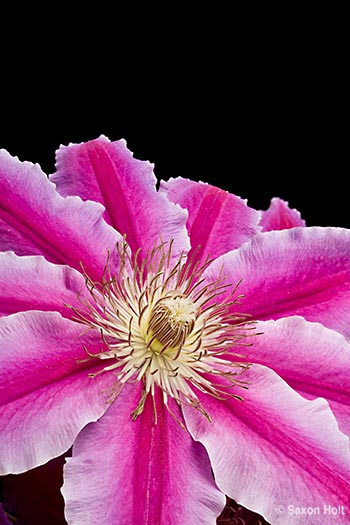 My editor has just gotta pick this one.  Shouldn't this be the cover of a botany book, title in the black?
As a follow-up, I just went out into the garden to see how Dr. Ruppel looks today.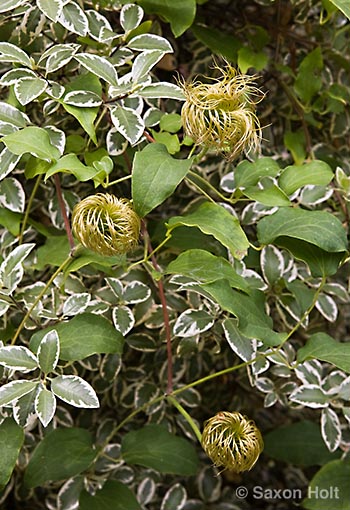 Flower at rest, spent, and gone; but the seed head is just a pretty in its own way.  Gardens change so fast.  When a picture is to be made, don't wait.  Give yourself an excuse to go take pictures today.
For those who want to see more of my botanic illustrations, check out this photobotanic "extraction" of Ribes sanguineum  on my Mental Seeds blog:
An extraction from the natural world, from my garden.  Botanic illustrators have the advantage of drawing from nature, piecing together an ideal.  Photographers have Photoshop; at least for those days we can not go out and shoot with black velvet.
head is just a pretty in its own way.  Gardens change so fast.  When a picture is to be made, don't wait. – See more at: https://gardeninggonewild.com/?p=5897#sthash.nMjr8TMt.dpuf
t the seed head is just a pretty in its own way.  Gardens change so fast.  When a picture is to be made, don't wait. – See more at: https://gardeninggonewild.com/?p=5897#sthash.nMjr8TMt.dpuf
t the seed head is just a pretty in its own way.  Gardens change so fast.  When a picture is to be made, don't wait. – See more at: https://gardeninggonewild.com/?p=5897#sthash.nMjr8TMt.dpuf