If you don't know by now, I'm throwing a party. It's a celebration for the publication of the 10th Anniversary Edition of Digging Deep: Unearthing Your Creative Roots Through Gardening.
And today, December 8th, is the LAST DAY to participate in trying to win an awesome giveaway.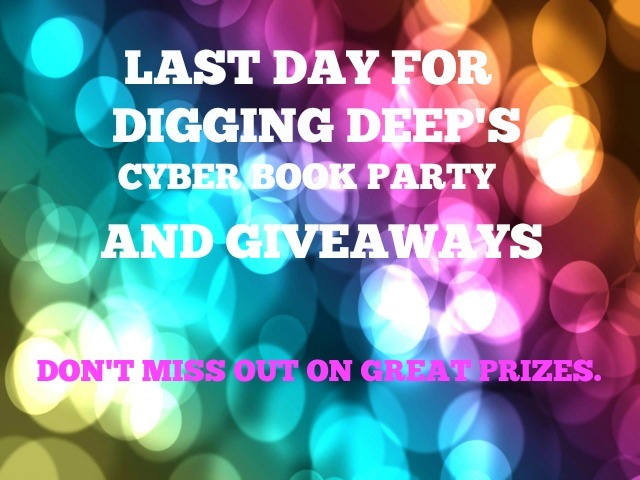 Before I get into the nitty gritty of the party, I want to share with you why I chose to create an updated 10th Anniversary Edition. Originally when published in 2004, Digging Deep was groundbreaking. It was one of the first books – if not the first – that used gardening as a conduit for experiencing creativity as a rich and dynamic lifetime journey.
Digging Deep works with you from the inside/out on designing the garden and life of your dreams. My 7 Stages of Creative Awakening will take you through the steps of removing self-doubt and replacing it with strategies that will help you trust your instincts, let your imagination run wild, take risks, envision and design the garden of your dreams, reclaim your playfulness, and live the life you're meant to— one filled with joy, well-being, and creativity.
Overflowing with tips, exercises, and resources, this instructive and inspirational guide is even more vital in today's technology obsessed culture than when originally published. As we spend more time indoors and at the computer, we are becoming increasingly 'nature deprived'.
The results from a recent survey funded by Disney revealed that 65% of U.S. parents see it as a "very serious" problem that kids are not spending more time outdoors. Parents concerns about nature are only second to bullying, the quality of education, and obesity.
Need I say more? There are a plethora of studies about the significant negative effects that not spending time in nature has on our physical and mental health.
The truth is this: If we want ourselves and future generations to experience rich, dynamic lives filled with meaning and connection, we have got to spend more time outdoors; being in nature and gardening.
The beauty and one of the benefits of Digging Deep is that it offers gentle step-by-step tips and bite size changes on how to bring gardening and nature into your everyday life.

A SPECIAL LIMITED TIME OFFER ON DIGGING DEEP

In celebration of this party, I've priced the Kindle edition of Digging Deep at the ridiculously low price of .99  for the week of the giveaway. My suggestion is to get onto Amazon (as soon as they switch the price) and order one for yourself so that you don't forget to do it before it jumps back to its regular price
There are 8 garden bloggers posting.
Dee Nash- Red Dirt Ramblings
Helen Yoest- Gardening With Confidence
Jenny Peterson – J Peterson Garden Design
Rebecca Sweet- Harmony In The Garden
Debra Prinzing- Debra Prinzing website
Brenda Haas- BG Garden
Jan Johnsen- Serenity In The Garden
Fran Sorin – Fran Sorin website, and Gardening Gone Wild
On every blogger's website, there will be giveaways.
The companies who have donated prizes are:
Baker Creek Seeds –  19 handpicked varieties of vegetables and flowers bundled together. You have 8 chances to win this prize on 8 sites.
The varieties include:
Red Express Cabbage produces early, solid, split-resistant oval heads on compact plants. Precoce d" Argenteuil Asparagus is a gourmet variety that is highly esteemed in Europe for its delicious stems that can be balanced white with rose-colored buds. Quadrato d' Asti Giallo Pepper is a giant yellow bell pepper with a sweet and rich flavor. Alaska Shasta Daisy Wildflower is an easy-to-grow perennial with large, white daisy flowers with bright yellow centers. Munstead Strain Lavender is a compact perennial that seldom exceeds a foot in height. Kellogg's Breakfast Tomato is a beautiful orange beefsteak variety that is flavorful and superbly sweet. Pink Accordion Tomato has large, pink fruit that is ruffled like an accordion and excellent for stuffing. Red Hat Mexican Hat Wild Flower is a colorful perennial with red flowers that look like Mexican hats. Lemon drop Hot Pepper is a seasoning pepper from Peru that ripens to a clean lemon yellow with slightly citrus-y heat.  Rattlesnake Pole Bean is easy to grow and produces lots of green pods that have purple streaks and good flavor. Jumbo Pink Banana Squash produces large yields of large pink banana-shaped fruit that can weigh 10-40 pounds.  Ping Tung Eggplant is a Taiwan variety that produces sweet and tender purple fruits that are superbly delicious. Tigger Melon is small in size, fragrant, and a beautiful vibrant yellow with brilliant red zigzag stripes. Minibel Tomato is an indeterminate variety that produces bite-sized fruits that are sweet and flavorsome.  Royal Golden Watermelon has tasty pinkish-red flesh that is sweet, crisp and refreshing. Black Krim Tomato produces juicy, dark red-purple fruit with rich sweet flavor. Chioggia Beet is an Italian heirloom with light red skin and beautiful rings inside, like red and white candy stripes. Broad Leaf Sage is used in Europe and America to flavor many meats, stuffings, vinegars and more. Patisson Stripe Melange Squash is an ornamental mix that contains fruit in many colors with many being striped and warted.
Baker Creek Heirloom Seed Company carries over 1700 varieties of open pollinated herb, vegetable, and flower seeds.  They carry one of the largest selection of seeds form the 19th century, including many Asian, European, and South American varieties.  All Baker Creek seeds are non-treated, non-hybrid, non-patented, and non-patented.
Authentic Haven Brand Soil Conditioner– 3 pack variety –  you have 8 chances to win this prize on 8 bloggers' sites.
Authentic Haven Brand Natural Brew, premium soil conditioner teas, are safe for all garden, indoor plants and soil types. Makes an excellent foliage spray.
You can extend your growing season by hydrating your seeds/bulbs before planting to enhance germination and stimulate root growth. Simply place your seeds or bulbs in a bowl or bucket of manure tea. Recommended hydrating time:
Small seeds 1 to 4 hours
Medium seeds 4 to 6 hours
Large seeds 6 to 8 hours
Nature Innovations– Molded from live trees, these planters are made from a high density polyurethane, lightweight, UV resistant, and incredibly durable. All Nature Innovations planters are individually hand painted and are 100% made in the USA.
Their prize consists of:
1 small 4″ vertical oak planter, 1- 11″ long horizontal planter, 1- medium 8″ vertical birch planter, 1- medium 13″ horizontal oak planter.
You have 8 chances to win this prize on 8 bloggers' sites.
ONE SPECIAL PRIZE

It's a gift set of tools from DeWit. All tools are hand made in Holland. This special prize is being offered on my site: Fran Sorin.
I will be offering 2 GIVEAWAYS on this site.
PRIZE #1– Baker Creek Heirloom Seeds – 19 varieties of veggies and flowers, along with a variety pack of Authentic Haven Brand Natural Brew Tea
PRIZE #2– Natural Innovations- 4 indoor/outdoor containers
In order to be eligible for a giveaway on this site, leave a comment at the end of the post sharing how you envision using the giveaways. And if you haven't done so already, sign up for GGW free updates on the upper right hand column of our home page.
In order to throw your hat into the ring 8 times, go onto every bloggers' site, read their post, and follow instruction on how to participate. And remember to jump on over to my website, Fran Sorin, to be eligible to win DeWit's Variety Pack Garden Tool set.
The giveaway will end on Monday, December 8th at 11:59pm. All winners will be announced on December 9th. Only U.S. residents are eligible.
If you enjoyed this post, in the spirit of generosity, please share with friends on social media. We want everyone to join in on the celebration!!