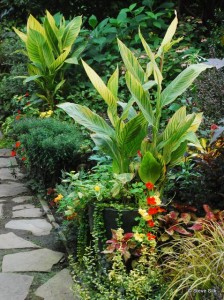 Hard to say if there's any such thing as a foolproof garden design strategy, but the principle of repetition comes pretty darn close.  The basic idea is simple: use something more than once. And when I say something, I really mean just about anything. You might use two or more of the same container, two or more of the same plant, two or more swatches of the same color, two or more tuteurs, two or more of the same ornament,…or, as I said, two or more of just about anything. Then it's time for the fun to begin.
You take those identical, or even similar items and deploy them in a garden at some remove from each other. Got a formal garden? Separate the items by a uniform distance, say, 6 feet between each one. got a playful, Dionysian kind of garden, just keep the items away from each other; varied distances are fine. The idea is that those repeating elements, whatever they may be, serve to unify the garden, to draw its parts together with a recurring theme or motif, just like a song has a refrain, or a symphony might employ an idee fixe or cyclical rhythm. There's something reassuring about being able to return periodiucally to a recognizable touchstone of sorts as you journey through the garden.
There are all kinds of ways to do this. The simplest might be to make use of recurring swatches of color, say an occasional jolt of red or yellow at intervals down the length of a border or throughout a garden.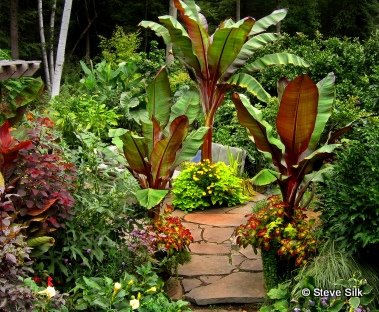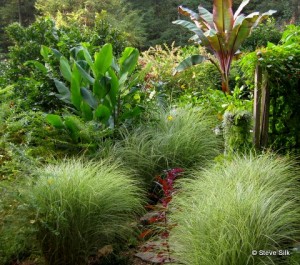 Better still, IMHO, is to use plants. Though I've been foiled in my efforts to create symmetry or more elaborate repeating schemes using plants many a time–why does one of them always die?–I still think it's the best, most gardenesque way to go. So I keep trying. And persistence finally paid off-that's what's led me to place this trio of bananas on my patio, and this hallway-like swath of grasses leading to it.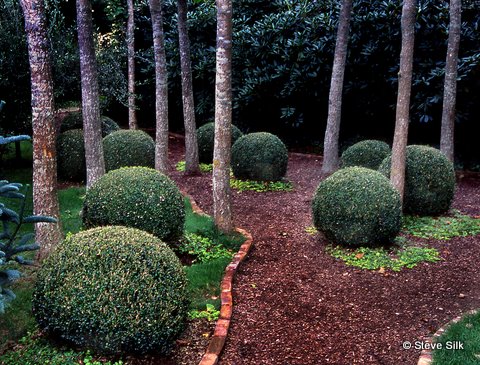 Perhaps Bob Dash sought a similar effect at his garden, Madoo, in Long Island in these neatly trimmed boxwood orbs.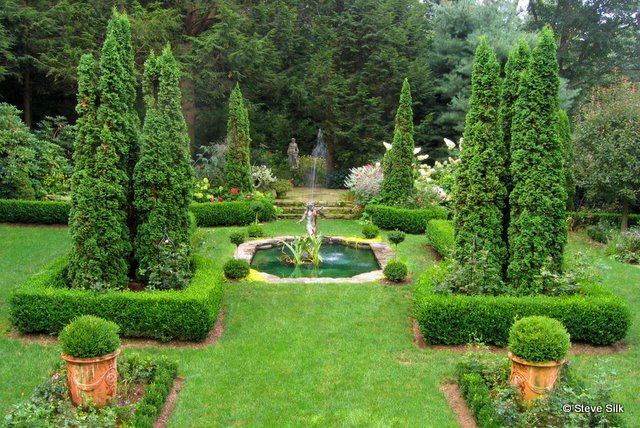 For another fine example, look at Richard Copeland's Roxbury, Ct garden, where boxwood balls and staunch, upright arborvitaes carry the eye right through the garden. The horizontal repeating elements of the boxwood hedges further enrich the oh-so-pleasing sense of geometry that dominates this scene. Another striking vignette at the Copeland gardens is this sextet of boldly fastigiate (kinda) shapes frame a stairway leading from driveway to garden. And again the scene is pumped up with additional layers of geometry provided by the boxwood bullets and low sweep of hedge.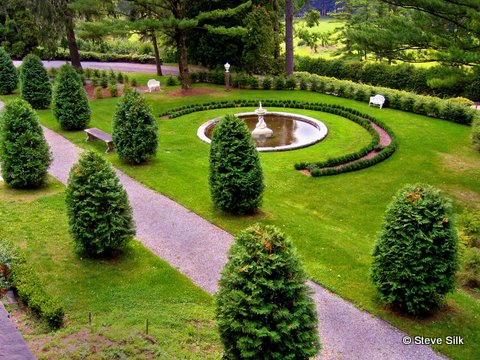 An even grander example is this one from Naumkeag, Fletcher Steele's masterpiece in the Massachusetts Berkshires town of Stockbridge. Grander, and grandeur.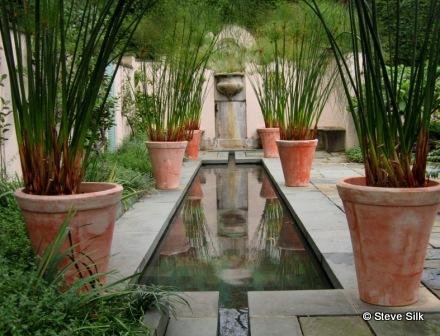 You can one-up the whole idea by creating recurring elements that repeat plants AND some element of hardscape, like these planted pots, as shown in the blissfully symmetric scene at Chanticleer in Wayne , PA., Containers are especially easy to deploy, and have the advantage of easy mobility, so you can move them about until you achieve just the effect you seek.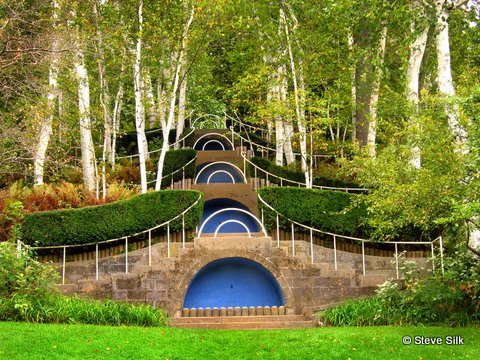 And who can resist the appeal of the famed blue steps–which repeat plants, colors and manmade forms–at Naumkeag. What's not to like about repetition?