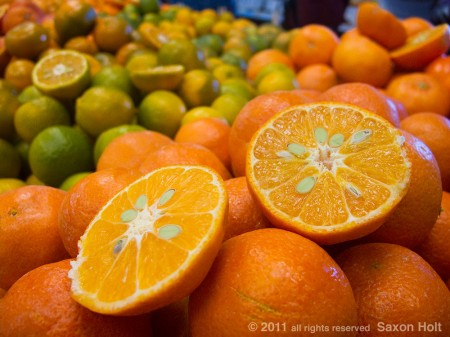 I recognize that this post is not really about gardening.  I also realize that you readers who are holed up in cold climates may have no  patience with California garden columns.  Citrus, succulents, daffodils in December, year 'round lettuces.  Well, so be it; this is California winter.  This is what I see.
Today I see citrus.  Not your backyard ordinary (for California) navel or Valencia orange, but the kind that are grown for the increasingly specialty markets.  The citrus I saw at the University of California's Lincove Research Station are for farmers. There is no doubt some of these research specimens will end up sold by nurseries to discerning homeowners, but Lindcove exists to help California farmers.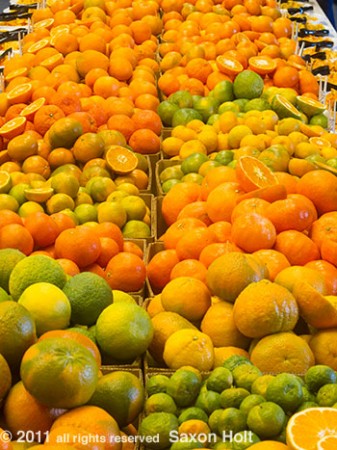 I was introduced to the citrus industry by Lance Walheim, the best citrus writer around.  Lance is not only one of the most respected garden writers around, he is a citrus farmer.  About 25 years ago, after researching and writing several popular citrus books, he decided to buy a ranch to grow specialty citrus.  He was convinced he could grow mandarins, blood oranges, and Meyer lemons for an emerging new market of foodies.   He was seen peddling boxes of fruit at renowned Northern California food outlets such as Oakville Market in Napa or Monterey Market in Berkeley.
Demand far outstripped supply – he bought the ranch.  He found a farmer who was retiring his 17 acres of Valencias in the choice citrus region of Exeter, California where the micro-climate was a degree or two warmer than the surrounding farms of Tulare County in the Central Valley.  Here, he slowly replanted, half acre by half acre, trying this and that, often pre-selling entire crops of blood oranges to the Japanese who have long had a keen sense of perfection in fruit.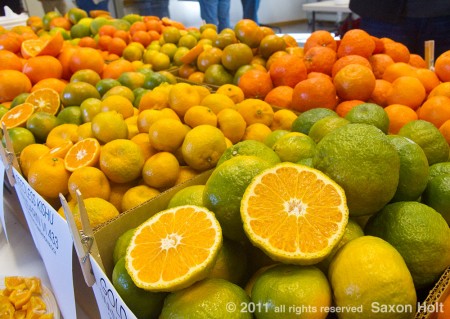 Today, Lance has entirely replanted the 17 acres of Valencias and continues to refine his crops to what the market will buy.  He still grows Meyer lemons for loyal customers, is pulling out Bergamots, experimenting with Yuzu (think Ponzu sauce), and harvesting his Page mandarins the day I visited.  He closely follows the University of California research experiments, and invited me to the recent tasting.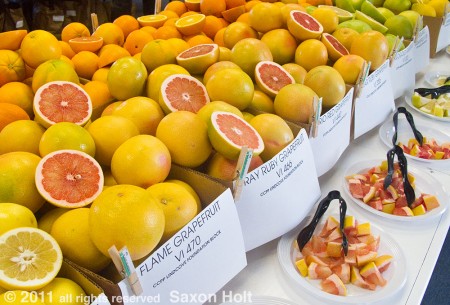 Citrus is a huge industry in California and farmers are under constant pressure.  Freezes can wipe out crops (Lance was up several time at night, watching the temperature go into the 20s while I visited).  There are droughts, pestilence (the Asian citrus psyllid is already threatening to devastate Florida citrus), and price fluctuations when the big growers bring their crop to market.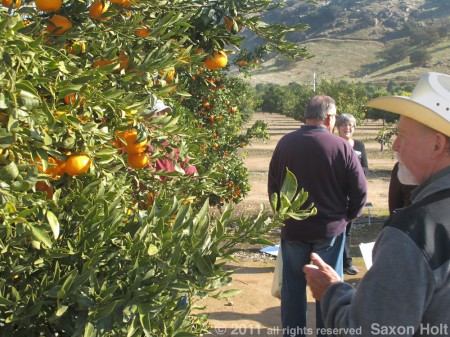 Farmers need to keep abreast of new developments and the research at Lindcove is invaluable.  The annual tasting event is an opportunity to actually see all the fruit and tour the foundation block of trees being tested.  The event is not the best time to taste all the fruit, as citrus has a long season and no one day is best for all fruit.  I learned, for instance that the "Cutie" mandarine tangerines I so love to buy by the case at the market are actually several different named varieties, depending on the season.  Cutie is a brand not a specific fruit.
Farmers need do consider many factors when deciding what to grow, ripening time, sweetness and sugar content, yield per tree, fruit shape and color, cold and heat hardiness all factor into choices.  This is why the University of California agriculture research is so important.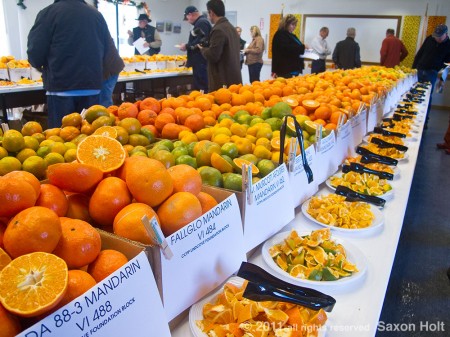 For me though, I just wanted to see all the choices – and have some taste treats.  In truth, it is hard to really tell dramatic differences, given all the variables of tasting this one day in this one season, and there was no way to cleanse the palette after each taste.  My mouth puckered on more than one sample and I exclaimed on more than one fruit that Lance dismissed as unripe.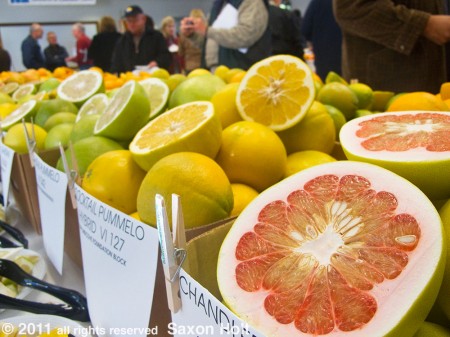 But, I will certainly be watching for a few varieties if they ever get to a specialty market near me.  The 'Sue Linda' tangor (tangor is a cross between tangerine and orange) was silky sweet.  The 'Cocktail' Pummelo hybrid sure deserves to be known by mixologists.  'Ray Ruby' grapefruit seems to have a more complex flavor that my favorite 'Rio Red'.  And after tasting a 'Torocco' blood orange I now "get" why these fruits are so trendy.
So maybe most of our Gardening Gone Wild readers will not get any tips for their gardens, you may very well know what to look for in the market.  And for more about these specialty fruit and some recipes there is a website, named not surprisingly:  California Citrus Specialties.