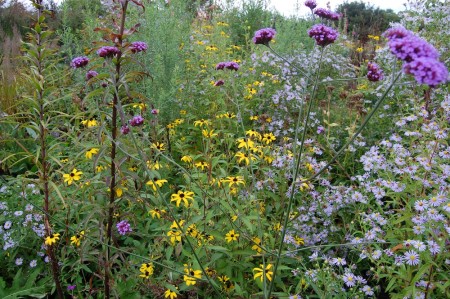 I remember on my first ever trip to the US (in August/September 1992) loving the blue/violet and yellow colour scheme of roadside wildflowers, whilst driving the Blue Ridge Parkway in Virginia, and then seeing similar mixes all the way up to Massachusetts. There must be a good reason why so many autumn perennials flower in either one or the other – to do with some combination of light wavelength and bee eyesight. Anyways – the combination is a very effective complementary one. Here is Rudbeckia triloba with Aster puniceus and Verbena bonariensis. The rudbeckia is a short-lived perennial; mine has sharper ray florets than the form usually available here. I got the seed from Prairie Moon in Wisconsin. The Aster I have had for years, the seed I collected originally from a swamp in the Catskills. It is a terrific seeder, but not a root spreader – a very good late summer soft blue.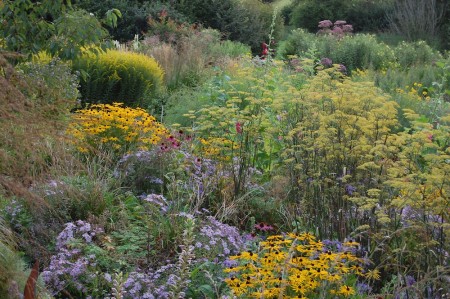 Rudbeckia 'Goldsturm' with fennel and Aster x frikartii 'Mönch'. The fennel is a terrible seeder, with young plants being difficult to pull out owing to tap root – so this lot will be dead-headed soon.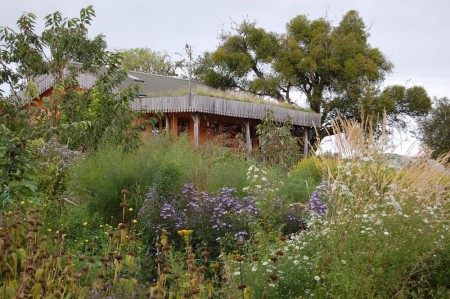 More asters in front of The Pavilion – our straw/clay annexe (available as a Bed and Breakfast).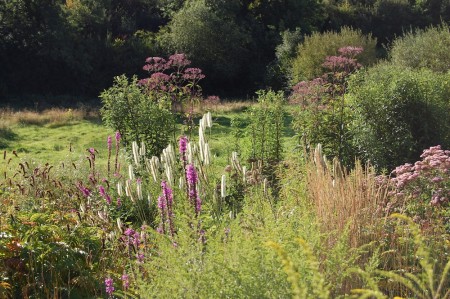 A very tall form  of Eupatorium fistulosum (Courtesy of Ed Steffek in North Carolina, back in 1992) highlights well against dark backgrounds, with white Sanguisorba canadensis and Lythrum salicaria – the purple loosestrife which is a native here but which has become a major invasive in North America.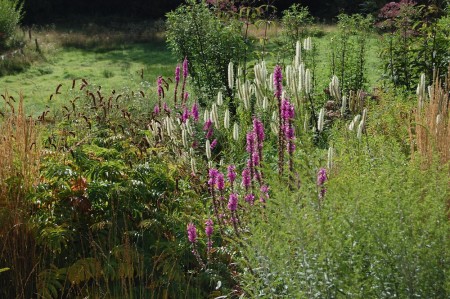 The loosestrife does seed aggressively here because of our wet ground so I dead-head, but this behaviour is actually rare in the UK.It is not a particularly common plant, as it gets out-competed by our grass flora.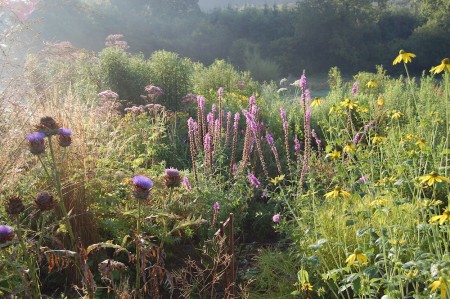 Globe artichoke flowers with loosestrife and Rudbeckia laciniata. This latter has proved to be too much of a good thing here, spreading at the expense of other prairie species, so we are evicting it from parts of the garden. I dare say vigorous grasses would keep it in check. Possibly one for planting into grass in a meadow situation.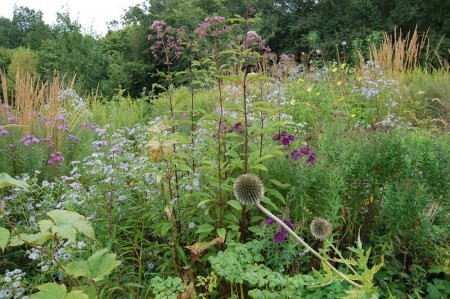 More Eupatorium (Joe Pye weed) with an Echinops 'Taplow Giant'.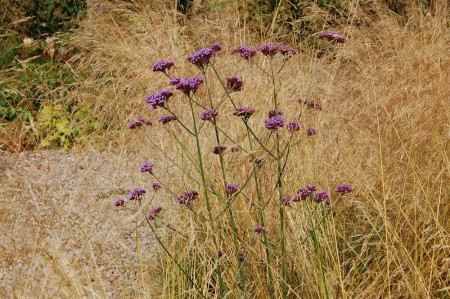 Verbena bonariensis with Deschampsia cespitosa. The Deschampsia is spontaneous, as it is part of the seed bank in this part of the world. Unfortunately too aggressive a seeder to use on a small scale (this area is only a few square metres), and  in garden conditions grows much taller than in the wild and then flops badly. So, that is now going too, and I'll try some shorter grasses in this particular spot.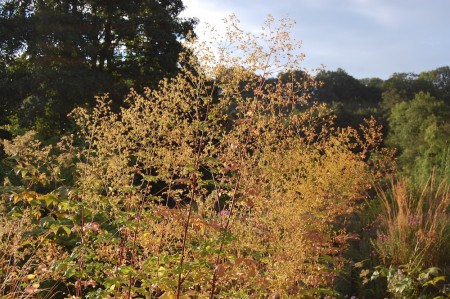 Thalictrum pubescens is not a prairie plant, I don't think, although it is North American. I love it, pale creamy flowers in early summer and then these wonderful seedheads which backlight so beautifully. Very sturdy stems too, and some autumn colour on the stems. Big but does not take up too much space. Self-seeds just the right amount, so I look forward to more of it.
Check out my own blog – recent posts consider Scottish gardens, our own garden opening and coastal planting.
My soap opera for gardeners (an Amazon Kindle product) is now on episode 5 – The Snowdrop Lunch. "A particularly good one" say my trial readers.