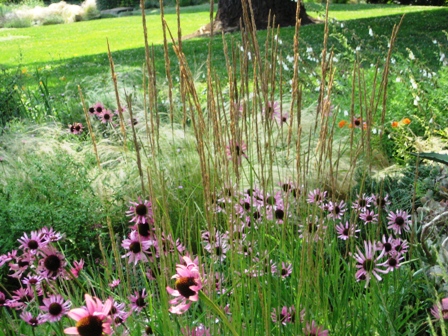 It has been one funky summer weatherwise. The East coast appears to be having one of the  wettest and coolest summers on record. In speaking with some colleagues in England, they've  had non-stop rain for the past 30 days with absolutely little to no sun.
Mediterranean countries are experiencing hot and dry summers. Even in Israel,  it is considered to be excessively hot and, as usual, with no rain in sight until late fall. What has made the situation more dire than ever here this summer is the below level rain that Israel had this past winter into spring. Up until this year, there had been non-enforced water restrictions (similar to what we had on the East coast during drought-ridden summers). But this is the first summer where the government is taxing every family for water use. Sound extreme? Or is this just a necessary/desperate attempt to try to mitigate the extreme lack of water in this tiny country?
So, when some of my fellow GGWers complained to me about the weather and the surplus of weeds, I told them  that I'd love to come work in their gardens and weed my heart out! I would give anything to be in a climate with non-stop rain for a week. The grass here is brown, flowers are wilting, foliage is parched: so different from the winter/early spring flora back East. And yet, there is beauty to be found: even in this scorching, arid climate.
Now, what are our GGW Regular Contributors doing for the month of August?
Nan's book, The Perennial Care Manual: A Plant-by-Plant Guide: What To Do and When To Do It was recently published. I may be a bit biased because I love Nan, think she's an incredible gardener, writer and human being AND I wrote the foreword for the book. But in spite of all of the aforementioned, I have read and reviewed dozens and dozens of books and this one is right at the top of my list. This is what I wrote about it for CBS Radio News:
 "A recently published book, The Perennial Care Manual: A  Plant-by-Plant Guide: What To Do And When To Do It is one of the best all around perennial gardening books that I've come across in recent years. Nan Ondra, the author of over a dozen gardening books, does a masterful job of offering in-depth information on everything about perennials that any level gardener would want to know. From planning an easy-care perennial garden, to what needs to be done season by season, along with growing tips and propagating your favorite plants, dealing with any problems along the way, and a Perennial Plant Guide, within the pages of this almost 400 page book, it's all there. This is a must-have gardening book. Check it out at Amazon."
Nan writes: "I'd also like to remind GGW readers in the Delaware Valley area that the Hardy Plant Society/Mid-Atlantic Group will be holding their annual Fall Gardeners' Market in Valley Forge, Pennsylvania, on August 22. It's a great source of cool plants, tools, and other garden-related items. For more information and the complete list of vendors, check out the HPS/MAG web site."
And one of our Calfornia Regular Contributors, Debra, has this to say:
"I'm going over the galleys of my forthcoming book, Succulent Container Gardens (a Timber Press January 2010 release). Look for my article in the latest addition of Organic Gardening magazine about a Southern California homeowner who created a gorgeous, drought tolerant garden that also minimizes the threat of wildfire. And if you live in the San Diego area, now is the time to register for my class on Firewise/Waterwise Landscaping to be held at Quail Botanical Gardens in September."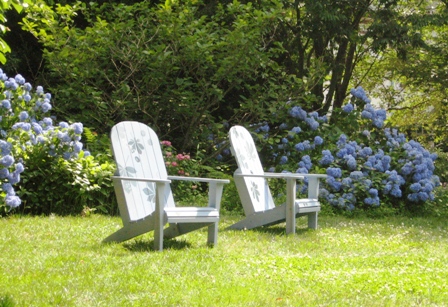 I'll be in Assisi, Italy next week for a conference but I hope to spend a day in Rome photographing gardens. I'm also in the process of doing an interview on Piet Oudolf, the renowned Dutch garden designer. Piet has been more than generous with his time chatting with me, as have two of his colleagues and friends: Jacqueline van der Koert and Noel Kingsbury. The article will be published right here at GGW, so be on the lookout for it.
And this exciting news from our friend, Susi Torre-Bueno, who has been instrumental in organizing what looks to be a fantastic Pacific Horticulture Symposium: on October 3 and 4 in Santa Barbara, called "Gardening Under Mediterranean Skies VII: Lessons In Sustainable Gardening."  If I'm able to schedule my trip to Philadelphia around that time, I'll be rushing to the West Coast for this weekend. It sounds too good (and important) not to attend! You can learn more about it at Pacific Horticulture. Any questions? Contact: medskies@SDHortSoc.org.
And as you may have have noticed on our left hand front page, we have become involved with Kiva, a non-profit organization that is doing some incredible work. Please take the time to see what Kiva  is all about and join GGW's team in supporting their efforts.