Perhaps it was because I had just spent two and a half months with my 90 year old father in Philadelphia, who spoke more about death with me this visit than he has his entire lifetime, that I made time to watch A Will for the Woods.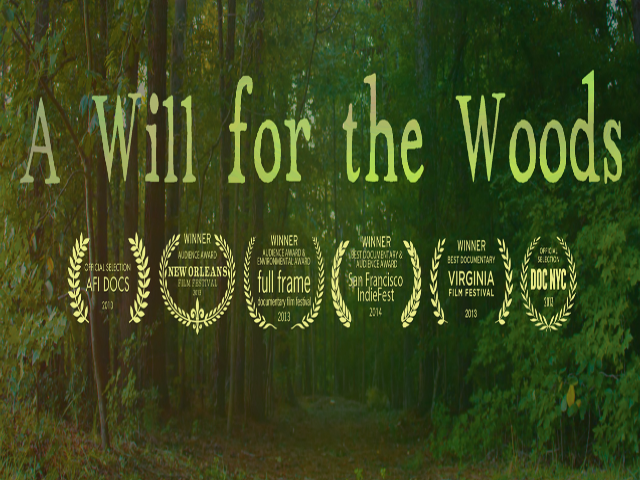 If, like me, you've had mixed feelings about how our Western culture deals with loved ones when they die, then this is the movie for you. If the thought of being buried in a manufacturer's casket in a cemetery or being cremated just doesn't feel right, then this is the movie for you. And if you know in your heart that you're meant to return to nature 'as a gift to earth' when you drop your body, then this is the movie for you.
If all of the above sounds maudlin, it's not. To the contrary.  Watch this short clip.
A Will for the Woods – Official Trailer from A Will for the Woods on Vimeo.
The story
"What if our last act could be a gift to the planet? Musician, psychiatrist, and folk dancer Clark Wang prepares for his own green burial in this immersive documentary.
While battling lymphoma, Clark has discovered a burgeoning movement that uses burial to conserve and restore natural areas, forgoing contemporary funeral practices that operate at the ecosystem's expense. Boldly facing his mortality, Clark and his partner Jane have become passionate about green burial, compelled by both the environmental benefits and the idea that one can remain within the cycle of life, rather than being cut off from it. The spirited pair have inspired a compassionate local cemeterian, and together they aim to use green burial to save a North Carolina woods from being clear-cut.
Making the most of the time that he has, Clark finds joy in his music and dance, connection with his friends and family, and great comfort in the knowledge that his death, whenever it happens, will be a force for regeneration. The film follows Clark's dream of leaving a loving, permanent legacy, and environmentalism takes on a deeply human intimacy.
Documenting one community's role in the genesis of a revolutionary movement, A Will for the Woods draws the viewer into a life-affirming portrait of people embracing their connection to each other and to timeless natural cycles."
Green burial is a simple and natural alternative to resource-intensive contemporary burial or cremation. The deceased is laid to rest in the earth?? using? only biodegradable materials? ?and ?without a vault? or toxic embalming, in a woodland or other natural setting, often with a fieldstone or indigenous plant marking the grave. ?This practice can be used as a conservation tool, enabling the acquisition, restoration, and stewardship of natural areas. Simple natural burials were prevalent for thousands of years (and still are in many? parts of the world, including in traditional Muslim and Jewish burials) before the contemporary funeral industry propagated the standard of expensive and elaborate funerals divorced from natural processes."    Taken from A Will For The Woods website.
"A powerful, personal testament to the 'green burial' movement…with humor, eloquence, anguish and reflection."
– Sylvia Pfeiffenberger, Indy Week
"An immersive, heartwarming tale." 
– Elias Savada, Film Threat
"[One of] Nine documentaries that you need to see this year … which no documentary fan should miss…Has the potential to affect not just individual viewers but the American way of death."
– Marianna Torgovnick, TED Blog
Psychiatrist and musician Clark Wang advocates for green burial – and prepares for his own – while living with a serious illness. Set amid the genesis of a social and environmental movement, A WILL FOR THE WOODS draws the viewer into a life-affirming portrait of people embracing their connection to timeless natural cycles.
This gem of a movie opens today, August 15, at Village East Cinema in Manhattan.

For more information on screenings throughout the country or hosting a screening, click here.
Now it's your turn. I would love to hear your thoughts about green burial.