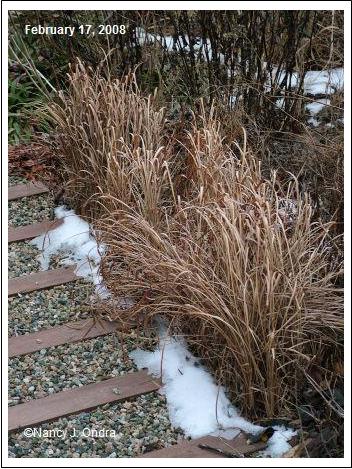 I've been trying to stay cheerful about the glories of the winter garden, but it's getting harder. If the days were actually as warm as they look from inside, I'd be sharpening my shears and scythe, firing up the brush mower, and reducing all of the remaining stems and seedheads to mulch. Many of the lingering perennials and grasses outlived their usefulness weeks ago, and it'll be a relief to see them go. But there are a few sturdy survivors that I really have to admire for their sheer tenacity. And I guess I shouldn't be surprised that they're all ornamental grasses.
The photo above shows Japanese blood grass (Imperata cylindrica 'Rubra') on February 17. It loses its stunning red foliage color by the end of the fall, but the leaves hold up amazingly well through the entire winter. Below is golden Hakone grass (Hakonechloa macra 'Aureola'), looking quite lovely on November 26. By February 17, the elegantly arching effect wasn't nearly as noticeable, but it's still not too bad, considering. (It really does look better than you'd guess from the photo.)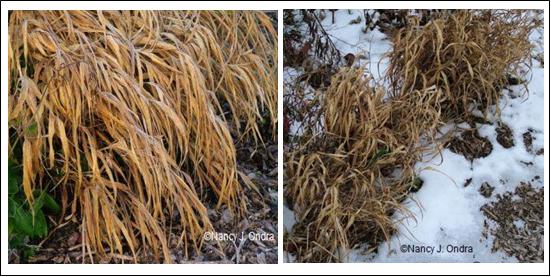 Even better, I think, is 'The Blues' little bluestem (Schizachyrium scoparium). We haven't had much snow this winter, but we've had plenty of freezing rain, and you'd think that these slender stems would be flattened after the first good icing. Below is the same clump on November 8 and on February 17. Its current look isn't quite as full or color-rich, but again, I'm prepared to admire its persistence.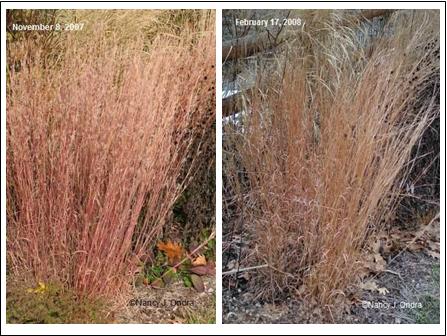 Of all the long-lasting grasses, though, the gold star has to go to the switch grasses (Panicum virgatum). By far the best is 'Dallas Blues', at left below, which still looks outstanding on February 17. Below right is 'Rotstrahlbusch', growing just a few feet away. It's not quite as outstanding but still quite respectable-looking on the same date.
'Northwind' runs a close second to 'Dallas Blues' for excellent winter structure, though it can vary from year to year. Below left is how it looks on February 17 this year: still upright but somewhat tattered. Below right is the same cultivar in February of 2005. If memory serves, we had more snow but less ice that winter, so that may account for the difference.<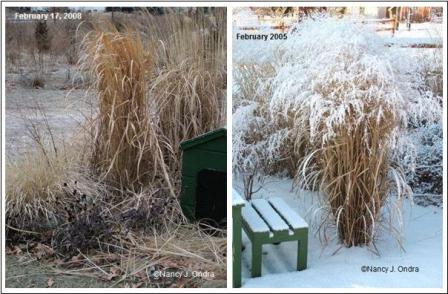 Until 'Northwind' came along, 'Heavy Metal' was my favorite where I wanted a strongly upright grass. Over time, though, it spreads more at the base, so the clumps become broadly upright instead of narrowly upright. Still, it's a great-looking grass through the growing season, especially in groups. Below is 'Heavy Metal' last September and October, and then on February 17.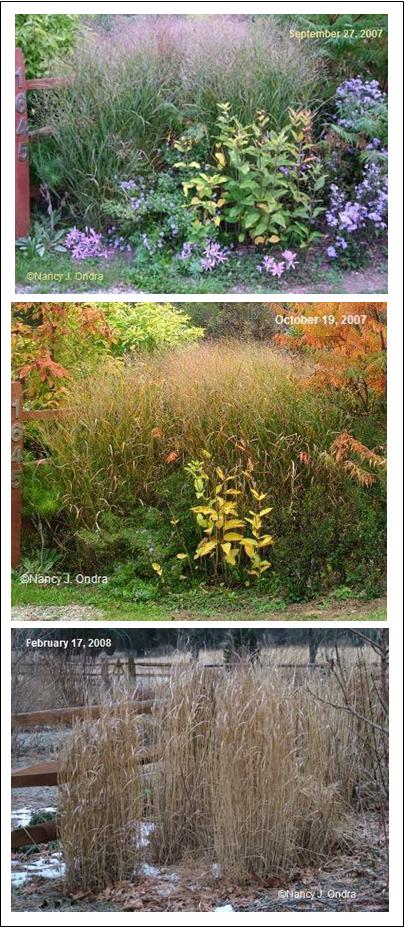 I think I may spare these grasses for a few more weeks, while I gradually start cleaning up those that didn't hold up so well. By then, I'm sure it'll be a relief to cut these down too, to make way for the fresh new growth I'm dying to see.