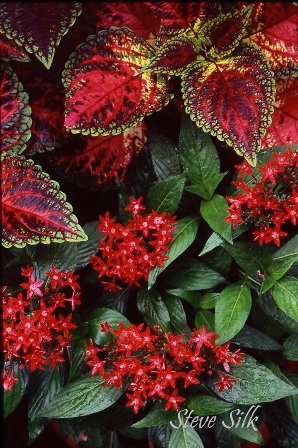 I credit Pamela Harper as the first to popularize the notion of color echoes, in her book entitled, of all things, Color Echoes. That simple but supremely satisfying way of creating color combinations relies on pairing plants on the basis of shared color characteristics. Everything is fair game: leaves, flower petals, pistils, stamens, thorns, fruit or even seedpods. For example, the leaf of one and the flower of another may share a single hue, like the red of this coleus leaf and the red of the pentas flower.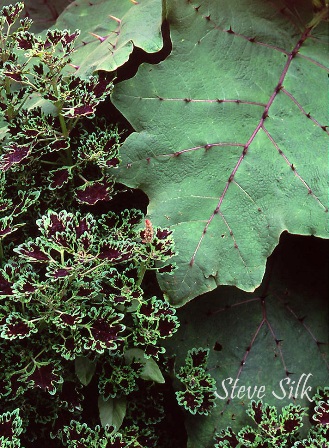 Sometimes I don't use flowers at all, as this pairing of Bed of Nails (Solanum quitoense) and coleus 'Inky Fingers' makes abundantly clear. What makes this combo work is that it has both contrasting and harmonious elements. The leaves couldn't be more different in shape and texture, while the colors of the solanum's veins and thorns and the burgundy blotches on the coleus are essentially the same. If the leaves were too much alike it would be boring; if the colors were as different as the leaves, it wouldn't be nearly as appealing. That's the trick, juggling elements of contrast alongside elements of harmony, and keeping the whole thing aloft. The colors establish a kind of dialog between the two plants, enabling to speak a common language.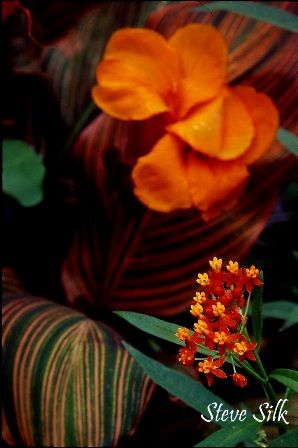 Carrying things onwards, I sometimes use flowers to echo back and forth. Here the bloodflower (Asclepias curassavica) and the Canna 'Tropicanna' flower shapes and texture are distinct, but their colors are definitely talking back and forth. I like that the leaves of the canna have joined the conversation. You can get a lot more complex, and start matching, say the chartreuse eye of a daylily with the leaves of similarly hued, sun-tolerant hosta or perhaps the pistils of one flower with the petals of another. I don't limit myself to using two plants. Hey, the more the merrier.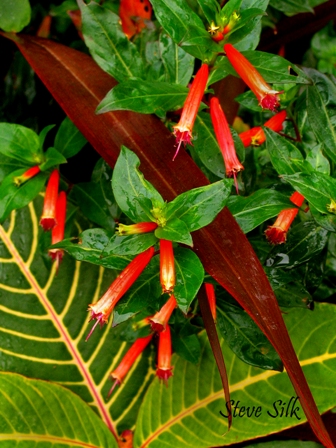 I was really pleased with my grouping of false dracena (Cordyline australis 'Red Sensation') with the variegated leaves of Gold-vein plant (Sanchezia speciosa) and the flowers of this cigar plant (Cuphea var. Home Depotus, just kidding!). The shapes and forms couldn't be more different- a blade shape, a broader, more rounded leaf and a tubular flower—yet all three share a rusty red hue, which can be found in the cuphea's flower, the cordyline's leaf and in the veins in the gold vein plant. Works for me. Seeking out and making the most of color echoes is always a formula for fun.