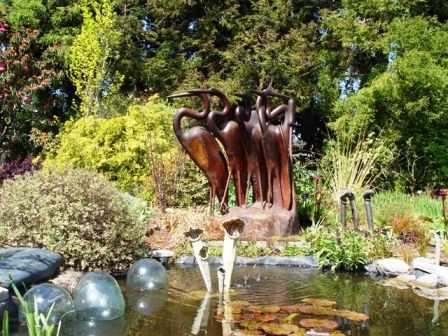 The month of May always brings with it lushness, hopefulness and overwhelming beauty. On the East coast, magnolias are in bloom and daffodils, hyacinths, tulips and narcissus have already begun to unleash their luscious colors and aromas throughout our gardens. And when early spring blooming perennials like epimedium, dicentra, brunnera, pulmonaria, wall flowers, and iris burst out from the still cold, damp soil, we cheer them on for they are the harbingers of what's to come.
Here are some notes on what our GGW contributors are doing this month:
I've sold my home (and garden) in Philadelphia, a place where I have gardened for a very long time. Over the next couple of weeks, I will be packing and moving. Although I have an apartment in Israel, I am uncertain as to my next move in Philadelphia. Will I choose a city apartment with a small back yard or a roof deck? I don't yet know and am willing to live with ambivalence: I'm trusting that when the right property comes my way, I'll know to buy it. I'm a bit sad about letting go of what I love and is familiar to me but also know that I need to leave the old in order to create space for the new to enter my life.
I've completed the foreword for Nan Ondra's much anticipated book to be published this July by Storey, titled The Perennial Care Manual: A Plant by Plant Guide..What To Do and When To Do It. I was honored that Nan asked me to write the foreword and after several re-writes, I think that I've finally captured the essence of Nan and what she brings to the gardening world (which is a heck of a lot)! Perennial Care Manual is written so beautifully, filled with a plethora of information and inspiration, exactly what all of us have come to expect from Nan. It is one of those rare books that you absolutely must have on your bookshelf.
This what Steve Silk has on his calendar for this month:
"I have a story in the current May/June Fine Gardening magazine about "The Color Combo That Always Works"–using burgundy and gold foliage to create garden vignettes. My garden is also featured in the March April issue of Yankee magazine, in "Splendid Color", a story about several New England gardeners–Steve, Gordon and Mary Hayward, and Honey Sharp–and their approaches to creating colorful spring gardens.
On May 9, at 11, I'll  be home in Farmington, CT at the Hillstead Museum's "May Market" demonstrating how to stuff a wild-looking container using my thrillers, fillers and spillers recipe. Later in the month, on the 24th, I'll be at the Horticultural Alliance of the Hamptons in New York to deliver my "Passion for Pots" PowerPoint lecture at 2 pm.
I'll also be trying see as many gardens as possible, in spite of working frantically in my own garden and in several others where I do containerscaping and borders comprised largely of of exotic annuals. One destination on the intenerary will be the New York Botanical Garden, where I want to get a look at the "Glory of Dutch Bulbs," a lavish display of 50,000 bulbs along the garden's Seasonal Walk, where Netherlands bulb maven and designer Jacqueline van der Kloet teamed up with her countryman Piet Oudolf–who added many hundreds of perennials and grasses to make a garden honoring Henry Hudson, the Dutch explorer, who sailed 400 years ago up the river that bears his name."
Saxon Holt has this to say:
"I'll be participating in a Storey Publishing publicity tour next week and will be making two bookstore appearances where I will talk about garden photography as seen in the books Hardy Succulents and Grasses. I wonder if garden bloggers have any influence in getting the folks out for these sort of events. Let's use this as an experiment, honest curiosity. If you blog or have readers in Palo Alto, California or Seattle, Washington, let your readers know about these events and support the local independent bookstore. They don't have to buy a book but anyone who shows up will get a very welcome handshake, be part of the experiment, and the blog will get mentioned in a future GGW post."
Palo Alto California – Books Inc May 5 at 6 pm
Seattle – University Books May 7 at 7 pm
And since Adam Woodruff is too shy to 'toot his own horn', I'll do it for him. He has received the Perennial Plant Association's Landscape Design Honor Award. Congratulations Adam! Here's the press release:
Clayton, Missouri – The Perennial Plant Association (PPA) has recognized Adam Woodruff, principal of Adam Woodruff Landscapes, LLC, Clayton, Missouri with a Landscape Design Honor Award for his elaborate flower borders at the Bank of Springfield (BOS). The gardens cover 22,000 square feet on the 3-acre site and include a massive perennial and annual bed running the length of the building's façade, as well as, several auxiliary flower beds echoing color and texture rhythms.
Each spring PPA members submit landscape designs they have created to be judged for a high level of excellence. Judges evaluate the designs and select the winning entries based on the creative and effective use of herbaceous perennial plant material. Entrants were encouraged to highlight new cultivars and introductions, unique planting combinations, and to illustrate the successful manipulation of color and texture in their designs. The entries were separated into categories based on residential, commercial and educational." 
Some other neat things to check out:
A magnificent green roof arbor among other fantastic gardening concepts (that I fell in love with) at Stumble Upon.
If you want a good laugh about paper hydrangeas in window boxes on a swanky West Side Apt. Building in NYC, check this article out in The New York Post.
Both the New York Botanical Garden and Brooklyn Botanic Garden are stellar horticultural institutions. Whether or not it makes sense for you to become a member, it is worthwhile to get onto their websites, learn more about them and take advantage of the huge amount of information that they offer. If you have any botanical gardens in your neck of the woods that you'd like to share with us, send a link and I'll post it at the end of this article.
Are you wondering where the photo at the beginning of this post was taken? I'll give you a hint. It's a perennial garden at a botanical garden West of Chicago and I have mentioned it before in a post. Any one want to take a guess? If you get it right, you'll win bragging rights.
Have a wonderful, exuberant May! Fran