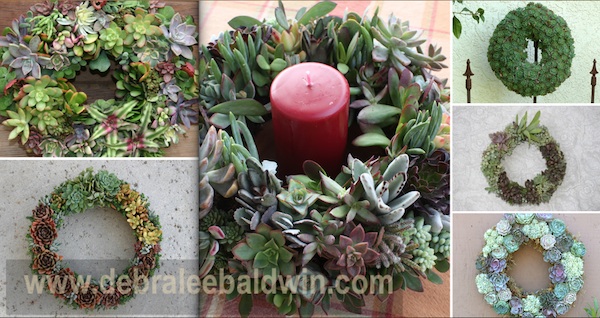 To make a succulent wreath, you'll need about 100 cuttings, a wire wreath form, 24-gauge florist's wire, a chopstick or ballpoint pen for poking holes, and a bag of sphagnum moss. The form, moss and wire are available at any crafts store. You don't need soil; the cuttings will root right into the moss. Wreaths above are by Chicweed (upper left), Linda Estrin (lower left), Bonnie Manion (center), Succulent Gardens (upper right), Linda Estrin (middle right) and Roger's Gardens (lower right).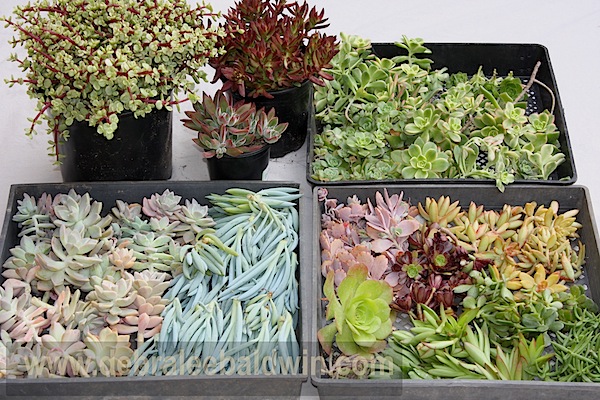 These are  cuttings I assembled prior to having friends over for a wreath-making party. We soaked the moss, stuffed the wire forms with moist moss, then wrapped the moss-filled forms with wire to hold everything in place. It's smart to add wire loops to both top and bottom of the back of a wreath before planting it. That enables you to rotate the finished wreath 180 degrees, which I recommend doing once or twice a month. Wreaths usually get more sun on one side than the other, and the plants will grow in the direction of greatest light. Rotating the wreath encourages balanced growth. Wreaths dry out more at the top, so growth tends to be more lush at the bottom. Rotating the wreath helps to balance this as well.
OK, next we inserted the cuttings, using a chopstick to poke holes in the moss. It takes a few weeks for cuttings to root into the moss, and during that time the wreath needs to lay flat. If you want to hang it sooner, hold the cuttings in place with U-shaped florist's pins.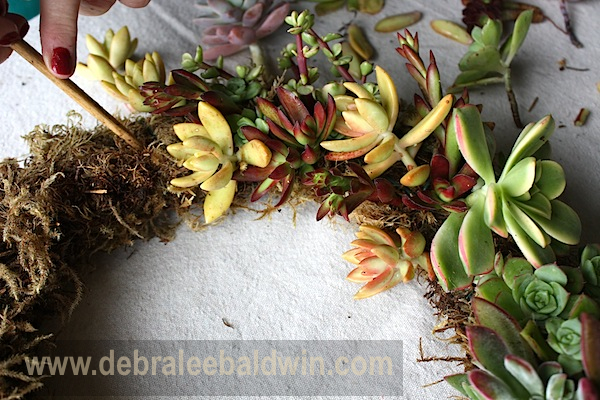 Below is one of the finished wreaths from the wreath-making party, made by my friend Denise Ross.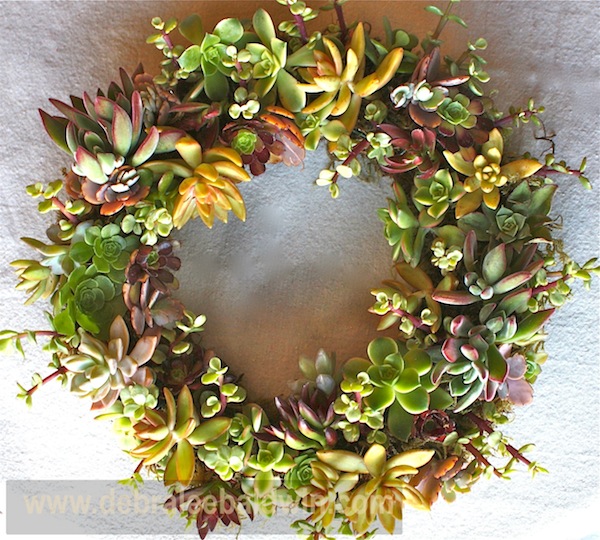 Floral designer Margee Rader packs a lot of green moss very firmly onto wreath forms. This enables fuller, tighter arrangements.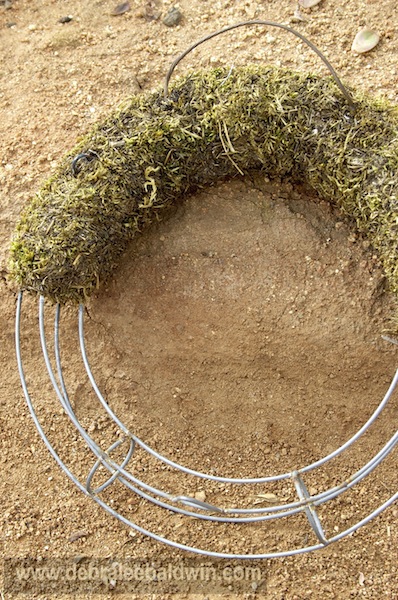 This is one of Margee's wreaths below.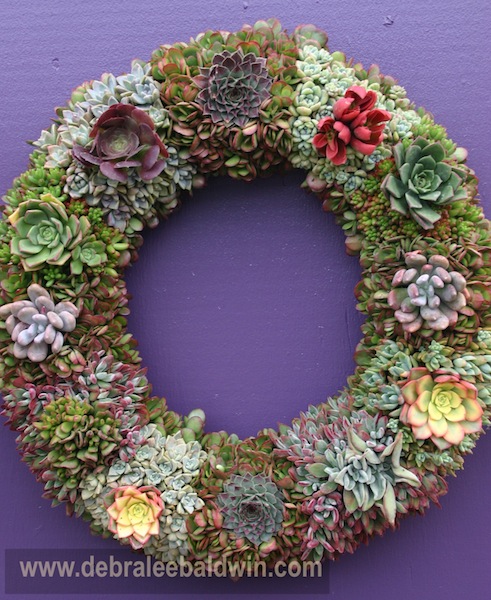 The rectangular wreath at lower right also is by Margee. The others are by Succulent Gardens nursery (upper left), Judy Casanova (lower left), Chicweed (middle), Marilee Kuhlman (upper right) and Succulent Gardens (middle right).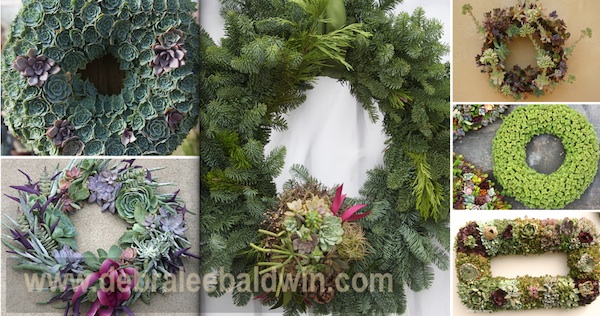 There are other ways of making succulent wreaths. Like this one of overlapping opuntia pads, which I saw in San Antonio, Texas.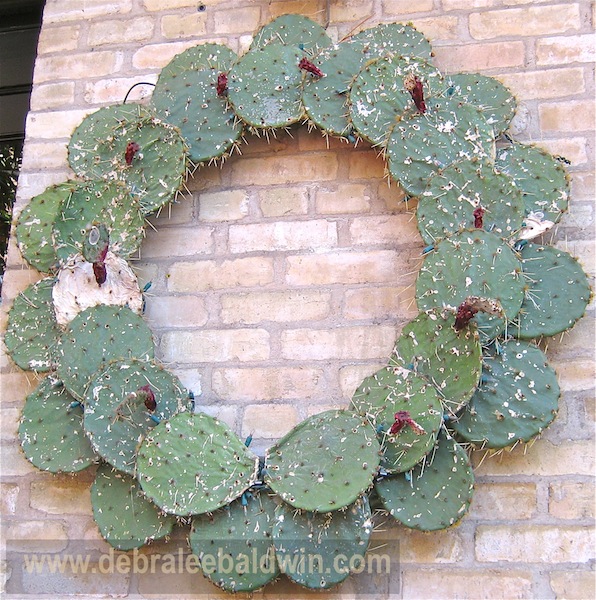 Soil-filled tubes enable more shapes than round. This heart-shaped succulent wreath is made of a soil-filled tube planted with cuttings. Using a wreath to frame a yacht is optional. Design by R.C. Cohen.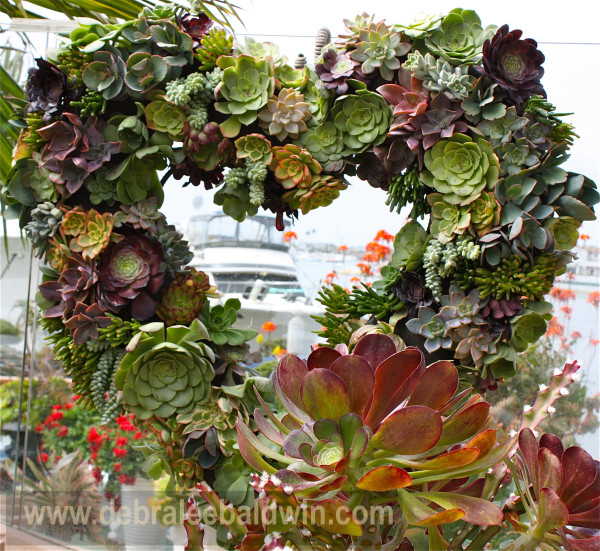 R.C. also made swags to go over his garage door, using the same planted-tube technique.

This wreath, shown in my book "Designing with Succulents" was made by the homeowner, Suzy Schaefer. She's an artist, and it shows.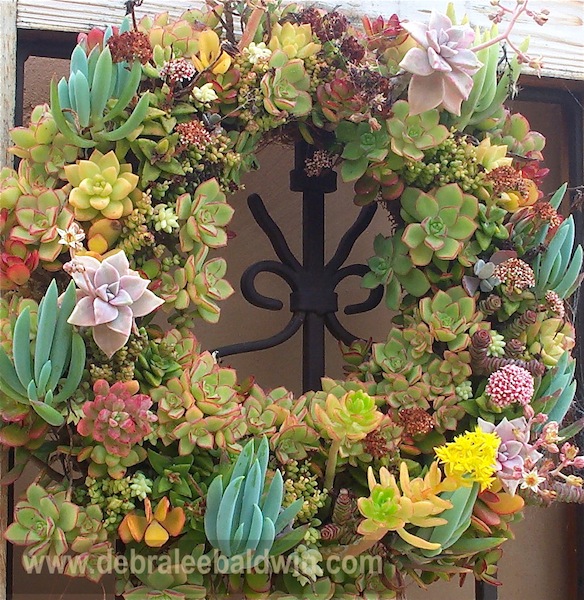 Below are wreaths ready for shipping at Oasis nursery in Escondido, CA, and at Succulent Gardens nursery in Castroville, CA. Wreaths are a wonderful source of cuttings at a reasonable price.
Hang the wreath on a wall, fence or gate that won't be damaged by moisture. Morning sun is ideal; avoid putting it in hot afternoon sun, especially in summer. Moss dries out fairly quickly, so give the wreath a light spray with a hose once a week or so, or fill a clean trash can lid with water and set the wreath in it to soak. As the plants grow, trim them back to maintain the shape of the wreath. Use the cuttings to fill gaps. Most succulents are frost-tender, so protect the wreath from temperatures below 32 degrees.
Now that you've seen examples and know how it's done, will you make succulent wreath yourself? Or have you already done so? We'd love to know your experiences!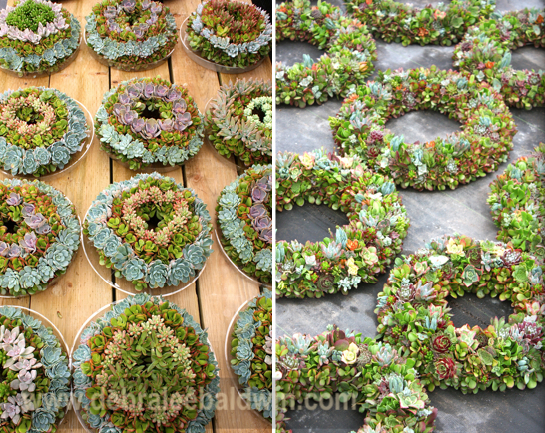 My goal is to share the beauty of waterwise, easy-care succulents in gardens, containers and landscapes via blog posts, newsletters, public speaking and workshops, photos, videos, merchandise, and social media (Facebook and Pinterest). My books: Designing with Succulents, Succulent Container Gardens, and Succulents Simplified.  www.debraleebaldwin.com