It is rare after looking at a piece of art that I feel compelled to return to it, not just once but time and again. Such was the case with Ignacio Canales Aracil , a Spanish sculptor, who wanted to share his work with me. To say I was awed  by what I saw would be an understatement. The photos below are part of a series called Fragility of Time;  the sculptures are made with flowers and plants. I urge you to check out Ignacio's website; it is rich and displays his wide range of talent.
Below is Ignaico's description of his thoughts, the actual process of how he goes about making these delicate sculptures and the emotional impact that working with them has had on him. I am thrilled to introduce you to this talented sculptor. Fran Sorin
"The sculptures are made with flowers and plants from different gardens and
nurseries that work in collaboration with me. They allowed me to cut their
flowers and work on their premises while choosing, pressing and drying the
flowers. The sculpture number 1 in the picture has been made with flowers
from Wild About Flowers Nursery in Devon. Sculpture #2's flowers are from Pembroke-Lodge in Richmond Park (Royal Parks). I have collaborated also with The London Garden Museum.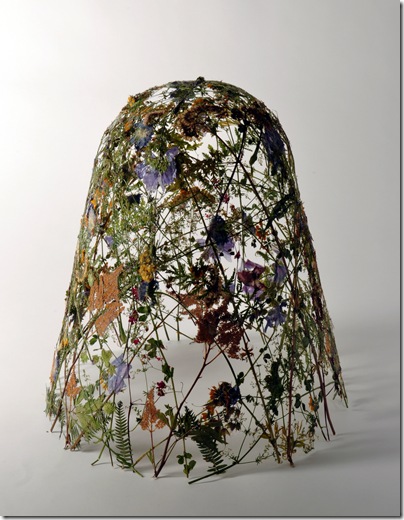 Sculpture #1
Flowers from Wild About Flowers Nursery In Devon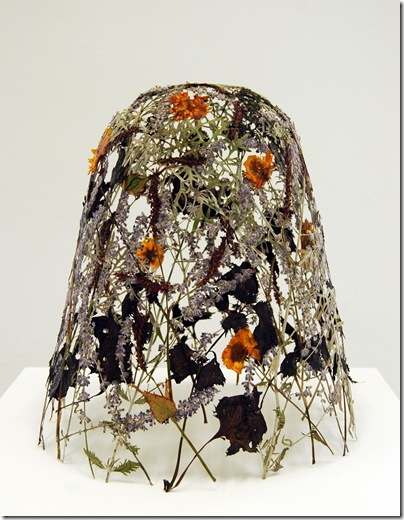 Sculpture #2
Flowers From Pembroke Lodge in Richmond Park
The charity foundation of each garden that collaborates with me gets a percentage of the sales and the gardens are mentioned as a patron when the sculptures are shown in order to thank the aid  received.
One of the ideas of this collaborations is to show the plants and flowers
which represent the better the spirit of the garden in a different place
where you wouldn't expect to find it. Making the journey and the experience
of working outside the studio part of the final piece.
The roughness of the process which requires lots of physical effort
contrasts with the delicacy and fragility of the finished sculpture. Which
although its fragile it is made to last, as some ancient collections of
dried pressed flowers are dated 500 years ago. Tradition is a very
important value in my work. The sculptures are varnished with a matt spray
in order to prevent them from moisture accept for the first sculpture in
which I used a glossy varnish.
Working with flowers trying to preserve their beauty, faces directly the
fears that we share in the society about time. Life and death are confronted
in a piece which celebrates beauty, sexuality and time. Fighting with and
against nature. Recovering the time and the crafts of the process helps me
to understand in the search of a complete work of art and the seed of my
practice.
Working with flowers makes me deal with its many implications, starting to
work when it is in fullness and aiming to preserve its beauty through death. "