Congratulations to winner Leslie Reed Costello!
Find out why author Pam Penick chose Leslie's comment among so many excellent ones, and learn more about the book below. Many thanks to all who participated! ~ Debra.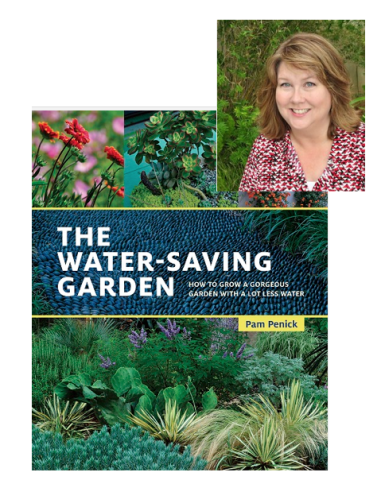 In her new book, The Water-Saving Garden: How to Grow a Gorgeous Garden with a Lot Less Water, author Pam Penick calls heedless waste of water "madness." Penick, who makes me want to raise a fist and holler, "Tell it, Sister!" reminds us that clean drinking water gushing from faucets is a relatively new phenomenon—and unfortunately one we've come to take for granted.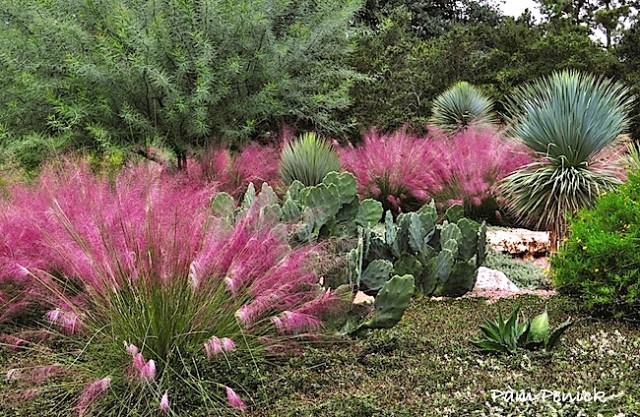 It's the perfect sequel to Penick's previous bestseller Lawn Gone! Low-Maintenance, Sustainable, Attractive Alternatives for Your Yard, and not simply because of its rousing writing or that many of the gardens include succulents (about which I'm prejudiced). The Water-Saving Garden is a terrific resource for its numerous practical (and painless) ideas, plus photo after photo of great-looking gardens not blatantly (and painfully) waterwise. Like the one above, in Lakeland, Texas, that features Gulf muhly (Muhlengergia capillaris), agaves, yuccas and a ripply opuntia…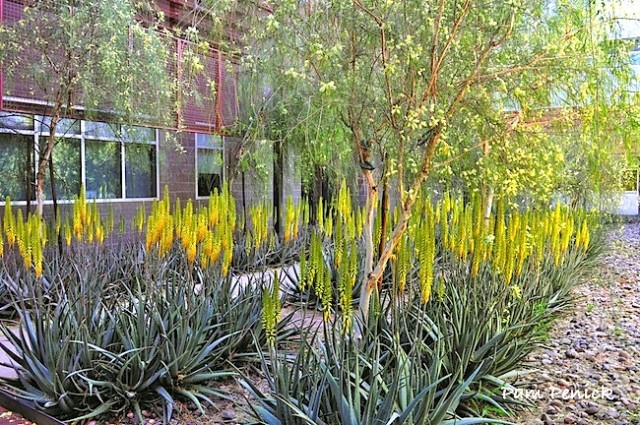 …or this one, in Arizona, that beautifully repeats Aloe vera (Aloe barbadensis) and native palo blanco trees (Acacia willardiana)…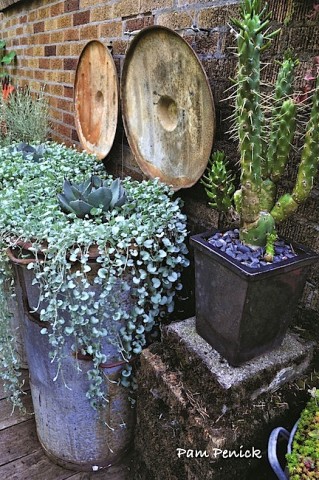 …or these containers in an Oregon garden that showcase cholla, Agave parryi 'Truncata' and trailing silver dichondra.
If I had to pick a favorite chapter, it would probably be the one about creating the illusion of water in the garden.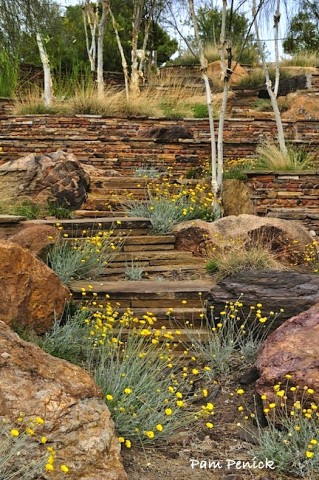 For example, this Scottsdale, Arizona garden's stone steps evoke a cascading waterfall…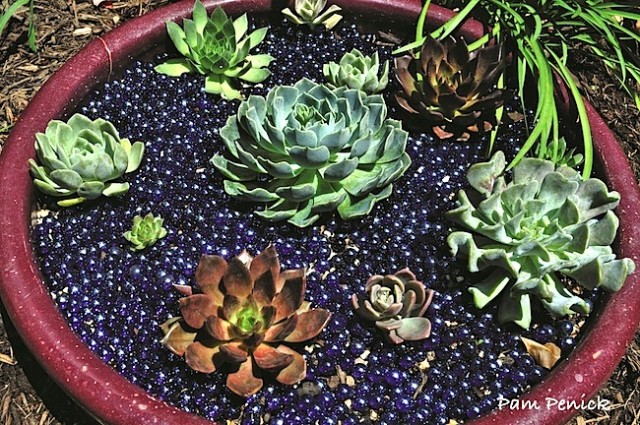 …and this marble-filled basin's echeverias suggest water lilies…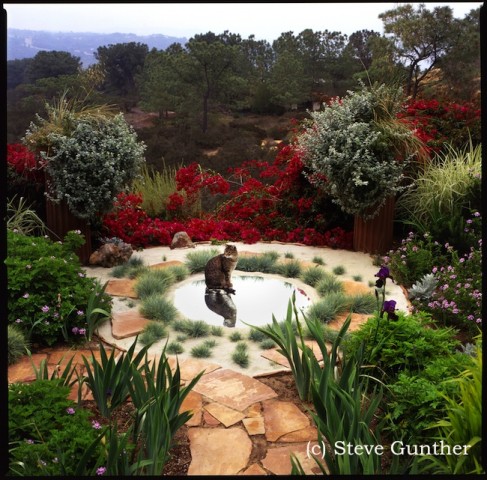 …and this garden, near my home north of San Diego, that appears to incorporate a pond. (Thanks, kitty, for showing what it really is. Count on a cat to photobomb.)
I'm tempted to quote from the book at length, but I know what you really want is the copy I'm giving away, courtesy of Penick and her publisher.
How to enter: If you are a US or Canadian resident age 18 or older, leave a brief comment here that tells why you'd like to have The Water-Saving Garden, by midnight Sunday March 20.  In doing so, you agree to allow your first name and city or region to be mentioned if you win. No purchase necessary. Void where prohibited.
Picking the winner: Penick herself will read all comments and select the winner. (If she knows you personally, she'll recuse herself from choosing you to avoid favoritism. On the bright side, if you two know each other and you offer to review and/or give away the book on your own blog, the publisher will likely send you a complimentary copy. Btw, I know Penick only through her own wonderful garden blog, Digging.) Pam will announce the winner here by noon on Monday, March 21 (be sure to check back!) and I'll notify him or her via email the same day. If the proposed winner does NOT acknowledge my email AND provide a mailing address by March 23th, the prize will be re-awarded.
Sound good? I'm eager to hear what you have to say!
Photos reprinted with permission from The Water-Saving Garden, by Pam Penick, copyright © 2016, published by Ten Speed Press, an imprint of Penguin Random House LLC. Photographs copyright © 2016 by Pam Penick.