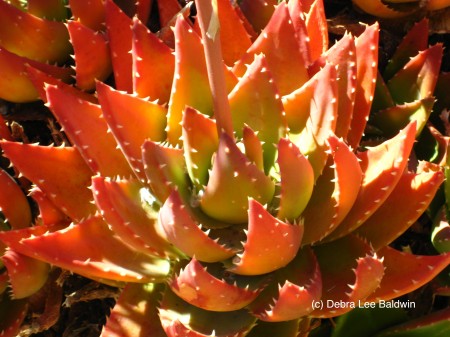 If there's a good thing about our too-hot Southern California summers, it's that heat makes certain succulents turn color. A case in point is Aloe nobilis, which in my garden grows in nutrient-poor decomposed granite with minimal water.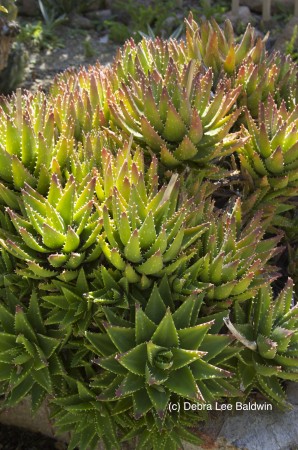 In winter, the same plant reverts to green.
Such "stressed" succulents—which seal moisture in their leaves as effectively as Glad-Wrap—are fine. They perk up and send out new growth when the weather cools and the rains return.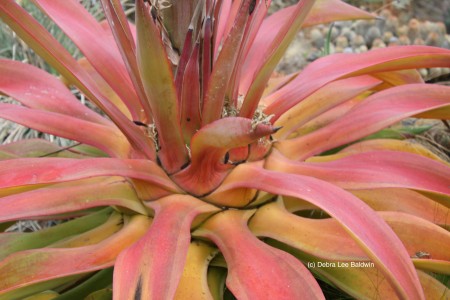 Not all succulents turn shades of red, pink or orange when stressed, in fact, the majority don't. But many common aloes and crassulas do, plus certain kalanchoes, euphorbias, sempervivums, sedums, aeoniums and echeverias. Agaves normally don't; this one is an exception. (The reason is it's post-bloom and dying, which has revealed the anthocyanin* in its tissues.)
After seeing my YouTube video, "How to Stress Your Succulents…and Why You Should," a non-gardening friend observed, "I'd probably stress them so much, they'd croak."
Good point. How do you give a succulent the right amount of stress, but not too much? And how do you know which are worth stressing, and which aren't?
Basically, observe the plant. If it's leaves are margined or tipped in red, it's a likely prospect. But if excess heat, sun or cold makes its tips shrivel and turn beigey-gray, it's suffering. Move it to a kinder location, keep the soil moist (but not soggy), and/or repot it. Also check its roots. The problem may be that they can't access moisture and nutrients, as in the case of a cutting that's sitting atop the soil instead of snugly planted.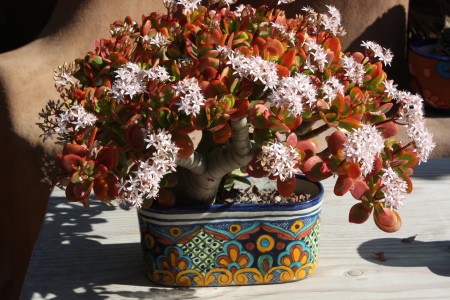 This jade is beautifully stressed (how's that for an oxymoron?). Its leaves have reddened due to less water than the plant would like plus more cold than jade prefers (frost will turn the leaves to mush, but temperatures near but above freezing reddens them).
Most succulents—especially those with fat, fleshy leaves—can last weeks and sometimes months without water, even in hot sun, nipped by frost, and/or rooted solely in gravel. But eventually they need a respite, lest stress become life-threatening.
A few common succulents that redden when stressed: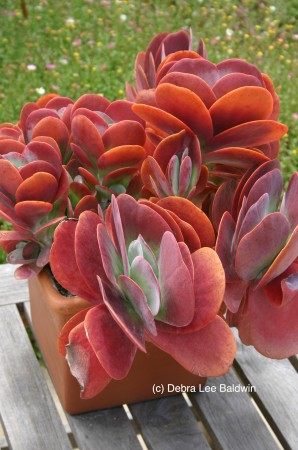 Kalanchoe luciae.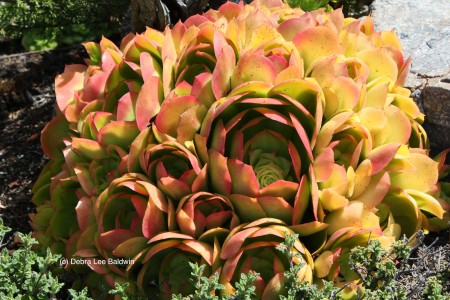 Aeonium canariense.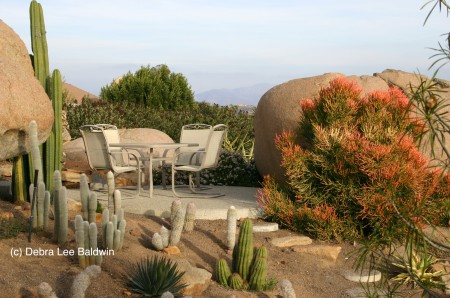 Euphorbia tirucalli 'Sticks on Fire'.
Aloe dorotheae.
Additional examples are on the video, which includes before-and-after photos.
— Debra
*In the same way deciduous trees turn color in autumn, sunset hues become visible. The pigment also is found in berries and fruits—and is considered a powerful antioxidant. Anthocyanins, according to Wikipedia, "are not synthesized until the plant has begun breaking down chlorophyll, it is presumed for photoprotection…" i.e. protection from excess sunlight, much the same way melanin tans skin.
Wikipedia also wisely states that "plants with abnormally high anthocyanin quantities are popular as ornamental plants."
My goal is to share the beauty of waterwise, easy-care succulents in gardens, containers and landscapes via blog posts, newsletters, public speaking and workshops, photos, videos, merchandise, and social media (Facebook and Pinterest). My books: Designing with Succulents, Succulent Container Gardens, and Succulents Simplified.  www.debraleebaldwin.com