When I arrived at Roger's Gardens (the largest independently owned garden center on the West Coast) at 8 a.m., I hit the ground running. Roger's is a 75-minute drive from my home, and I was scheduled to go on at 9 a.m. Did I mention I'm not a morning person? Or that I had only a vague idea how I was going to "wow" a packed house?
It didn't seem fair to my audience, many of whom come year after year, to simply do what I'd done in the past. Roger's Gardens is all about opulent, over-the-top displays of succulents and flowering plants—often in lovely urns or pedestal pots that give the nod to classic East Coast or European design—like this mounded succulent arrangement I made several years ago.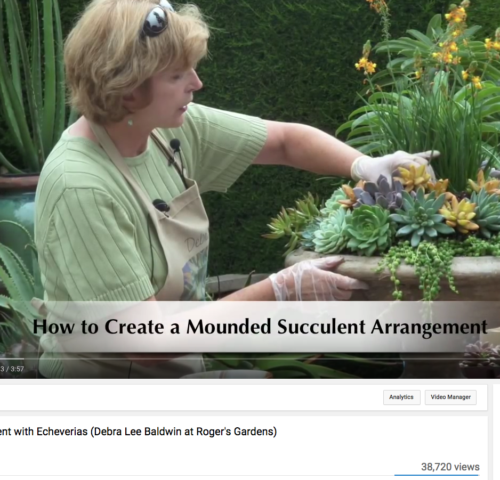 After checking the presentation area and setting up my camcorder and tripod, I made a beeline for the indoor retail boutique—an eye-candy cache of home decor enhancements that change kaleidoscopically with the seasons. Their buyer must have a ball. The shop is chock full of items of glass, glossy metal, colorful fabrics, and themed stuff…which is what I wanted. I already had two parts of my design equation—succulents and summer—so all I needed was a third. The shells on display inspired me, in particular this wreath. The colors pair perfectly with succulents. During my demo, I popped a ruffled echeveria into a cache pot that suggested tidal beach sand, then placed the pot in the center of the wreath. Voila: a summery tabletop display.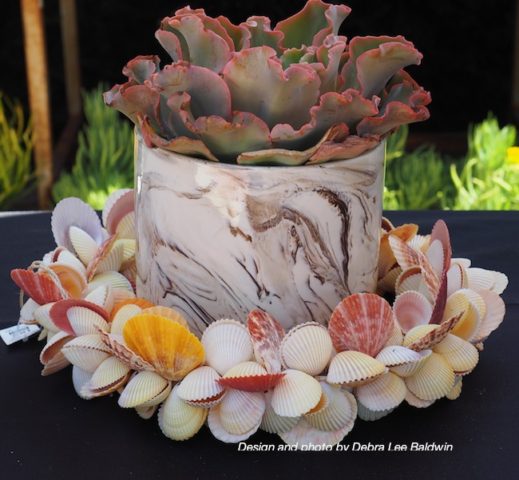 I also combined rosy-pink barnacles with cuttings of a pink-tipped, cream-striped crassula ~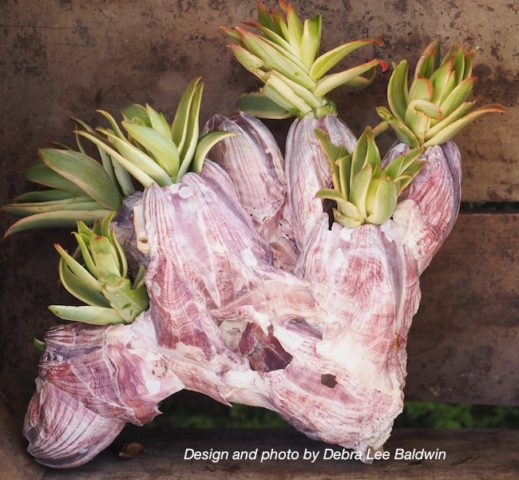 My third potted arrangement needed to be a show-stopper. Roger's sells plenty of decorative pots, and new this year were large, ceramic-shell planters. I decided to fill one with succulents suggestive of undersea flora and fauna. The grouping shown here was done by Roger's Gardens: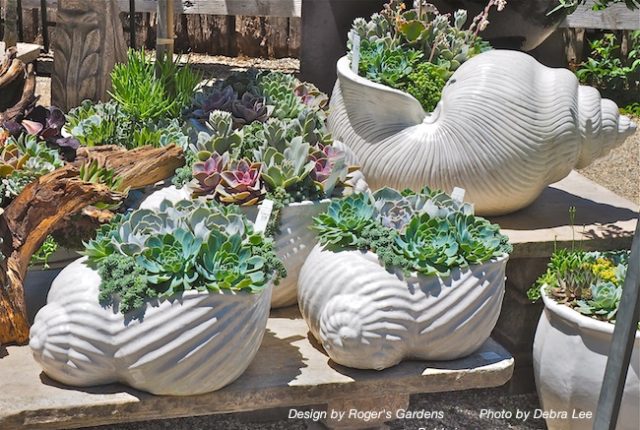 As was this plaster clam shell: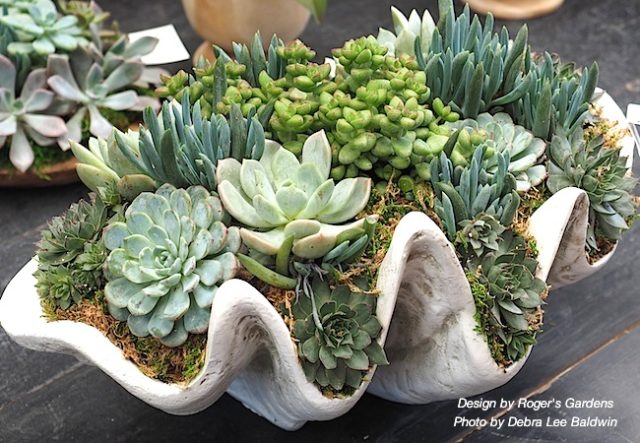 And this is the one I made during my presentation. To see how it came together, start to finish, watch my recently released video: Succulents, Shells and Summer: Debra's Potting Demo at Roger's Gardens. Enjoy!