After a 2 month summer hiatus, Picture This has returned for the fall season. For the month of September. we are excited about having first time Picture This judge, Christa Neu, joining us. As a highly respected photographer for Organic Gardening Magazine where she has been taking photos and editng for the past 7 years, Christa is proud to say that she has recently given in and learned to enjoy eating squash. To learn more about Christa, check out her website.  Fran Sorin
The subject Christa has chosen for this month's Picture This Photo Contest is
  LATE SUMMER GARDEN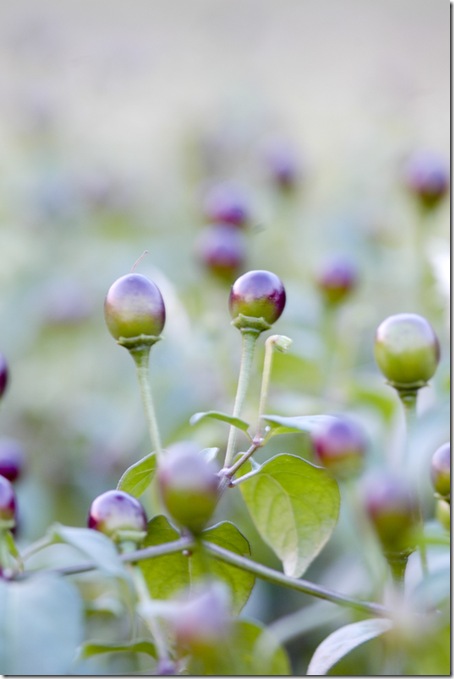 "For me, composing a photo in the garden is a little bit like a meditation. I love images that give a calm sense of place, where you can feel that the photographer has spent time with his or her subject, walked around it, gotten familiar with the different angles and what makes the object unique. For this contest, I'd like to see an image with object presence—something that makes us look at an everyday object (whether it is a flower, vegetable, or garden) in a new way. Show me the colors and textures of late summer and the little bits of beauty that can be found in your garden.
"Summer is ending, and I've been racing around the gardens storing up spots of color before it is officially autumn. Oh, the lettuce will be germinating soon and my fall flowers will be blooming, but I'm not quite ready to let go of the summer.
If your garden has fallen prey to heat waves or heavy rain, getting an "overall" or pulled-back shot of your garden could be tough. There are several ways you can still enjoy the small bits of beauty in your garden.
Shoot low.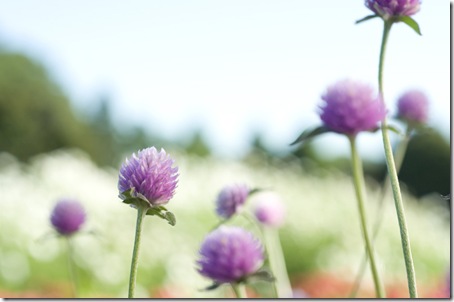 Sometimes you'll find a nice moment in a cutting garden, where there aren't many flowers left. If you drop down and take a shot from a low angle, you'll eliminate a lot of the green and make your viewer feel like they are right there in the middle of the gomphrena.
Shoot tight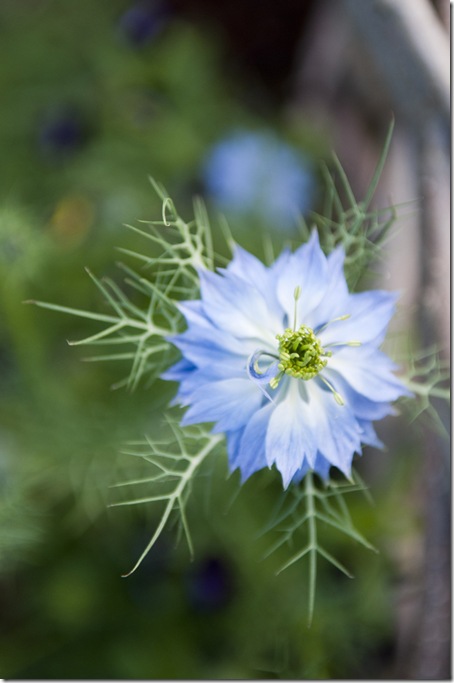 If your gardens have been hit by heat waves and heavy rain, your overall garden might be a bit tired. Make the most of this by taking close-up shots. Using a small f-stop will clean up your backgrounds. You can fake depth of field with your point-and-shoot camera. Focus your camera at something in the foreground (by pushing the shutter halfway down so it focuses there). Without releasing the shutter, move the camera to compose your shot, then shoot.
Play in the rain, or after it.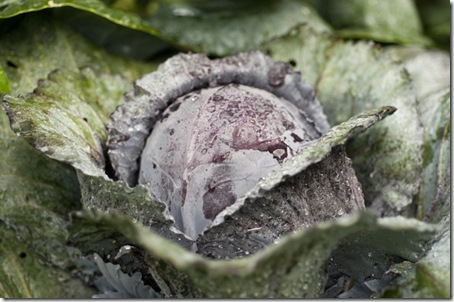 The heat may have finished off a lot of my garden, but last week's rain has revived the chard. Shooting on an overcast day can be great for close-up photos. It really brings out the pinks, purples and other cold tones.
Take mid-range shots.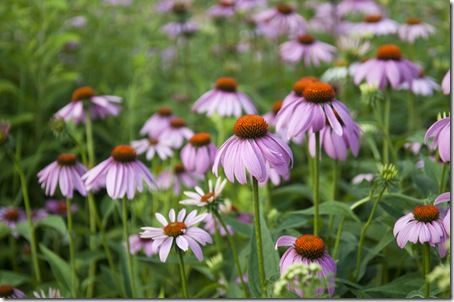 When you find nice groupings, like this army of coneflowers, you can make endless compositions. Every time you move the frame a half an inch, it becomes a different picture. I love it when the flowers are in different stages of blooming.
Harvest something.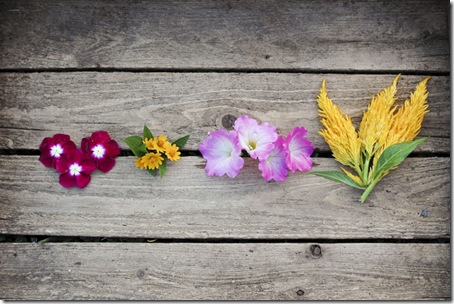 I photographed these flowers right in the test garden, using one of the harvesting crates as a backdrop.
Then I took these zinnias back to the office and photographed them in the window light.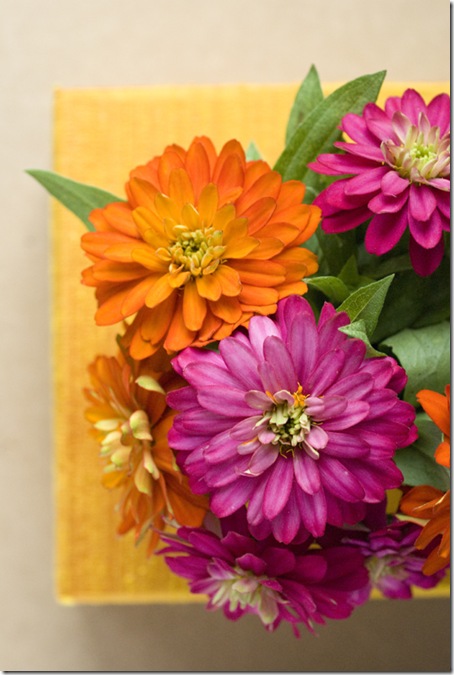 It may not be the same thing as being out in your garden, but it will cheer you up to see these bright colors through the long, cold winter.
So what speaks to you in your garden? What are the colors and textures you want to remember?" Christa
Although we have made it a habit of not awarding prizes at Picture This , we couldn't resist when approached by Kara of Angela's-Garden. She has generously offered a pair of gloves from her new line of highly-functional and beautiful gloves and gardening accessories. To read more about Angela's-Garden, click on here.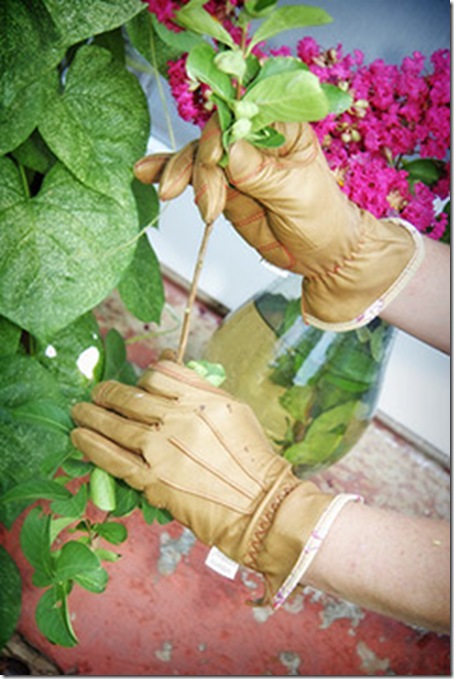 RULES FOR ENTERING THE CONTEST
1.  You must have an active blog in order to participate. To be eligible for judging, you need to leave us TWO LINKS – a direct link to the image, and a link to your blog post that includes the image (and that says you are entering the Gardening Gone Wild Picture This Photo Contest )– in a comment on this post. Your links need to be correct in order for your photo to be entered into the contest. If need be, check out previous Picture This contests to see how others have done it.
2. You are allowed one entry per contest; your photo must be able to be copied from your site. That makes it possible for us to collect all the entries in one place for easier judging.
3. The long side of the image needs to minimally be 800 pixels
4. Because of the enormous amount of responses we receive, you can't change your mind once you enter a photo into the contest.
5. The deadline for entries is 11:59 PM Eastern time on Sunday, September 25,  2011. There are no exceptions
Entries that meet the above rules will be added to a separate gallery page.  If you enter but your photo does not appear in the gallery  within 24 hours, please review your entry to make sure you followed the rules.
Those of you who have been sitting on the sidelines, this month's subject is a great way of joining the fun! Go for it…and have a blast!