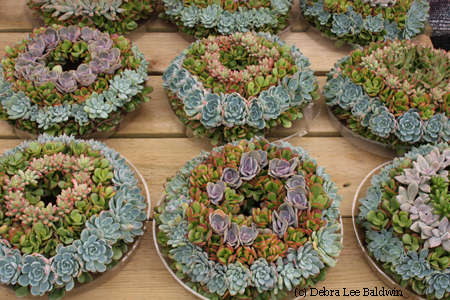 I'm often asked to recommend sources of succulent cuttings for wreaths, topiaries and other projects. Unfortunately, most online sources sell cuttings for around $1/apiece, which means a wreath—not counting its moss-packed wire donut—may cost $100 to make. But pre-made wreaths available this time of year not only cost much less, they're also a great source of cuttings.  Garden Life offers wreaths similar to those shown here for $30 plus shipping. Another good mail-order supplier of seasonal wreaths as well as assorted cuttings—including a mix of highly desirable echeveria, sedum and sempervivum rosettes for vertical gardens—is Robin Stockwell's Succulent Gardens.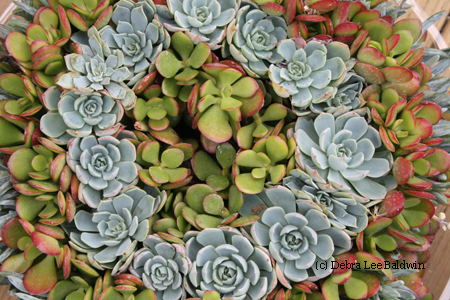 As yet, it's not possible to request exactly which succulents a wreath consists of, but typically they're colorful. The Garden Life one above, for example, is comprised of red-tipped jade,  silvery-blue echeverias and blue Senecio mandraliscae.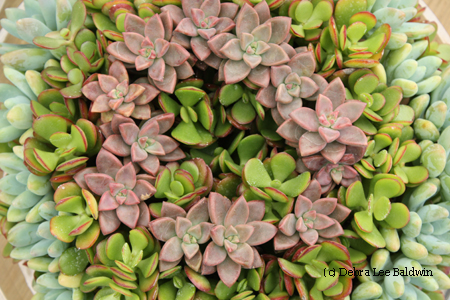 This one has a different kind of Echeveria, pink sedeveria and jade.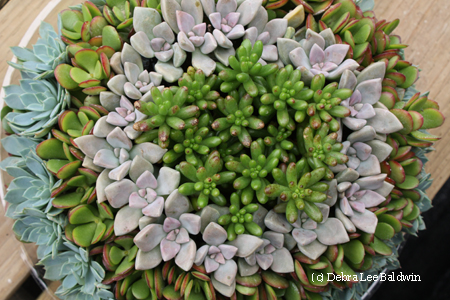 And this one, blue echeverias, jade, lavender-pink graptopetalums and Sedum rubrotinctum 'Pork and Beans' (which will redden if given more sun).
Keep your wreath about as moist as a wrung-out sponge. If you hang it, water from the top because that part will dry out first. If the wreath does go dry, the succulents likely will be OK (by definition, these are plants that store water in fleshy leaves in order to withstand drought) but their roots may desiccate. To rehydrate a wreath, fill a clean trash can lid with water and soak the wreath in it.
If you live where temperatures drop below freezing, overwinter the wreath indoors near a sunny window or beneath grow lights that stay on at least six hours a day.  You won't see much growth during the plants' winter dormancy, but come spring, they'll take off—especially if you pull the wreath apart, plant the cuttings in fast-draining soil, and feed with a dilute solution of balanced (30-30-30 fertilizer) twice monthly until midsummer. Come fall, you'll likely have enough plant material for a lovely new wreath plus a second to give away.
If you know of other reasonably-priced sources (i.e. 30 cents or less per cutting), please email me, and I'll put them on the Links page of my website.
Mail-order retailers please take note: There's a demand for sources that let purchasers specify the types—or colors, shapes and textures—of the succulent cuttings they order (rather than receiving a random assortment).
My goal is to share the beauty of waterwise, easy-care succulents in gardens, containers and landscapes via blog posts, newsletters, public speaking and workshops, photos, videos, merchandise, and social media (Facebook and Pinterest). My books: Designing with Succulents, Succulent Container Gardens, and Succulents Simplified.  www.debraleebaldwin.com