In response to Nan's Design Workshop for November, I decided to share the story of my garden pathways.
I have been gardening on a sharply steeping, aberrant piece of land, about one half acre, for the past twenty-six years (Yikes, that's a long time!). The picture below is how the front of my home was landscaped when I first moved in as a 28 year old woman with a newborn and toddler, having only done some weekend gardening chores in homes where I had lived before.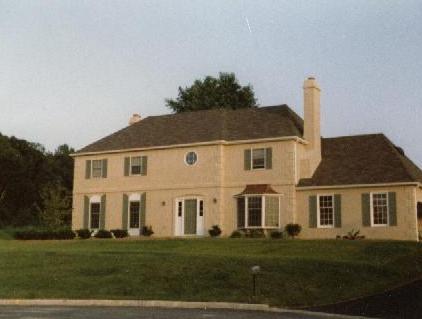 For the first ten years, I spent a lot of time learning about gardening, experimenting with a variety of plants and being frustrated. Even though I learned a great deal about perennials and how to use them effectively in the garden, I became acutely aware of how disjointed the entire garden was.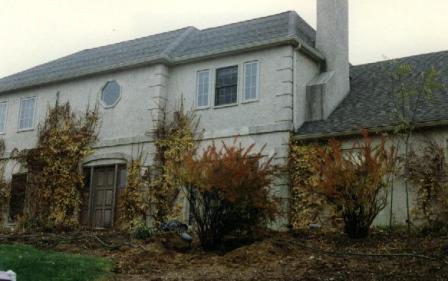 Initially, I was overwhelmed when I began to make changes but then decided I could deal with the garden if I broke it up into projects to be done over a protracted period of time. I began with the front yard, where I had made some changes but was still working with a cookie cutter straight, concrete walkway from the driveway to the front door. I decided that I wanted to create a perennial garden, and with the help of a great gardener, Chris Woods (Ex-Director of Chanticleer and newly appointed director of Montecito Coastal Gardens), I dismantled the entire front yard and turned it into an area for perennials dotted with some deciduous shrubs. The straight stucco walkway was turned into a winding stone walkway. I had a vision of creating a rambling environment so I used no concrete in between the stones in order to let plants self seed.
Initially I fell in love with this garden but as renovations were happening in other parts of my garden and as I learned more about the importance of paths in creating the 'bones' of the garden, the time had come for me to create another garden: in large part because the path only led from the driveway to the front step with no way of accessing the garden beyond. I was living with a hybrid front yard: not the typical shrubbery but then again not a real garden where one could stroll about and admire the plantings.
First, I dug up all of the plantings and set those aside that I planned on using again. Then I re-shaped the beds and laid out a pathway from the front door through to the other side of the garden (which led to the other side of the house). This layout, I realized, would not only facilitate me in creating my rambling, English garden but finally allowed the front area to connect seamlessly with other gardens on the property. My instincts told me that the extension of the original stone pathway should be done in grass (plus it was much less expensive). For whatever reasons, designing a walkway in half stone and half grass worked. The pictures below are the latest renovations of the front pathway and garden.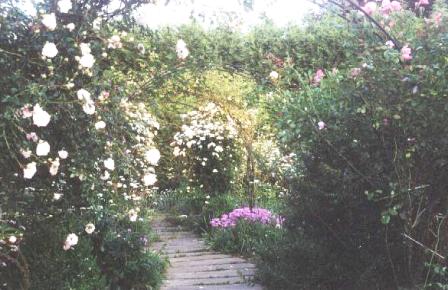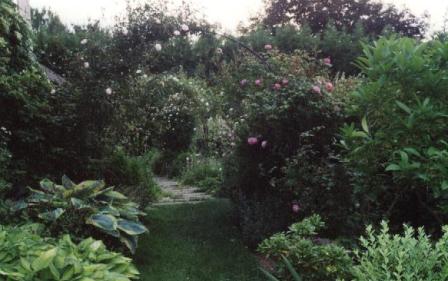 Anybody else out there who turned their conventional front yard and or/pathways into something other than what was originally there? If not, what is it you dream about doing with your front property?